Download eBay - Buy, Sell & Save Money APK Info :
Download eBay - Buy, Sell & Save Money APK For Android, APK File Named com.ebay.mobile And APP Developer Company Is Subito.it S.r.l. . Latest Android APK Vesion eBay - Buy, Sell & Save Money Uploaded In 2017-05-15 Is eBay - Buy, Sell & Save Money 5.10.0.11 Can Free Download APK Then Install On Android Phone.
eBay - Buy, Sell & Save Money APK Description
Sell your new and used items wherever and whenever you are with eBay, the online shopping app that lets customers search, bid and buy your products. Buy and sell stuff in a snap, compare prices and receive alerts each time an auction ends, when you receive a message or are outbid on an auction – all from the #1 mobile shopping marketplace.
Price comparison shopping is easy with eBay's worldwide community of sellers, with everything from men's & women's clothing to cars for sale. Search fashion, clothing, electronics & more with eBay's new personalised search! Find deals & recommendations based on search history to find products you'll love.
eBay features:
Sell your items online
• Sell stuff directly to your audience
• List items for sale in minutes, or use easy setup with barcode scanner
• Revise your listings & manage your eBay selling on the go
• Barcode scanner lets you scan an item & list in minutes
Connect with customers
• Sales made easy - send and receive messages with buyers
• Sell directly to your eBay audience
Save money & buy items you need
• Bid and buy to save money from trusted sellers
• Search, bid, buy or make offers on unique items from sellers worldwide
• Auction pricing, great for buyers and sellers alike
• Shopping list lets you save your favourite searches & sellers for quick access
• Voucher codes and deals to help you save money
Search for new shopping favourites
• Search is more powerful than ever! Shop recommendations based on search history
• Deals on new favourites & old standbys alike
Barcode scanner & QR Code reader
• Barcode scanner data can be scanned to find deals on any item
• QR scanner immediately identifies and searches products based on QR code
Buy and sell in categories like:
Fashion & Outfit Ideas
• Clothes and stylish accessories from fashion designers around the world
• Women's fashion and men's clothing, outfit ideas & more
• Outfits, shoes, accessories, beauty products & jewellery
Cars & Motorcycles
• Car auction prices right on your mobile! Save on new & used cars
• Buy new or used cars, trucks and motorcycles in your area
• Car parts for maintenance, motorcycle gear for safety, and accessories for a smooth ride
Home Design, Garden & DIY
• Home design, accessories and decor. Save money on your next renovation
• Home decoration ideas, deals and more
• Garden tools and decorations to complement any style
Electronics, Laptops & Mobile Phones
• Buy electronics for your home or collection and save money
• Save money on the newest, best mobile phones
• Mobile phone cases and accessories for your new device
Deals & Gift Cards
• Discounts on hundreds of items
• Gift cards for your favourite stores
& much more:
Track orders and get notifications:
• Get customisable alerts about your eBay items and activity
• Track your packages
• Leave feedback
• Read and respond to eBay messages
Search and bid with eBay for discounts on clothing, cars, collectibles and anything else under the sun! Download the eBay app and start your search today!
LANGUAGE SUPPORT
English, French, Italian, German, Spanish, Portuguese, Russian, Polish, Dutch (Belgium + Netherlands)
KEEP IN TOUCH
Your feedback & suggestions are important to us! Contact us on Twitter @askebay or www.ebay.com/android
PERMISSIONS
We know you value your privacy when apps request permissions. Here is exactly how they are used:
YOUR ACCOUNTS: Let us send you push notifications if requested.
SYSTEM TOOLS: Let us wake up your device to send notifications, after which the device automatically returns to sleep mode.
LOCATION: Let us provide search results relevant to your location.
NETWORK COMMUNICATION: Share items with your friends or others on eBay using Near Field Communication (NFC). Just enable NFC on your device settings, then hold your phone up to theirs and we'll send the item over!
CAMERA: Scan barcodes for comparison shopping or start a new listing, take pics of an item you're listing, and attach pics to eBay messages.
From version eBay - Buy, Sell & Save Money 5.10.0.11
:
• Bug fixes and performance improvements
Your feedback is important to us. Please contact us by Tweeting @askebay or visiting www.ebay.com/android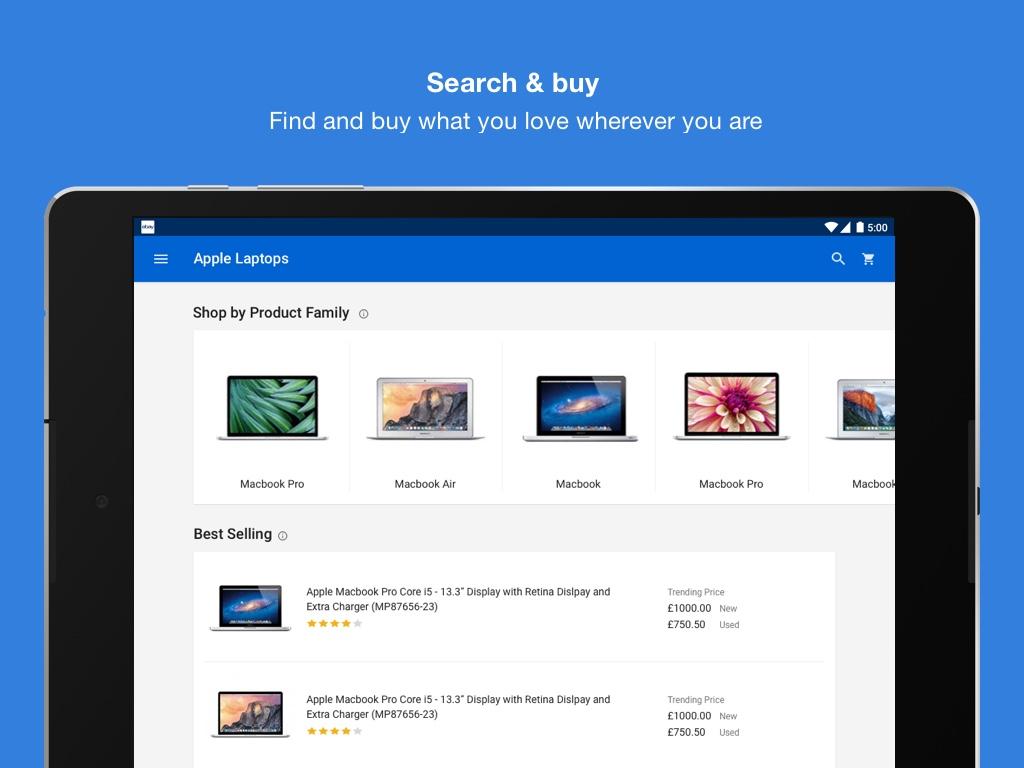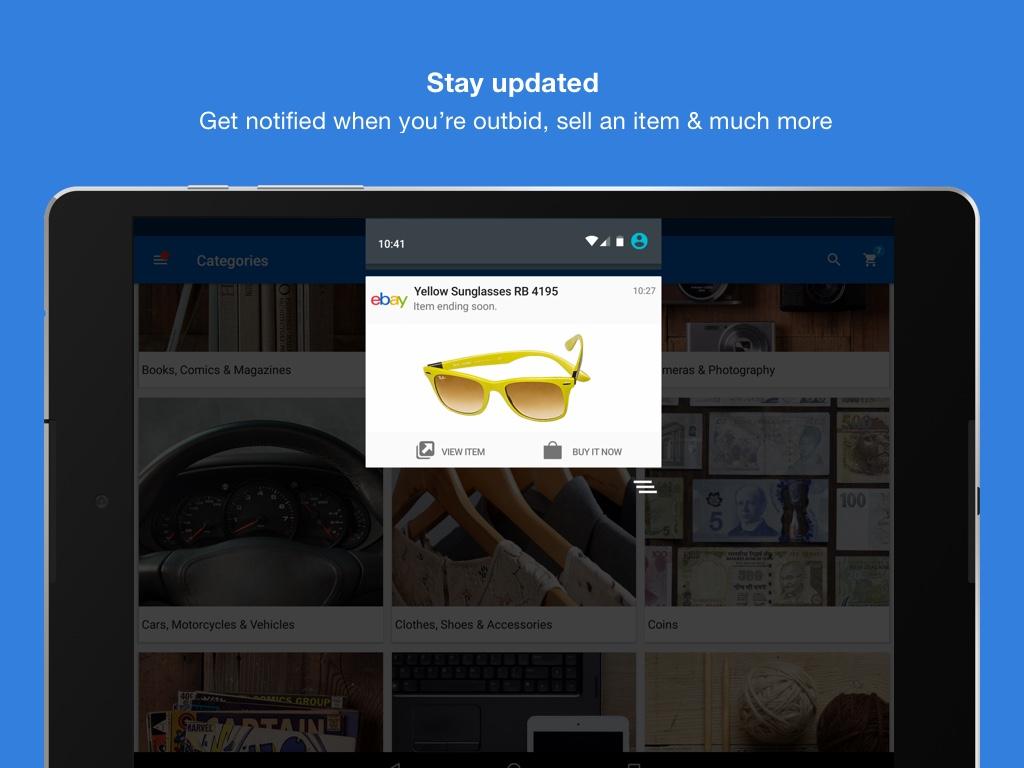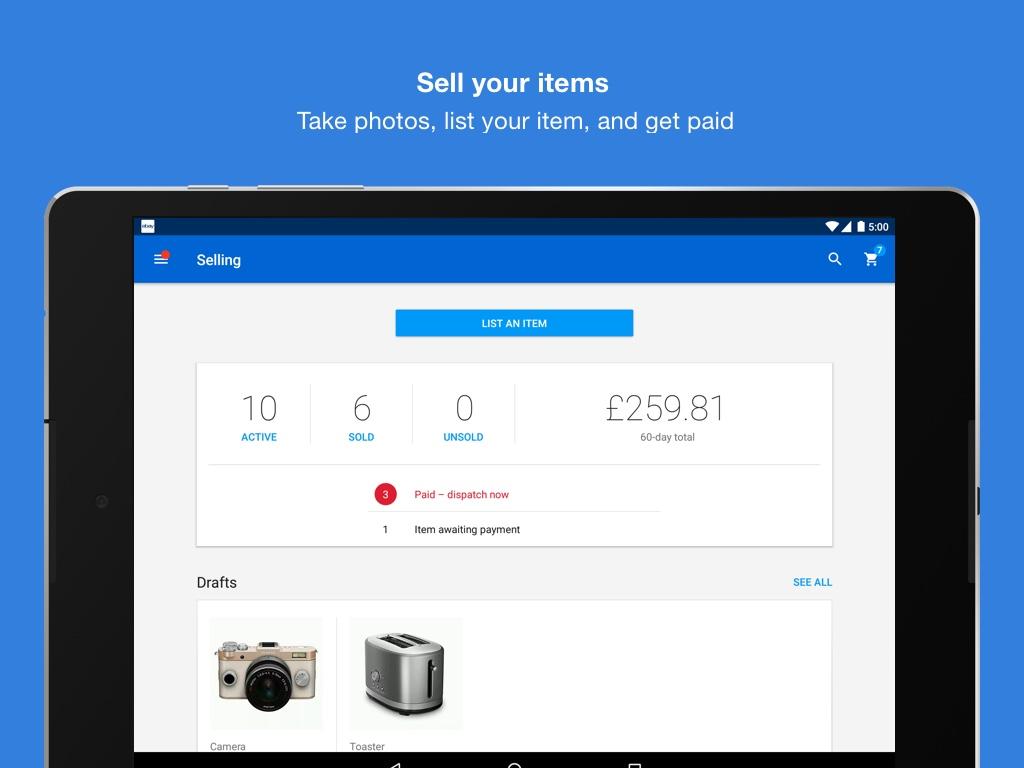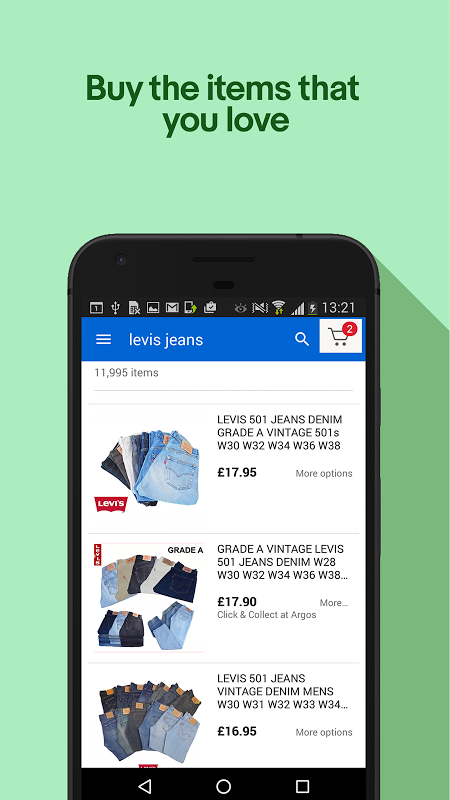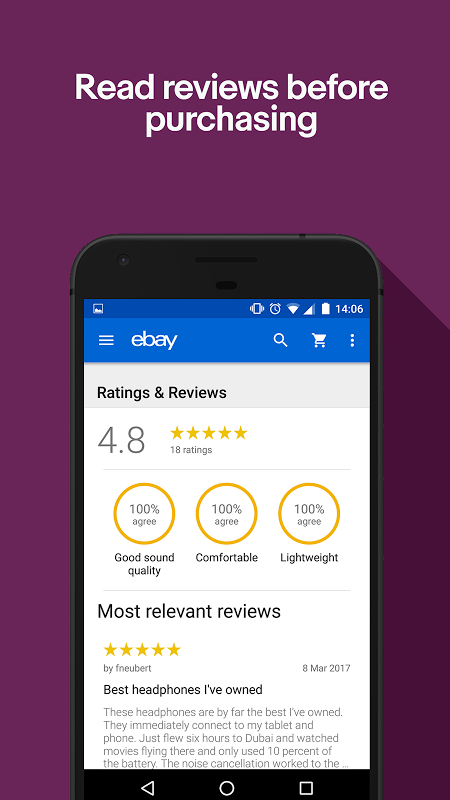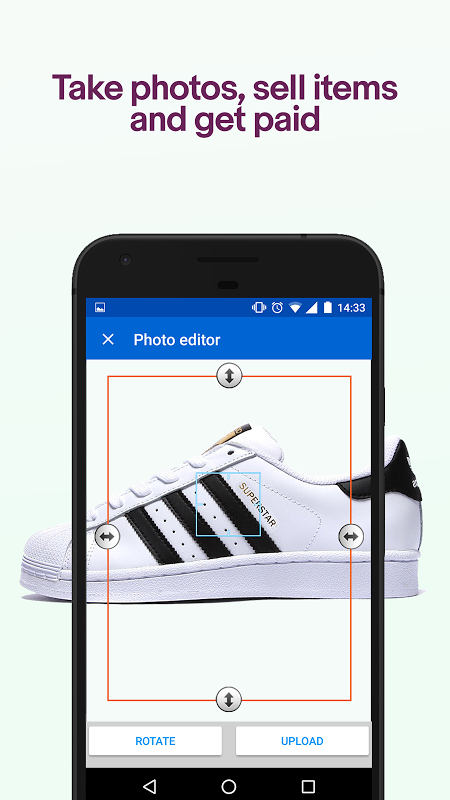 شريت منه خرا بس كان مطابق ١٠٠٪
I want a hot women What's app 009647906760461
ottima.. e veri affari basta legere attentamente
keep going forward!!!!!!!
go your comment guy I believe in yourself
I love ebay. The purchase guarantee gives you peace of mind when buying.
good app does what you want very fast on my galaxy 6 edge
compro tranquillamente con un clik
I don't know if it's due to the latest version of this app by eBay, or if it's yet another problem with Google's Lollipop version of Android, but this app isn't as good as it once was! Downgraded to a previous version which works better.
Nuova interfaccia bruttissima
i have the same question please.
where to get old ebay version?
4.0.0.33 update from 3.0.0.19 is fake
no me deja acer log in!!!
sometimes I can't log into EBAY BETA with my email!
Good app. got everything I need....:-(
necesitas ser beta para esta version.
Betaversion funktioniert nicht!
Oui c vrai et STP ajout moi sur FB Lounis Loulou brahmi
Bella...sarebbe meglio se implementassero più funzionalità come per la versione classica.
J'adore cette application fonctionne très bien
required beta test account by eBay to use this app or doing in host file an entry to the beta login site otherwise the beta versions pop up nonstop the beta login credentials.
Dont download, totally messes up yr ebay. You end up only getting a beta version of ebay, a double layering of ui with the log in screen, and then it simply wont let you log in
No me deja iniciar sección
i can't logg in......beta loggin
CUIDADO al parecer es un fraude!
Non si può accedere non riconosce account
it's just for beta testers, can't use it if you don't log in with a beta tester pin code
No me deja entrar a mi cuenta no sirve
IT WON'T LET ME LOG IN - and why is it ' beta' now on my homescreen?! 😮
bug lors de la connexion... A REVOIR
è una merda!! Non mi fa il login con le mie credenziali!!!!
da like si lo haces solo por etiquetas en school of chaos