Download InfoJobs - Job Search APK Info :
Download InfoJobs - Job Search APK For Android, APK File Named net.infojobs.mobile.android And APP Developer Company Is InfoJobs . Latest Android APK Vesion InfoJobs - Job Search Uploaded In 2017-09-22 Is InfoJobs - Job Search 2.56.1 Can Free Download APK Then Install On Android Phone.
InfoJobs - Job Search APK Description
We love to be the bearers of good news: In 2016 more than 900,000 people found jobs thanks to InfoJobs. Now you too can be one of them. With the InfoJobs app you can search for job offers, apply for the jobs that you like best and monitor your applications' status at any time from your mobile device. Don't miss out. Thousands of employment opportunities are waiting for you in the InfoJobs app.
Improvements are always a good thing and we have recently redesigned our app to make it both faster and more user friendly.
What our users say about the InfoJobs app?
★★★★★ "Lots of offers and very easy to apply. For my money the best job search application around."
★★★★★ "The easiest way to find employment."
★★★★★ "Now I don't even have to turn on my laptop, I can look for jobs on my mobile."
Looking for employment has never been as easy as with the InfoJobs app. The top national and international businesses use InfoJobs to post their offers. So whatever your profession or training, whether you are freelance or self-employed, whether you're looking for something part-time, full-time, or just want to gain experience, you're bound to find the perfect job with InfoJobs.
With the InfoJobs app you can:
✔ Search for job offers
- By professional category: marketing, sales, engineering, customer services, design, finance, IT, services, tourism, hospitality sector, etc...
- By professional level: directors, managers, specialists, assistants, apprentices, etc...
- By location: Barcelona, Madrid, Seville, A Coruña, Valencia, Bilbao, etc...
Whatever your CV or your level of experience, InfoJobs has hundreds of vacancies and opportunities waiting for you.
✔ Apply for jobs using the CV and presentation letter that best correspond to the offer in question. You can even answer questions from the company using your mobile device.
✔ Consult all the relevant information about the jobs that most interest you: job level (specialist, intermediate management, management ...), minimum education or professional experience required, people in charge, type of contract, working hours, etc. You can also find out all you need to know about the company that posted the offer.
✔ Monitor your employment application. With the InfoJobs app you can get an overview of all your applications and monitor their status. You will also receive automatic notification and messages when a company reads your CV.
With the InfoJobs app you can make the best of any given moment to search for and apply for the job you have always wanted.
Clear up any doubts you may have and let us know what you think of the InfoJobs app by sending a mail to [email protected]
Your opinions and recommendations help us improve! Tell us directly via Google Play.
InfoJobs website: https://www.InfoJobs.net/
InfoJobs Google+ page: https://google.com/+InfoJobs
The InfoJobs app is compatible with Android devices later than version 4.0.3.
From version InfoJobs - Job Search 2.56.1
:
En esta versión introducimos importantes mejoras técnicas. ¡Queremos entregaros siempre el producto perfecto! Si todavía no tienes la app, descárgala ahora. Cada 30 segundos se firma un contrato a través de InfoJobs.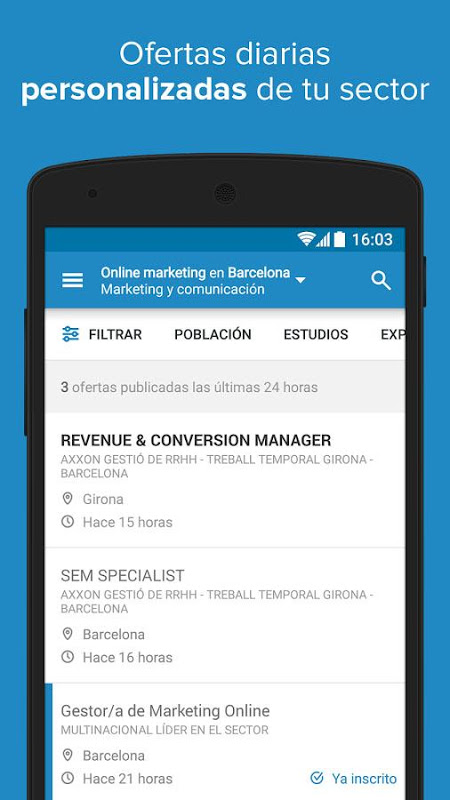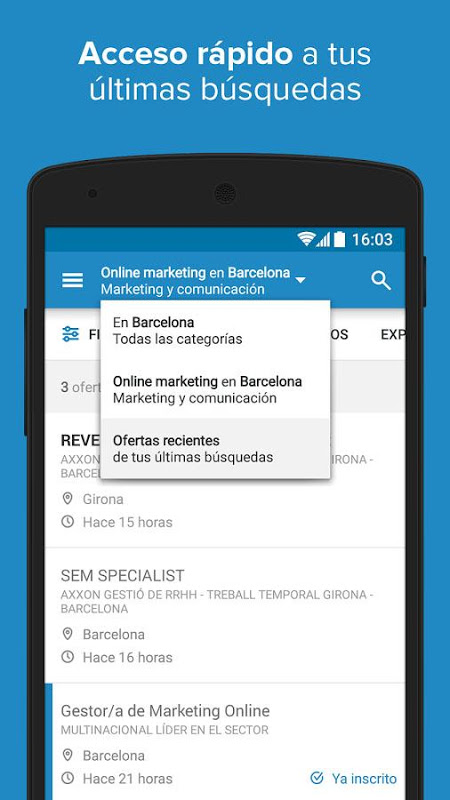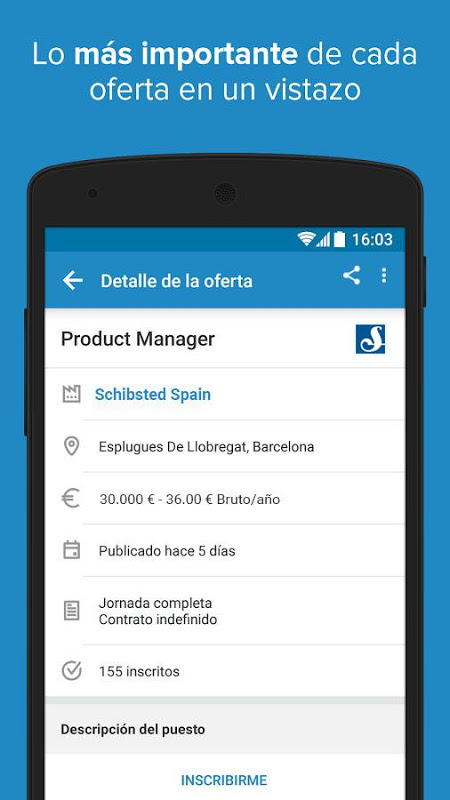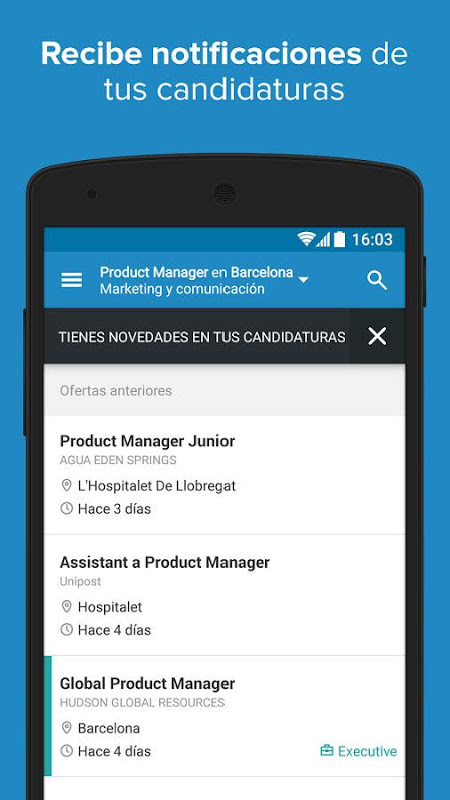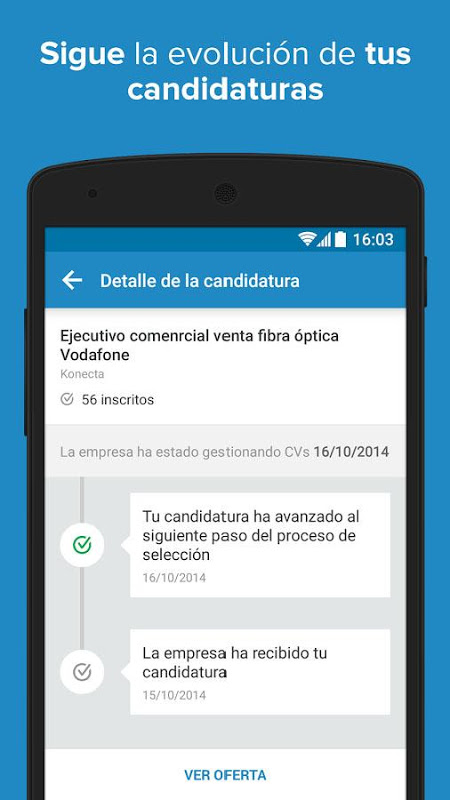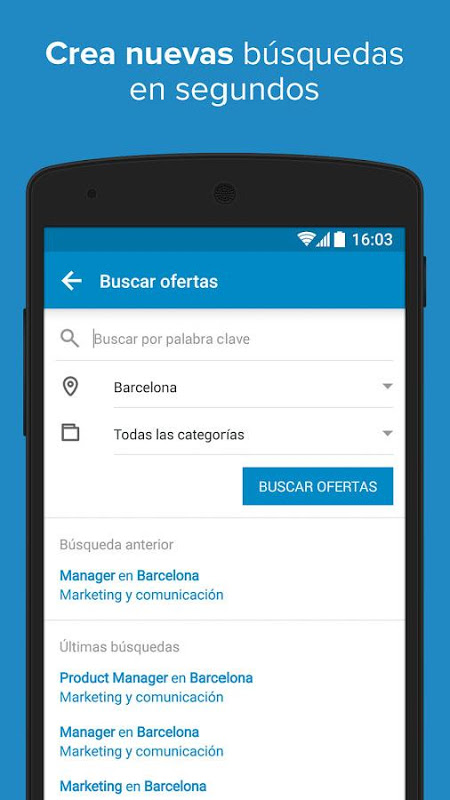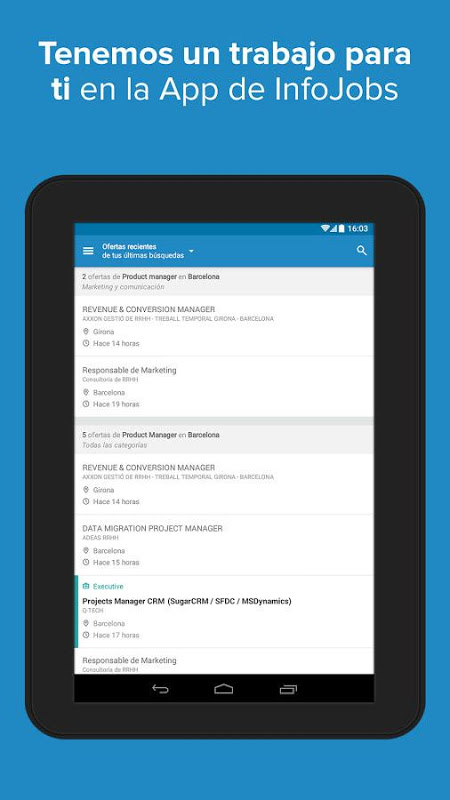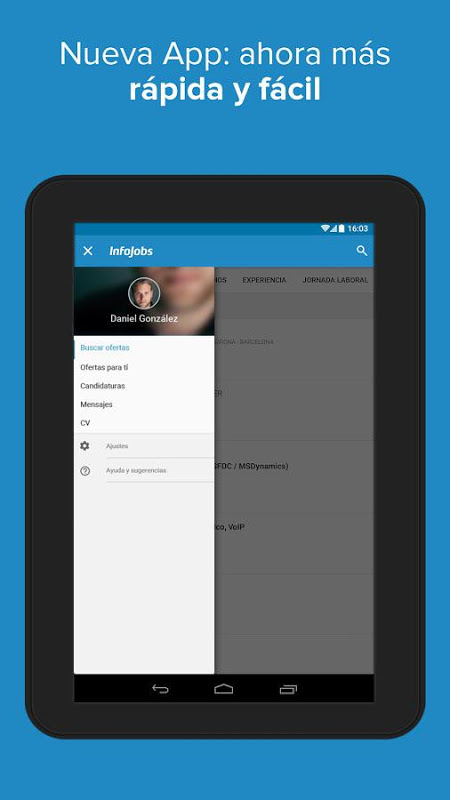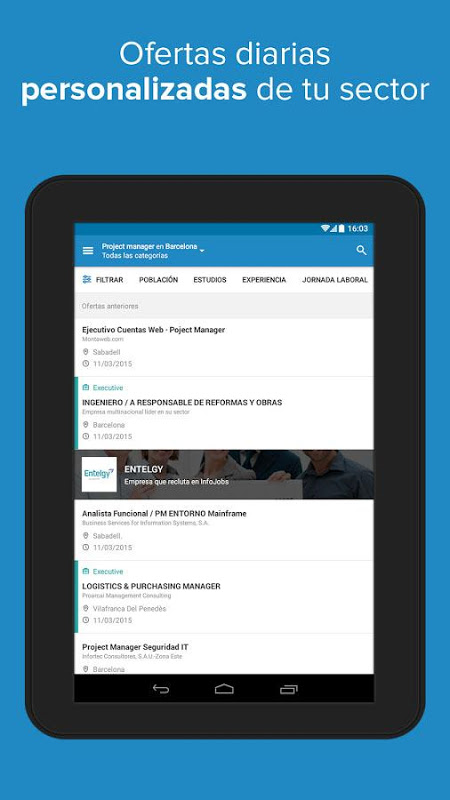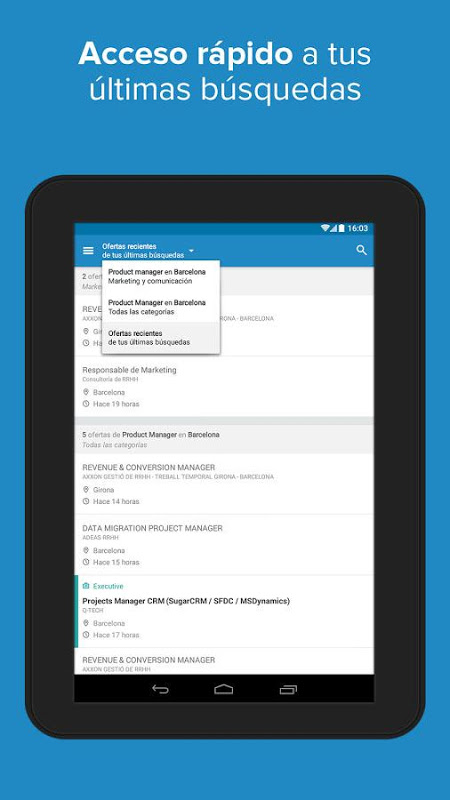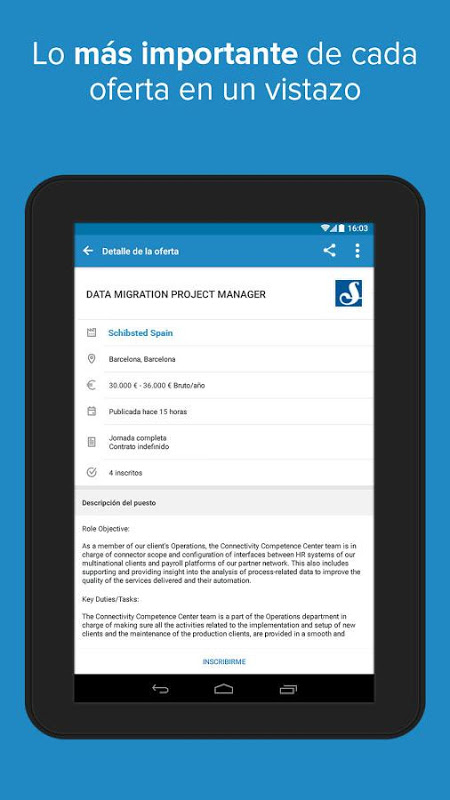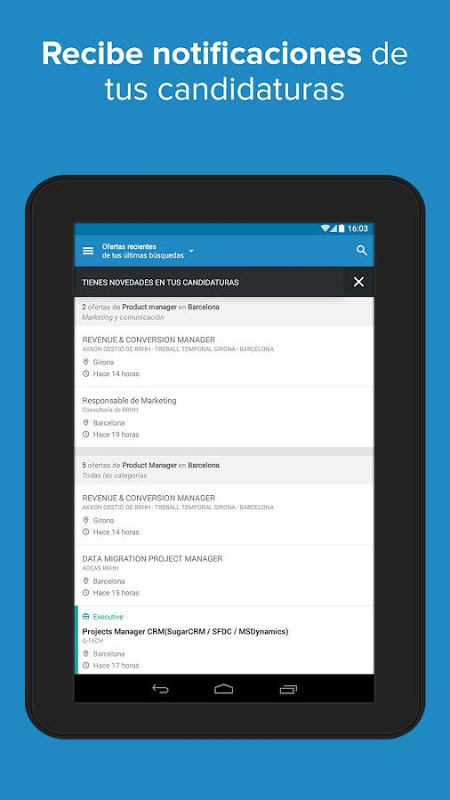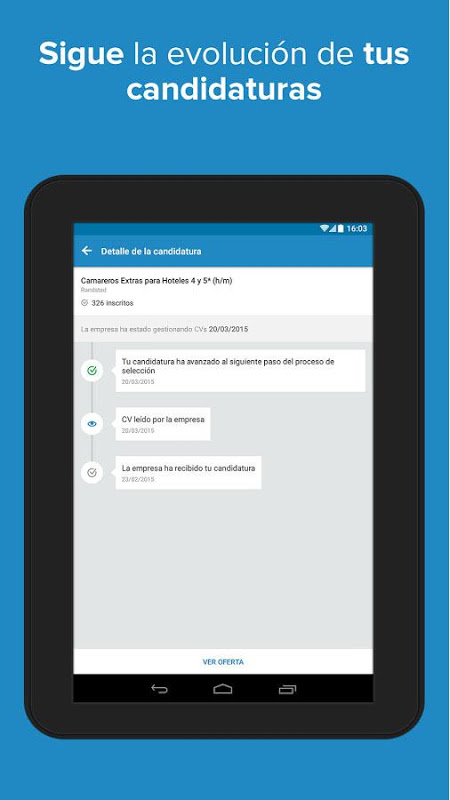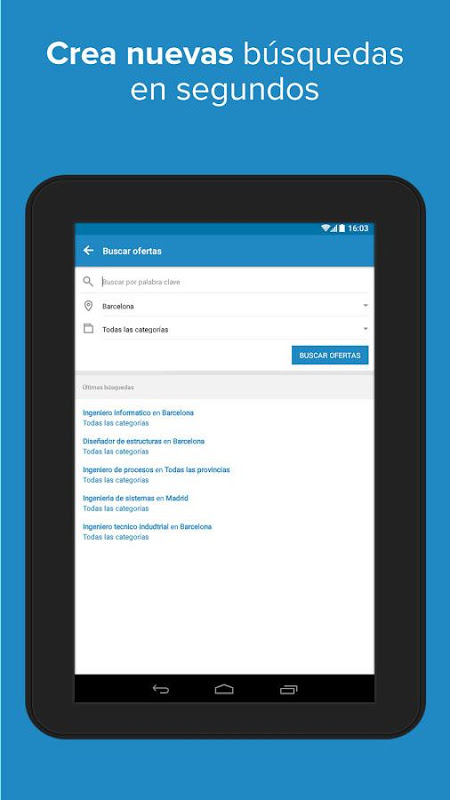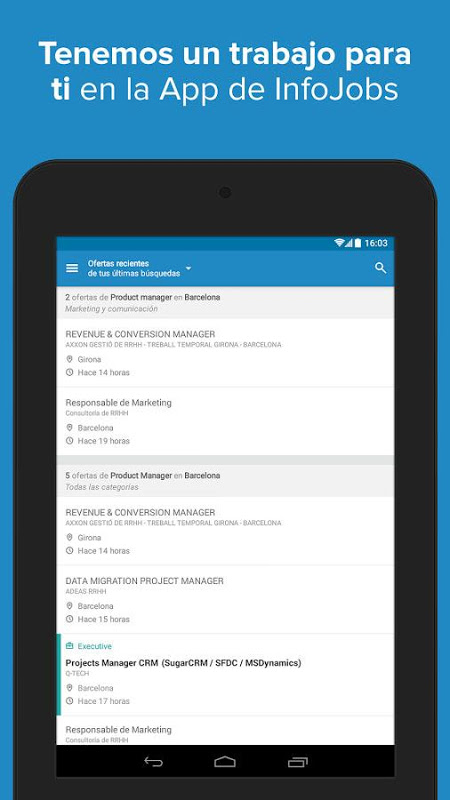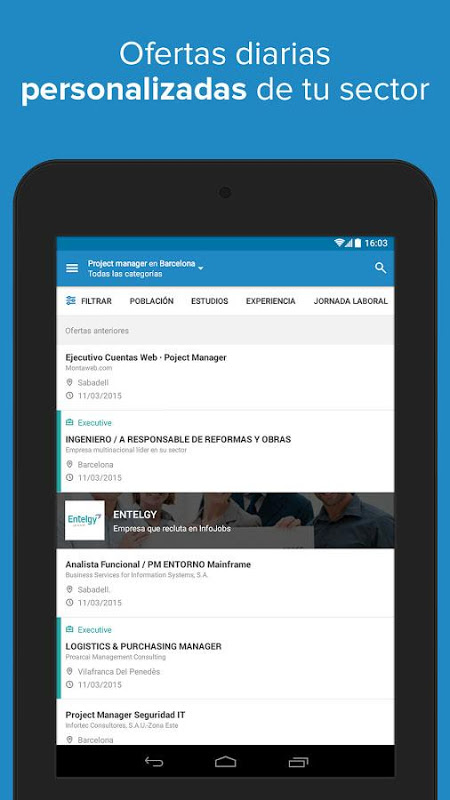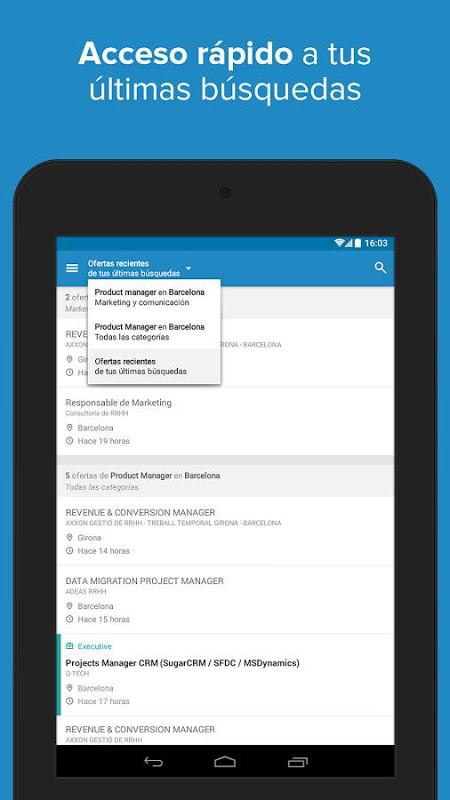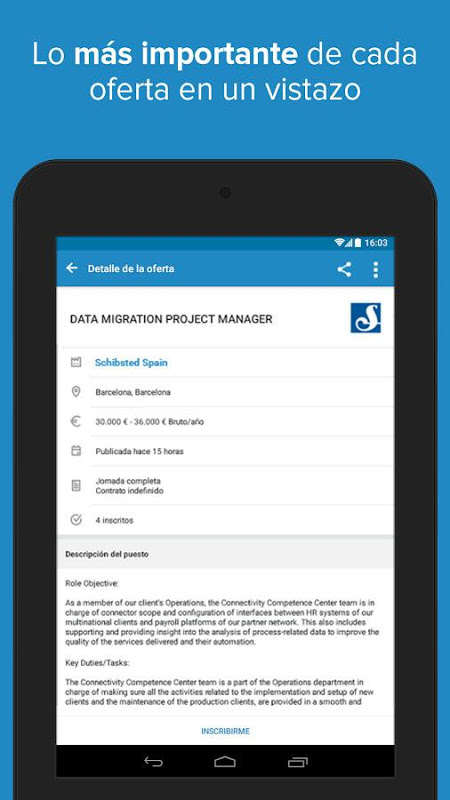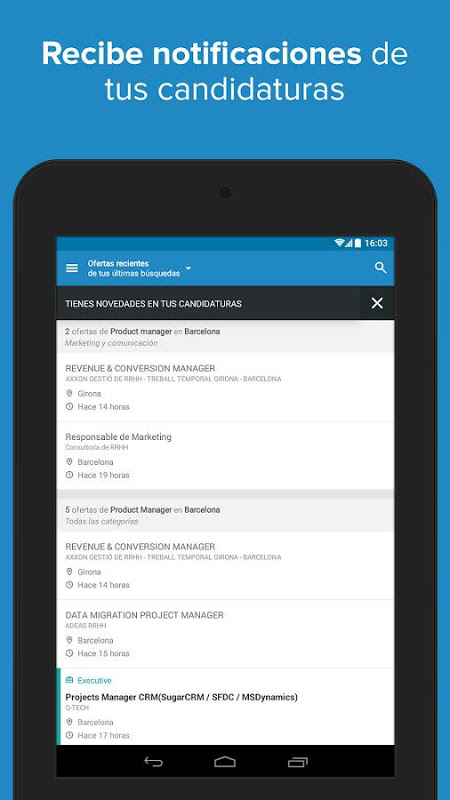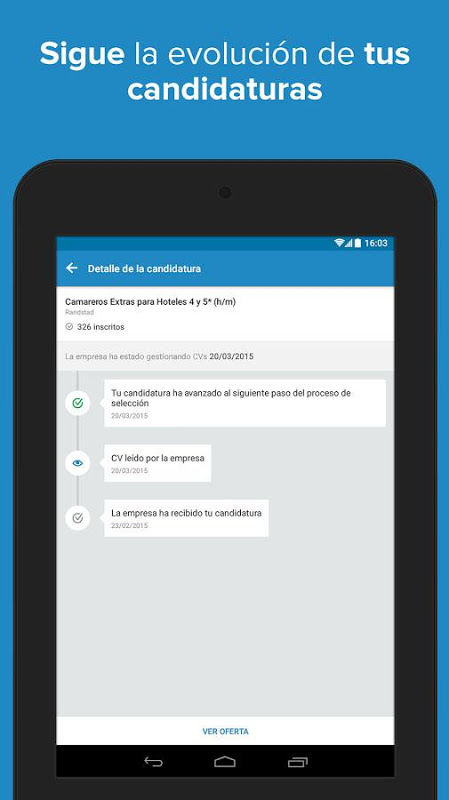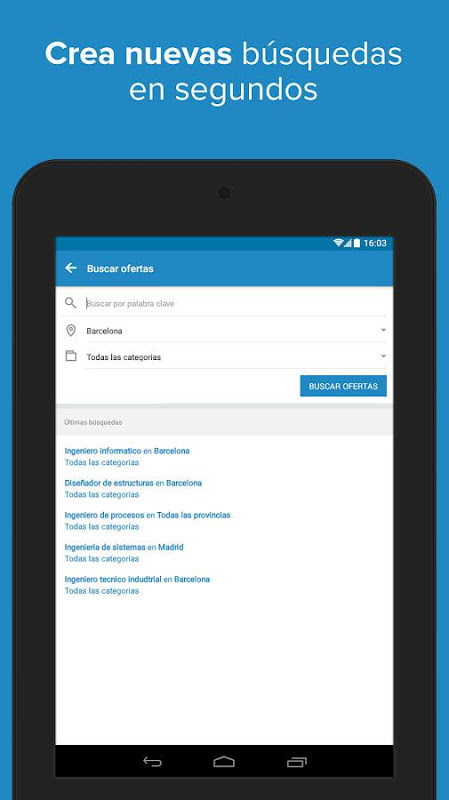 Estaría bien que obligasen a las empresas a decir lo antes posible si te descartan o no de una oferta de empleo, para no dejarnos en el limbo...y por respeto...
Mi piace perché è un gioco divertente e allo stesso tempo impari