Download Aptoide V8 BETA 8.6.0.20171207 APK Info :
Download Aptoide V8 BETA 9.0.0.20180717 APK For Android, APK File Named And APP Developer Company Is . Latest Android APK Vesion Aptoide V8 BETA Is Aptoide DEV 9.0.0.20180717 Can Free Download APK Then Install On Android Phone.
Download Aptoide V8 BETA 8.6.0.20171207 APK Other Version
For Download Other Aptoide V8 BETA versions Visit Aptoide V8 BETA APK Archive.
Aptoide V8 BETA
Version:
8.6.0.20171207
(8609)
x86,x86-64,armeabi-v7a,arm64-v8a,mips
Package: cm.aptoide.pt.dev
390405 downloads
17.75 MB (18607757 bytes)
Target: Ice Cream Sandwich 4.0.3 - 4.0.4 API level 15, NDK 8
729ea4c7867816d7baacdd5435010b56
added on 2017-12-07 01:50:11 by aptoidedev
Aptoide V8 BETA 8.6.0.20171207 APK Download by
In Aptoide V8 BETA 8.6.0.20171207
apk test
In Aptoide V8 BETA 8.6.0.20171207
android.permission.ACCESS_COARSE_LOCATION
android.permission.ACCESS_FINE_LOCATION
android.permission.ACCESS_NETWORK_STATE
android.permission.ACCESS_WIFI_STATE
android.permission.AUTHENTICATE_ACCOUNTS
android.permission.CAMERA
android.permission.CHANGE_NETWORK_STATE
android.permission.CHANGE_WIFI_MULTICAST_STATE
android.permission.CHANGE_WIFI_STATE
android.permission.GET_ACCOUNTS
android.permission.INSTALL_PACKAGES
android.permission.INTERNET
android.permission.MANAGE_ACCOUNTS
android.permission.READ_CONTACTS
android.permission.READ_EXTERNAL_STORAGE
android.permission.READ_SYNC_SETTINGS
android.permission.READ_SYNC_STATS
android.permission.RECEIVE_BOOT_COMPLETED
android.permission.USE_CREDENTIALS
android.permission.WAKE_LOCK
android.permission.WRITE_EXTERNAL_STORAGE
android.permission.WRITE_SETTINGS
android.permission.WRITE_SYNC_SETTINGS
com.android.launcher.permission.INSTALL_SHORTCUT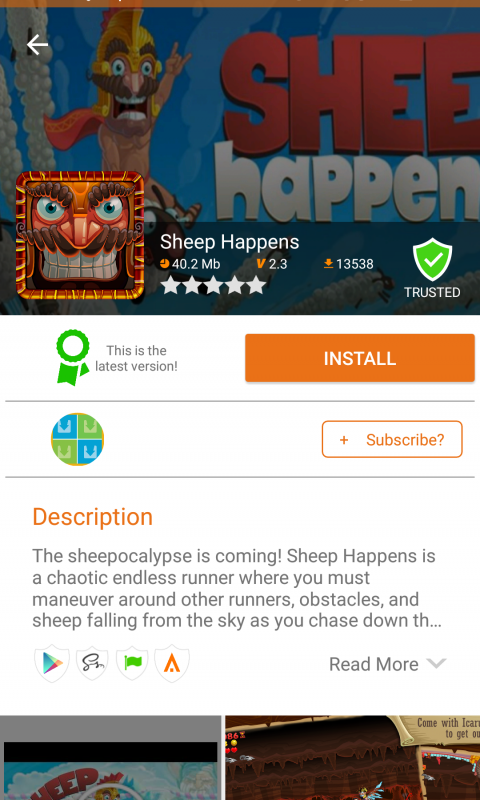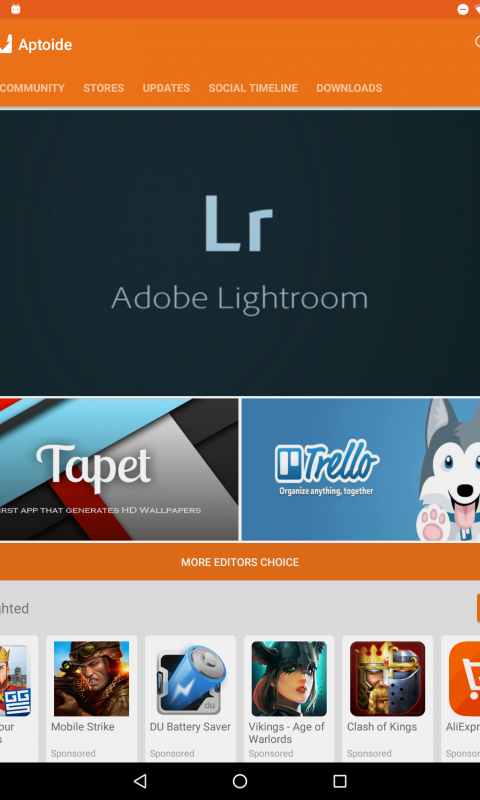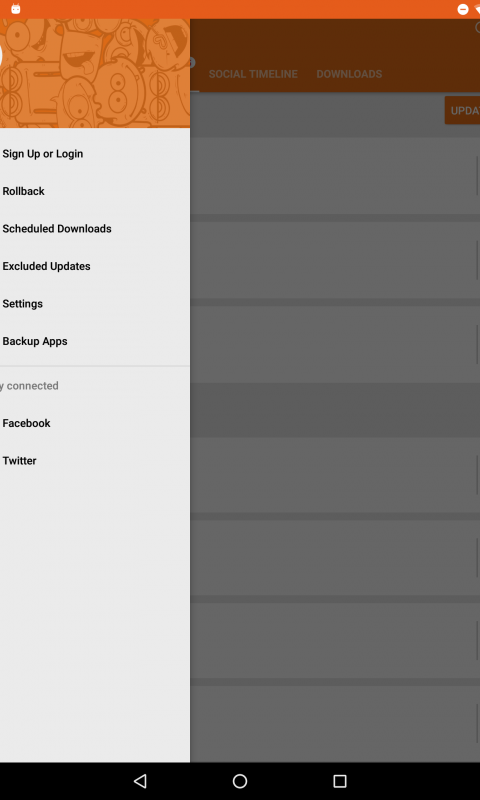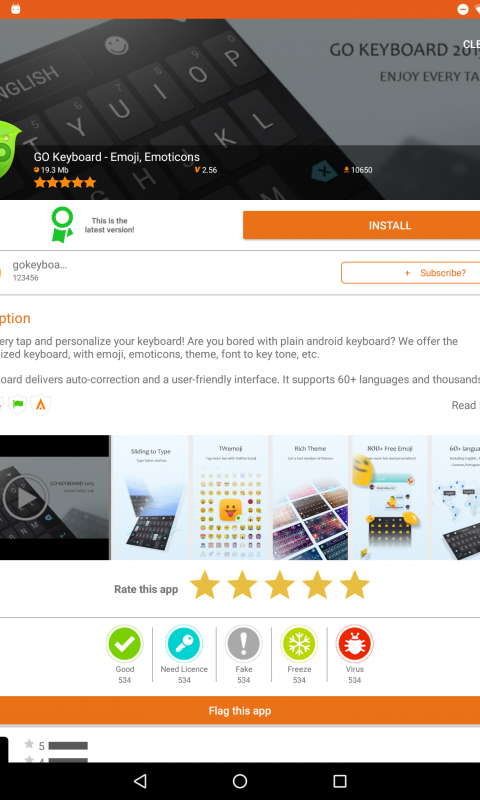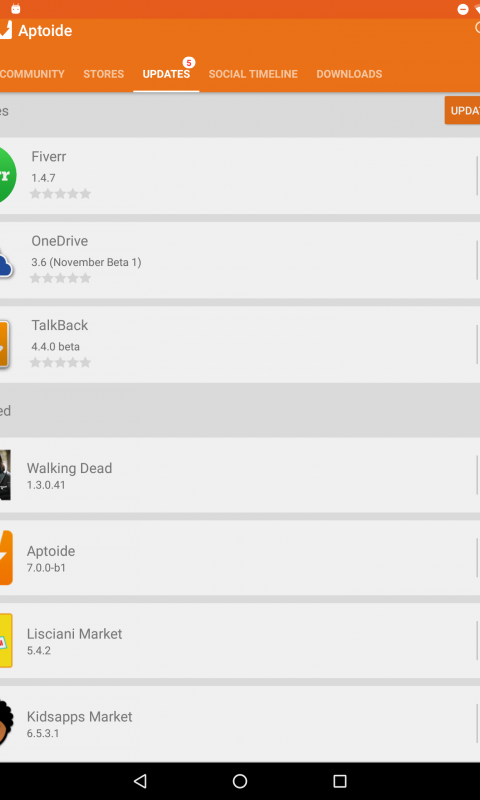 Gente isso é a mesmo coisa do que o aptoide normal só que melhor??
Quando chega em 100%, diz transferência interrompida 😏
No se puede descargar nada
Es kommt immer Serverfehler. Aptoide 7 läuft ohne Probleme.
cada vez que se actualiza se borran las tiendas
لعبة الأكشن الرائعة Gangstar Vegas v2.5.1c معدلة و كاملة للأندرويد [تحديث]
Muito bom! Corrigiram o bug de não dar pra fazer login e também corrigiram os crashes! Tá ótimo!
so many updates but i can't even open it, maybe its because i have the 2 versions installed at the same time or something ...
since a week or so, after installing, the app won't open. Before that I was able to open, but it always showed 20+ updates from apps with older version, than the installed ones. stuck on Android 5 though, due to older Phone. Aptoide 8 is imho far from releasable
after update still can't open it up...
Client stops. Not worked at Sony Xperia T, Android 4.3 :(
Application started, but don't work right-side.
When I click on stores it crashes how can I fix that ?
Client Update don't open at Sony Xperia T, Android 4.3! Big bug!!
Update don't open this application, application stopped!
force stop on xperia z3 after aug 31 all new versions

getting every update, yet still using latest v7 version as it is much superior to v8. it seems to be going backwards! what I don't like is that the downloaded APK is not renamed to have that extension. also the whole name of the downloaded app with the numbers, I know this has been in effect for awhile now, but it gets a bit of a pain when I look into my "failed uploads" folder and I don't know what they are. more of a review to come. also a "wishlist" of possible inclusions into the newer versions
is thete is assassin creed identity shich is trusted
Werkt niet meer. Opent en sluit gelijk weer af.
Failed to open after update.