Download Cookie Frenzy APK Info :
Download Cookie Frenzy APK For Android, APK File Named com.asqteam.cookiefrenzy And APP Developer Company Is ASQTeam . Latest Android APK Vesion Cookie Frenzy Is Cookie Frenzy 1.5 Can Free Download APK Then Install On Android Phone.
Cookie Frenzy APK Description
Cookie Frenzy – The delicious match-2 puzzle game with sweetest Cookie & Yummy Jelly! Enjoy this game with Facebook & get best position on Google leader board now! Your mission is matching two or more same items to make them pop. The more yummy cookies you match, the more scores you have. With innovative gameplay, coolest sweet cakes, global leader board, stunning graphics & effects, delicious boosters … Cookie Frenzy brings tons of fresh and sweet challenges for your shining day! ★ ★ MAIN FEATURES ★ ★ ✔ A sweet and exciting match-2 puzzle with yummy cakes & lovely Fairy ✔ 3 game modes: Beginner, Normal, and Challenge ✔ Fun and easy to play, but challenge to fully master! ✔ Delicious & addictive gameplay: Match & pop larger block of sweet items to get high scores for achieving level's target Collect Gold by moving it to bottom for buying boosters in shop Collect gift to get extra scores by moving it to bottom jelly puzzle Collect boosters from the fairy by moving it to bottom jelly puzzle Break the sweet yummy food in ice to rescue them ✔ Unique and delicious power-ups & boosters, include Yummy Bomb, Pastry Axe, Sugar Rocket to help you get more scores & special objects. ✔ Popping specific food to get extra power-ups for next level ✔ Global leader board to rank with other players on community in 3 modes. Try to play & get top position worldwide! ✔ For players that Facebook Connect, there are leader board for you to compare & share your cookie mania time scores with your friends. ✔ Try your best to achieve special Achievements for your sweet time! ✔ Amazing effects & animation ✔ Sweet yummy cookie & jelly with coolest emotion ✔ Fresh-new background music & interaction sound ★ ★ HOW TO PLAY ★ ★ ✔ Tap on any 2 or more connected identical items to pop them. The more items you connect, the more points you get. Think twice before every matching. ✔ Special extra score: move gift box to the bottom of the puzzle to get more scores ✔ Power-ups: try to move gold, extra boosters to the bottom to get it. You can then use gold to buy more boosters in shop. ✔ Never-ending level: gameplay is in endless style so you must try to pass as many levels as possible on your fun time. The more levels you passed, the more scores you have & high position on leader board! ✔ The lovely Fairy will go with you through the cookie mania time ★ ★ OUR CONTACT ★ ★ ✔ To help us to meet your expectations about this free game, please send your feedback to: [email protected] ✔ Official discussion website: https://www.facebook.com/ateamdroid Cookie Frenzy is free now and forever. We have added Admob ads to earn some cents. Thanks for your supporting. If you love sweet game, you may also like our game Cookie Star. Play the sweetest match 3 game & enjoy the full-of-fun hours in cookie world! ASQTeam
From version Cookie Frenzy 1.5
:
Added: 2019-07-25 13:36:32
Modified: 2019-07-25 13:36:41
Updated: 2019-07-25 13:36:32
* Allow install game on external storage
* Fixed minor bug
Thanks for playing Cookie Frenzy & best wishes to you!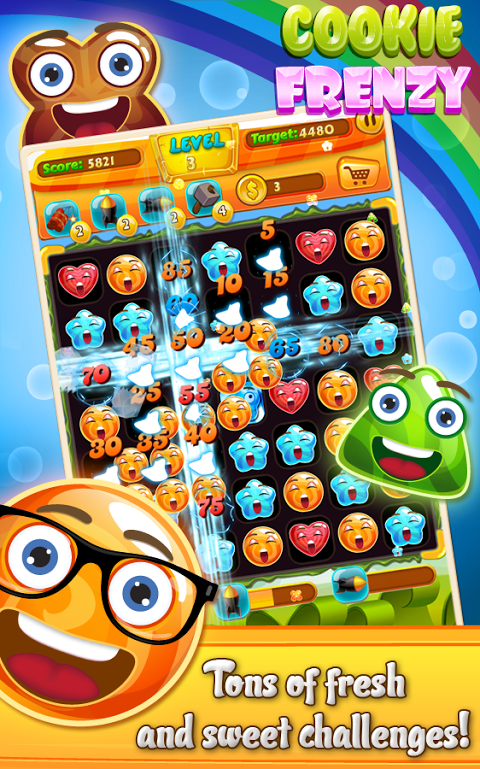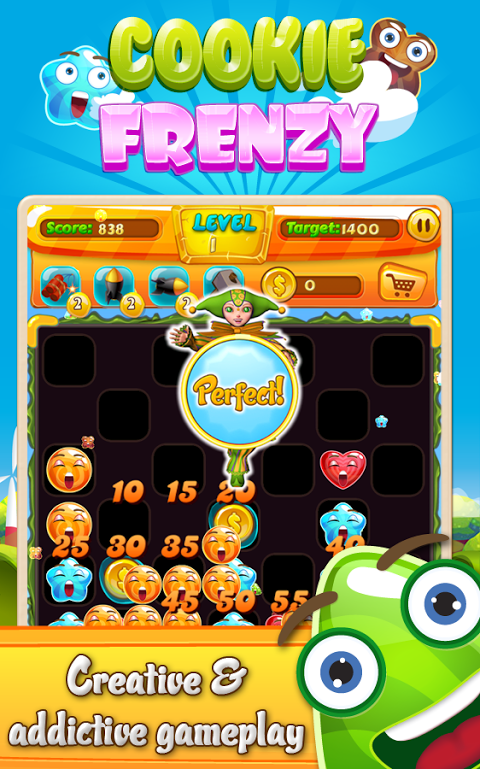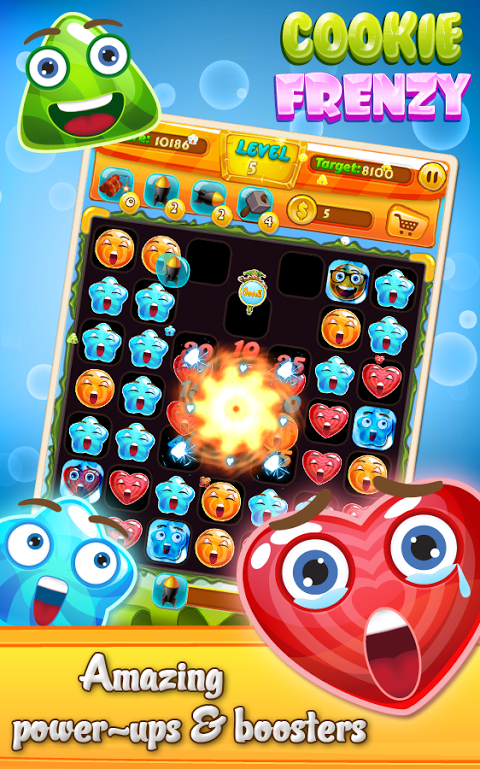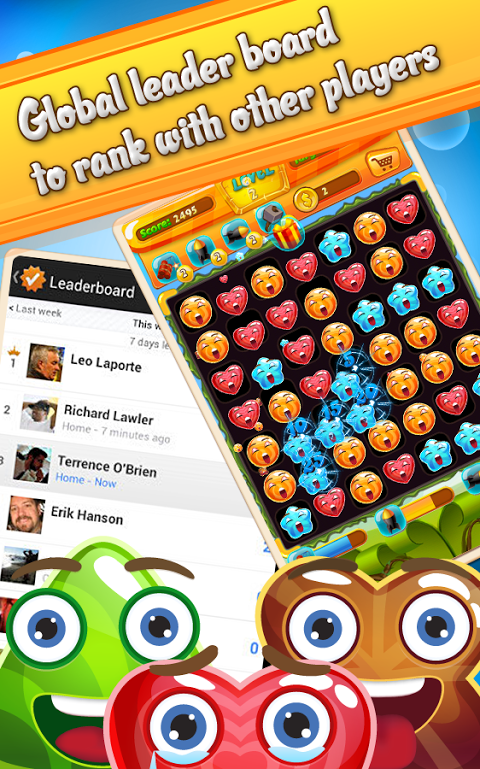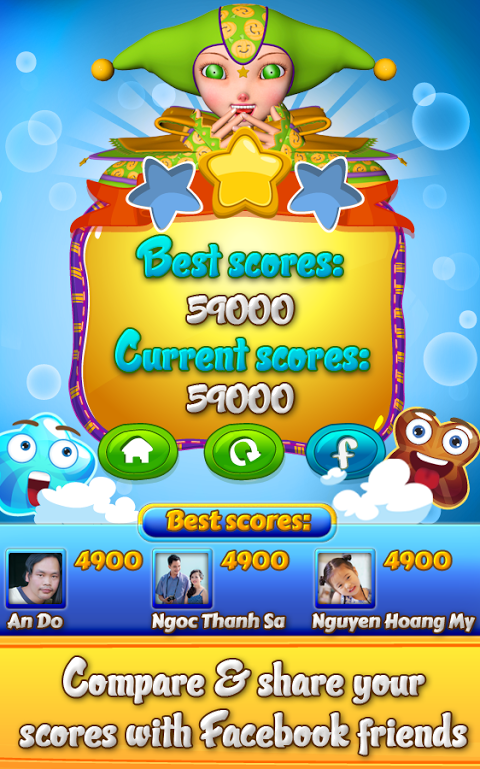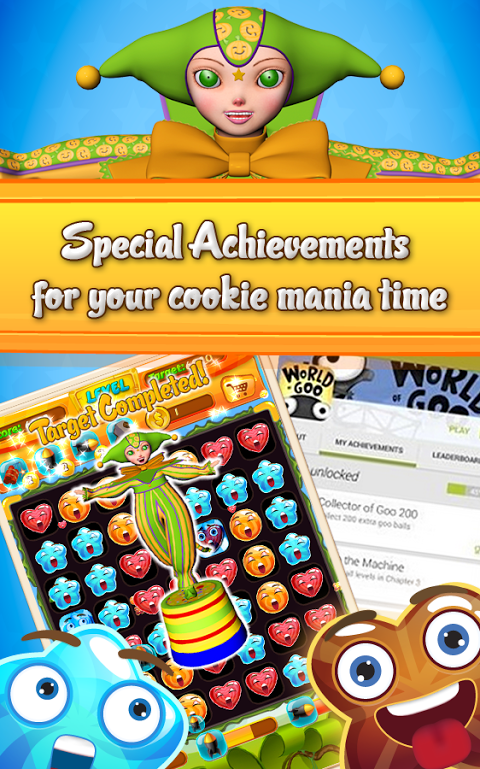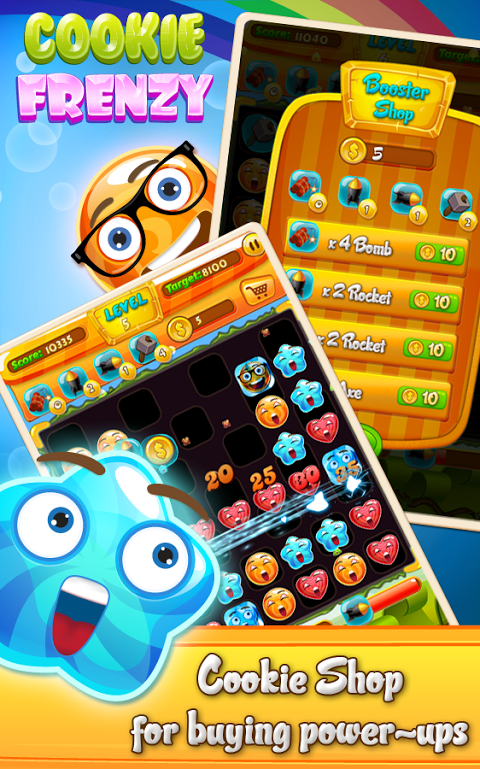 Download Cookie Frenzy APK Android