Download Discord - Chat for Gamers APK Info :
Download Discord - Chat for Gamers APK For Android, APK File Named com.discord And APP Developer Company Is Hammer & Chisel Inc. . Latest Android APK Vesion Discord - Chat for Gamers Is Discord - Chat for Gamers 7.7.3 Can Free Download APK Then Install On Android Phone.
Discord - Chat for Gamers APK Description
Connect with your friends while you play your favorite games with Discord – Chat for Gamers. Discord is the app that millions of gamers are using to chat and text while playing games. No need for a keyboard anymore, this app allows you to easily keep in touch with other players. Voice chat is one of the key parts of Discord and the app allows you to join group channels. Not only is it an important part of co-op games, where coordination between players is crucial to their success, but it can also be used to simply chit-chat during your gaming sessions. Message your friends in real time and share pictures and videos with them. You can also have one-to-one conversations, of course! With the push notifications and the possibility to tag friends with mentions, it's easy to directly contact your friends whenever you're ready to play and want to gather them for a session. Easily send them instant invites to add them to your groups! And it's all really easy to manage! Organize all your different groups for different games and create specific channels for specific topics. All of this, in one intuitive and user-friendly environment. Discord – Chat for Gamer is the definitive app for communication between players. Start chatting with your gamer friends now with one single convenient app!
From version Discord - Chat for Gamers 7.7.3
:
Added: 2017-12-26 08:40:15
Modified: 2018-10-17 10:41:30
Updated: 2018-10-18 01:20:38
- Fancy new Early Supporter badge for those wonderful folks who had Discord Nitro before the launch of our game store.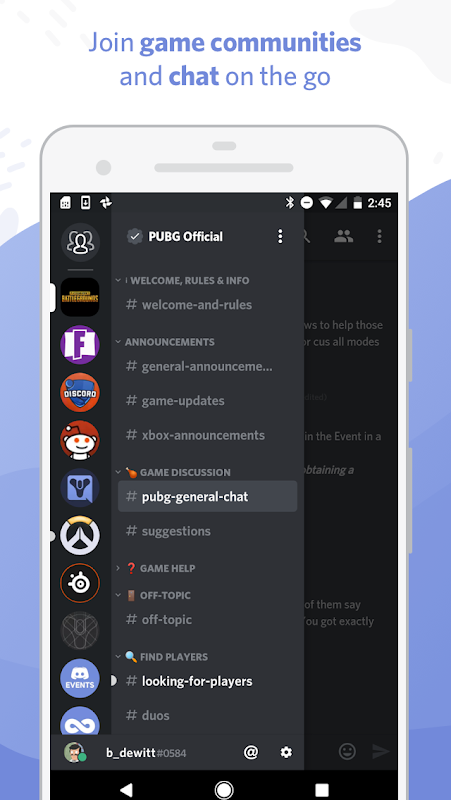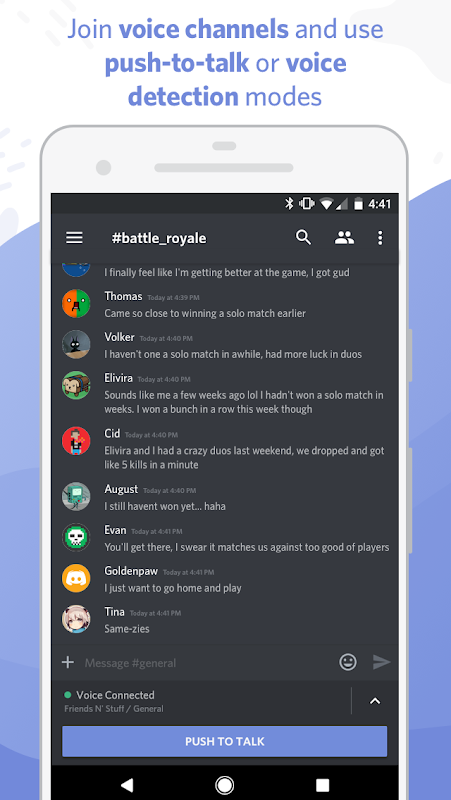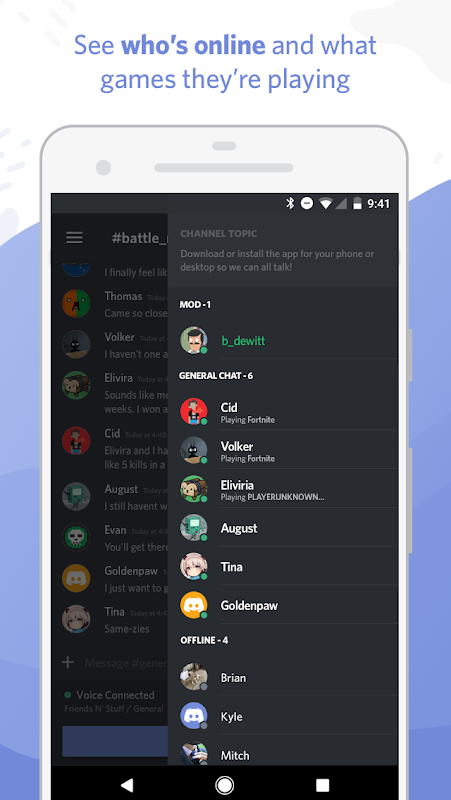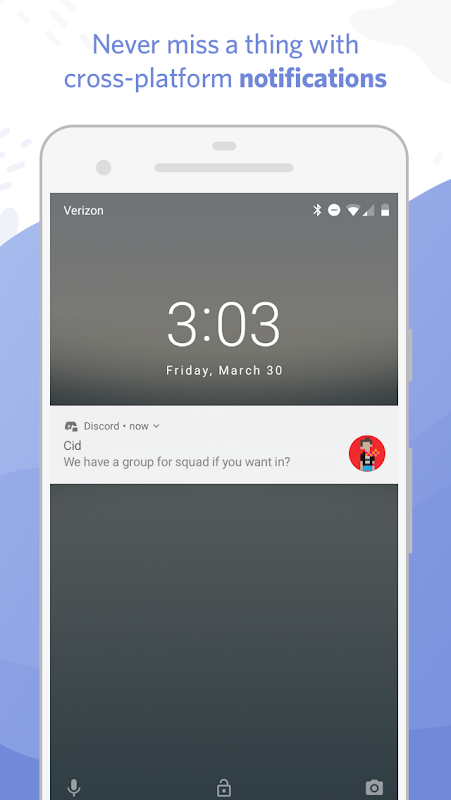 Eu tenho no Cellular e no PC, baixa no PC que lá tem
dude. this ain't fake. maybe you're device is suffering you're storage. don't hate. hate yourself
Maybe you're device has too much storage,of course it will crash
Guys, try turning off the internet, or AIRPLANE MODE lol sorry if i screamed at you
Unfortunately, many apps do this now. You'll need to buy an android device that has the Google app to get Google Play Services, or you could try an older version of discord.
If you want to register an account, you will need to either download Puffin Browser and search discord.com and register an accoun there or you can go to your normal searching Browser and go to discord.com and register there. After you register, log in through the app and you're done!
mmmm yo aun no lo pruebo asique okay like a tu comment😄
ادخل علي قناتي بسرعة mostafa royale 29 مشترك👑
no but i think you can chat via voice chat , you have to connect and play , so you can talk together , but cant chat ...
en las configuraciones lo cambias a español.
en las configuraciones lo cambias a español.
O que isso não tem a ver com uma célula para chorar em voz alta
GOSTEI PORQUE ISSO E MAIS LEVE QUE O SKYPE
fnaf1fan says the one with fnaf in HER OR HE name
Thiago babaca so fica falando sii
Ouai c quoi ton nom sur lui ?
L aplis de l anner trop top