Download Survivors: The Quest® APK Info :
Download Survivors: The Quest® APK For Android, APK File Named com.g5e.survivors And APP Developer Company Is G5 Entertainment . Latest Android APK Vesion Survivors: The Quest® Is Survivors: The Quest® 1.7.702 Can Free Download APK Then Install On Android Phone.
Survivors: The Quest® APK Description
Three air passengers find themselves stranded on a secluded island after a plane crash. But soon they discover the island is not as isolated as it seems. Strange buildings, an old laptop and other findings suggest that the island was used for some sort of scientific research. But who was behind it? And what else is the island hiding? Help the survivors get along, avoid starvation, unravel a startling mystery and make their escape. Playing as each of the three characters, you will have to take care of their well being, caring for their Comfort, Hunger, Stamina, Fun, and Friendship levels in order for them to be able to explore the island and fulfill quests. Find and use objects to solve puzzles, collect and cook food, find your way through the jungle, and complete collections to earn amazing bonuses that help the characters keep their energy levels high. Hurry to this gorgeous but unsettling island to rescue the three survivors now! You can unlock additional bonuses via in-app purchase from within the game! ● Explore beaches, lagoons, jungles and mountains on a beautiful tropical island. ● Play three unique characters. ● Manage each survivor's Stamina, Hunger, Fun, Comfort and Friendship levels. ● Solve a thrilling island mystery before you can bring the survivors home. ● Stay entertained for months thanks to hundreds of quests and collections. ● Look forward to regular free updates with exciting new content! ● Google Play game services support ____________________________ Game available in: English, Chinese, Traditional Chinese, French, German, Italian, Japanese, Korean, Brazilian Portuguese, Portuguese, Russian, Spanish ____________________________ COMPATIBILITY NOTES: ***Note*** This game supports high-end smartphones and tablets such as Nexus 7 and Nexus 10. ____________________________ ***Sign up now for a weekly round-up of the best from G5 Games! www.g5e.com/e-mail*** ____________________________ ***G5 Games - New game apps every week!*** Collect them all! Search for "g5" in Google Play! Strategy: ▶ Games Navigator – By G5 Games ▶ Doomsday Preppers™ ▶ Stand O'Food® City ▶ Farm Life: The Adventure ▶ Virtual City Playground® Adventure: ▶ Mahjong Journey® ▶ The Secret Society® ▶ Letters From Nowhere®: Mystery ▶ Hidden City: Mystery of Shadows ▶ 9 Clues: The Ward ____________________________ VISIT US: www.g5e.com WATCH US: www.youtube.com/g5enter FIND US: www.facebook.com/g5games FOLLOW US: www.twitter.com/g5games
From version Survivors: The Quest® 1.7.702
:
Added: 2018-04-11 14:49:02
Modified: 2018-04-11 14:49:03
Updated: 2018-06-12 13:57:28
Prepare for an enthralling adventure on an exotic and remote island!
NEW MATCH-3 MINI-GAME – Now you can play the most addictive match-three game while your fellow survivors are busy working.
BUG FIXES – Your favorite game is only getting better. Check it out!
Join the G5 email list and be the first to know about sales, news and game releases! www.g5e.com/e-mail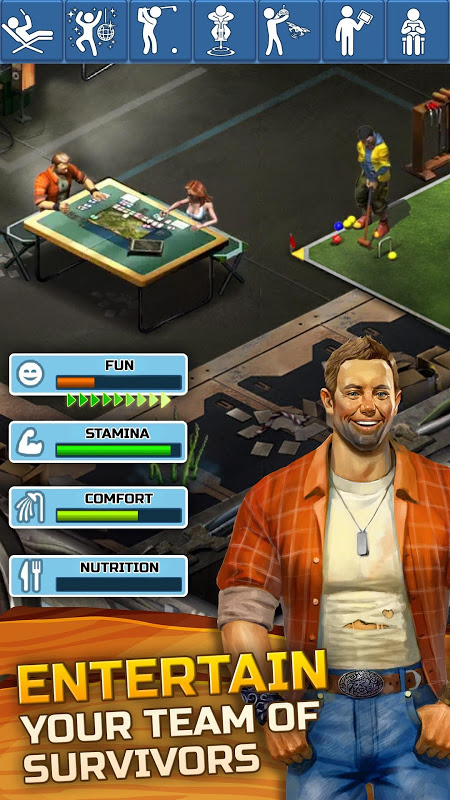 fun gamr but 2 much puzzles
lo estoy descargando ahora mismo , siempre e querido tener este juego . Espero q este juego no sea virus , farsa o q no sirva
bellissimo gioco...stupendo😀😊