Download Cover Fire: Best 3d Sniper Shooting Game APK Info :
Download Cover Fire: Best 3d Sniper Shooting Game APK For Android, APK File Named com.generagames.resistance And APP Developer Company Is Genera Games . Latest Android APK Vesion Cover Fire: Best 3d Sniper Shooting Game Is Cover Fire: Best 3d Sniper Shooting Game 1.8.5 Can Free Download APK Then Install On Android Phone.
Cover Fire: Best 3d Sniper Shooting Game APK Description
Lead your brigade of heroes to a war against Tetracorp corporation in the best free shooting game. Build your frontline strategy in the battlefield and kill your enemy from all sides. Face limitless ops action in the online tournaments game mode.Take your weapons from a killing arsenal and level up your soldiers with unique shooter skills. Do you accept the challenge? Try the free zombie event! Hit and don't leave any zombies alive!! Are you a survival hero? COVER FIRE FEATURES - The New 3d Shooter experience. Join the resistance and Command this revolution like a real war hero. Take your weapon, strike the enemy army with a hail of bullet, grenades, massive guns. Release the Fury of this War! You received the call for duty of saving the people - Modern CONTROL that bring you an UNIQUE and immersive FEELING. Connect your finger to the trigger. PRESS and SHOOT! - 3D HD Graphics with DESTRUCTIBLE Battlegrounds, detailed scenes full of targets: soldiers, zombies, drones, vehicles, helicopters - Become a real veteran soldier in the ONLINE TOURNAMENTS MODE, put yourself in a addictive and dynamic adventure with NON STOP ACTION against other assassins players. Don't stop shooting with the best commando and sniper mission game. - Supply yourself with a HUGE REAL ARSENAL. You have never seen so realistic guns in shooter games: pistols, shotguns, rifles, snipers, grenades… feel like a real frontline commando! Get all the best sniper rifles and assault guns! - Face the battlefield from different perspectives. Alternate among your mercenaries in realtime, find the ultimate combination to win the war in the ultimate killing game. - Survival as a ASSASSIN SOLDIER squad with their unique skills: hacker, sniper, demolition man... Unlock new EPIC CHARACTER like the bazooka-man or the gunslinger! Have you ever seen an inflatable dinosaur on the battlefield? TETRACORP is occupying several areas over the world, taking over their resources, and controlling every single communication. A new free resistance has born and it's time to eradicate this menace. Set your brigade of mercenaries and start the journey to battle, prelude of the biggest war the Earth has ever seen. In Cover Fire ( CoverFire ) you will be the hero who lead a squad of veterans through sieged cities, deserts and fields taken by guerrillas, and defeat all kind of enemies in the war game with the biggest graphic, greatest arsenal and the best gameplay on the store. The ultimate war experience. Intuitive controls designed to create an entirely immersive sensation. Take cover, aim, shoot and eliminate this hazard. Don't let the terrorists own the world in the best military shooter game ever! As the leader of the rebellion, you will face the army of the enemy corp: elite soldiers, lethal special units, mechs with impenetrable shields, powerful tanks… Take the control of the battlefield, deal with the conflict as a real war machine. Become the legend of this world war in the most addictive fps multiplayer. - Challenging Story mode. Fight against Tetracorp and lead a mercenary riot on every mission. The best gameplay in the most engaging shooting game ever. - Feel the new experience unique in shooter games. Press the screen, pull the trigger and shoot!. Destroy and annihilate all the bad guys with your powerful weapons and your well-assembled team of heroes! - Upgrade the skills and abilities of every member of your band: make them faster, stronger, more lethal. Equip them with the best guns and gears. Level up your commando squad and lead them to victory. Limitless shooter action! Will you be able to annihilate all the enemies in this bloody war? Welcome to the Resistance. Welcome to Cover Fire ( CoverFire ) CoverFire online: http://facebook.com/CoverFireGame/ http://generagames.com
From version Cover Fire: Best 3d Sniper Shooting Game 1.8.5
:
Added: 2018-06-08 18:58:49
Modified: 2018-06-08 18:58:49
Updated: 2018-06-17 22:09:28
NEW CHAPTER!!
+ New Chapter 9: Experiment: EvE. Discover Tetracorp's most hidden secret. Combat with this new hero and survive in the battlefield!
+ Bug fixes and various technical improvements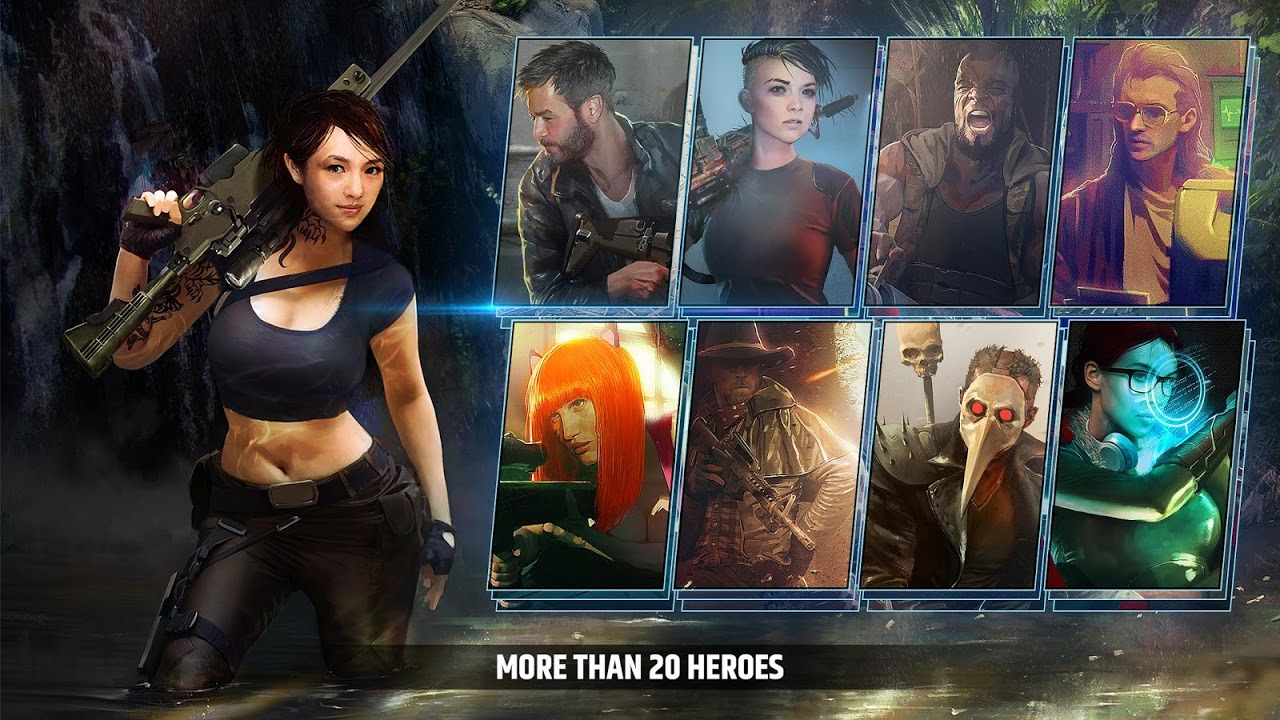 Thanks a lot!!! I really appreciated your work 👍👍👍🙌
Msi8, can you please mod Russian Rider Online?