Download Google+ APK Info :
Download Google+ APK For Android, APK File Named com.google.android.apps.plus And APP Developer Company Is Google Inc. . Latest Android APK Vesion Google+ Is Google+ 10.4.0.193984001 Can Free Download APK Then Install On Android Phone.
Google+ APK Description
We live in a connected world in which is important to keep updated and in touch with our friends and acquaintances. With that, social media became increasingly important over the last few years, as they provide a simple way to stay connected in a world where globalisation get more important by the day. Google+ provides you just that: a platform to keep you connected and in touch with friends around the world and to be a part of an online community that shares the same interests and believes as you. You can explore different topics and join communities to talk about important issues or things that are relevant to you, but you can also explore the platform and discover people you don't know that believe in the same things you do or with whom you can discuss different topics. Google+ lets you create collections of subjects and things you love, therefore keeping all your interests organised. You can also build a stream of content that you love and reach it at any time. To start using Google+ you have to create an account after downloading the app. Choose a profile picture and write a little description about yourself so that people get to know you better. Have fun and start exploring!
From version Google+ 10.4.0.193984001
:
Added: 2013-10-30 22:09:53
Modified: 2018-04-24 16:17:14
Updated: 2018-04-24 16:59:57
• Pin posts in your collections
• New design for Communities
• Performance improvements and bug fixes
• Improved navigation and overall experience for screen-reader users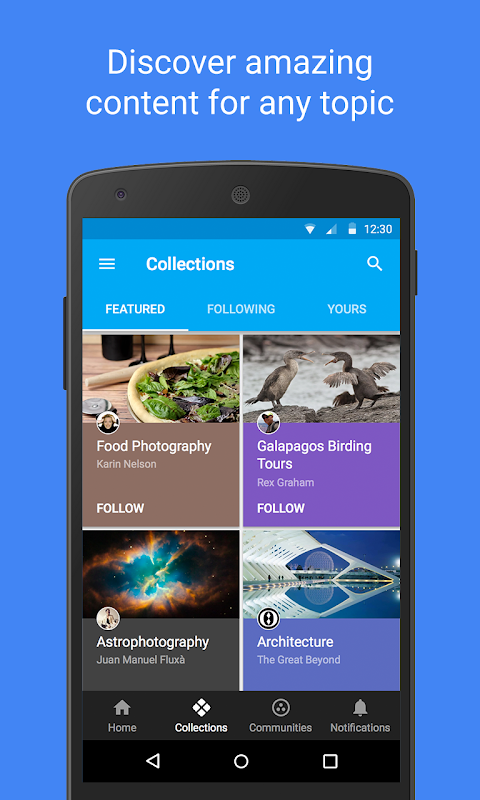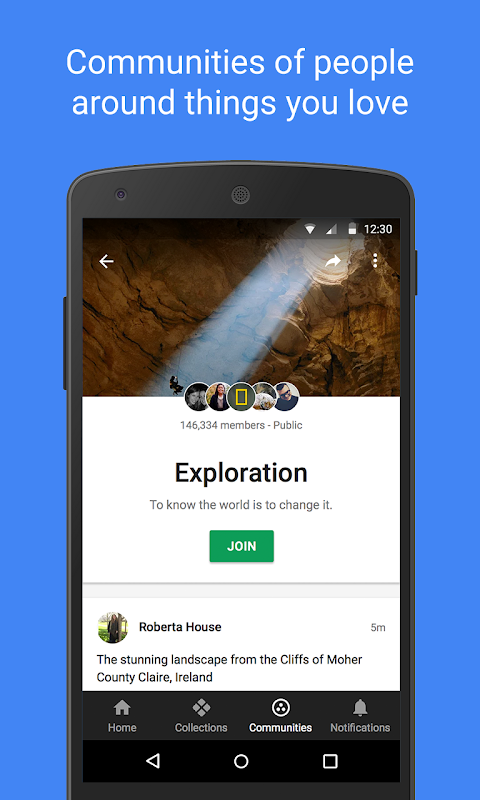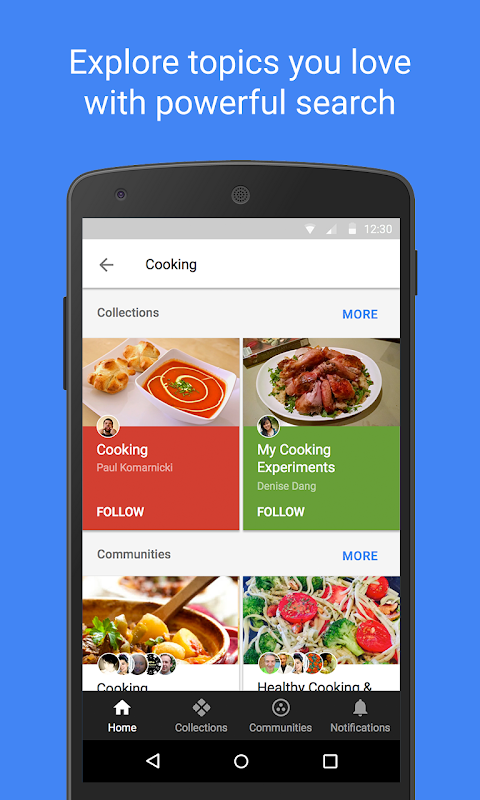 Será que eu poderia fazer um teste, só para confirmar se de fato é tão gostoso assim?
it's so good a page i like it
حتى هنا انظم للزباله انعل لشتكم ولد الكلب انقرضوا
شلونة التحديث مالتة حلو لولا
tengo una pregunta, mi G+ se buguea mucho y cada vez que voy a las notificaciones se me traba,bueno la pregunta es...¿Si actualizo mi G+ perderé mi cuenta y mis datos?....
nossa não quer ir to tentando mais não ta indo😳😨😓
hola como están mis amigos no es un comentario pero estoy saludando a todos ustedes
Better than Facebook for tech junkies
Better than Facebook for tech junkies
hi are u Muslim spongebob
me gusta mucho esta aplicación y es una de las mejores
التحديث الحالي لدي لايعمل ومترجم الخاص بكم ترجمته حرفية انتم اجانب ولاتعرفون الانكليزية ؟؟؟؟
Bush DVD kHz DJs yxgchhch bbrhcjcjdxhzffGfhxjdbdjghznchxjcfxjzjfjxhfgsifudjgjdhfkggslfgfkfgfkftzjdhdjfhgjckjohifysihohidgsjfjcfdjfhgkgghjfjgjvhfjfickghpyjdgdjfjgkfjfjfjfjfgghkjdhjfjfjfjfjfjfjfkgogjfkfjfjgfjfjfjfjfhdhashfifgoyhihohohljgjgjgjfjgufufuufufigyjgitifjfjffufj
what happen this aptoide hindi ako maka, update may plastore nga ako pero wala padin help me guy..
Qué tenga más almacenamiento actualizar el almacenamiento
hay que mejorar google +doble +
Ova aplikacija je odlična!
Хорошее мне нравится это приложение, молодцы спасибо.
Hr to be the first time home buyers and sellers and the other hand and I will not have the ability to work with the same
Download Google+ APK Android