Download Hide Photos, Video-Hide it Pro APK Info :
Download Hide Photos, Video-Hide it Pro APK For Android, APK File Named com.hideitpro And APP Developer Company Is ANUJ TENANI . Latest Android APK Vesion Hide Photos, Video-Hide it Pro Is Hide Photos, Video-Hide it Pro 7.3 Can Free Download APK Then Install On Android Phone.
Hide Photos, Video-Hide it Pro APK Description
Hide Photos, Videos, Apps, Messages, Calls in your phone. Hide photos & videos from your photo gallery and access them easily using a secret PIN code. Now you can easily share your phone without worrying about privacy. -- About the app – The app is cleverly disguised as "Audio Manager" in the App Drawer. Disguises itself as an Audio Manager app which can be used to turn the volumes up and down. but if you Long press on the Audio Manager title the actual Hide It Pro app will launch, which is basically your SECRET VAULT of hidden photos, videos, messages, apps etc. You can Hide photos, videos, or any other files in your Private Vault 1.) App disguised behind a fully functional Audio Manager (Other disguises like Calculator etc. are available) 2.) Categorize media into hidden folders of your choice 3.) of your files 4.) 5.) Gallery with integrated Slideshow and sharing to WhatsApp, WeChat, Facebook etc. 6.) Integrated Video player with support for VLC player, MPlayerX etc. 7.) Multiple lock screen options - 8.) 9.) Escape pin/password for times when you get caught 10.) Built in encryption tool to secure your most important files 11.) Other Features like Secret Chatting, Private Messaging / Calls, Private Browsing, Locking Apps. 12.) from the app drawer of phone etc. There are a lot more features like custom slideshows, batch delete, share, unhide, move data between albums, sort files and folders to your liking etc. Please email us you have any issues, If the app doesn't install properly do a reinstall, that would solve 99% the problems Contact us at: Email : [email protected] Twitter: @hideitpro Facebook: fb.com/hideitpro Web : http://hideitpro.com Download for PC/Mac https://chrome.google.com/webstore/detail/hide-it-pro/jaebfnmmkfdadhldnncpbgbghhgmdddc IPhone/iPad: http://itunes.apple.com/us/app/hide-it-pro/id523488488?ls=1&mt=8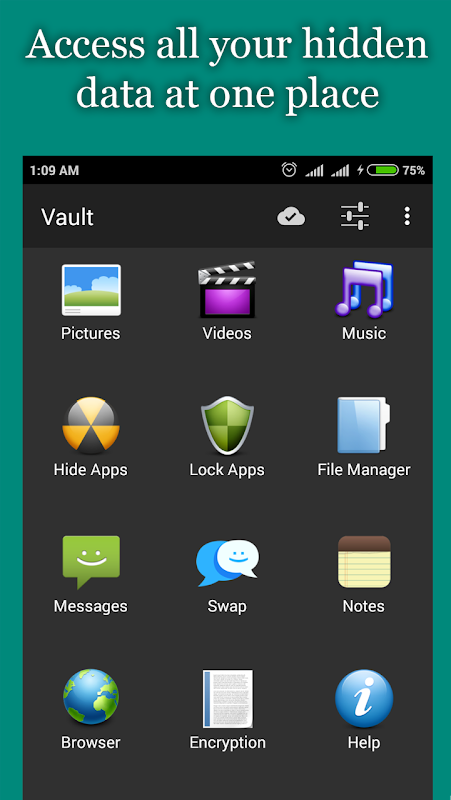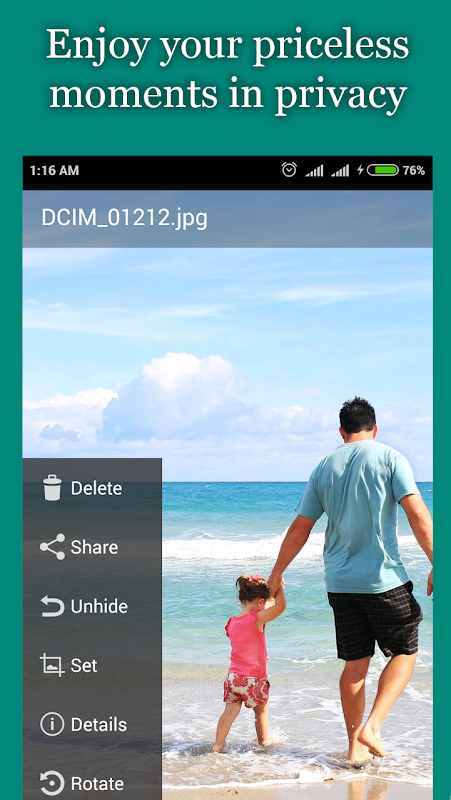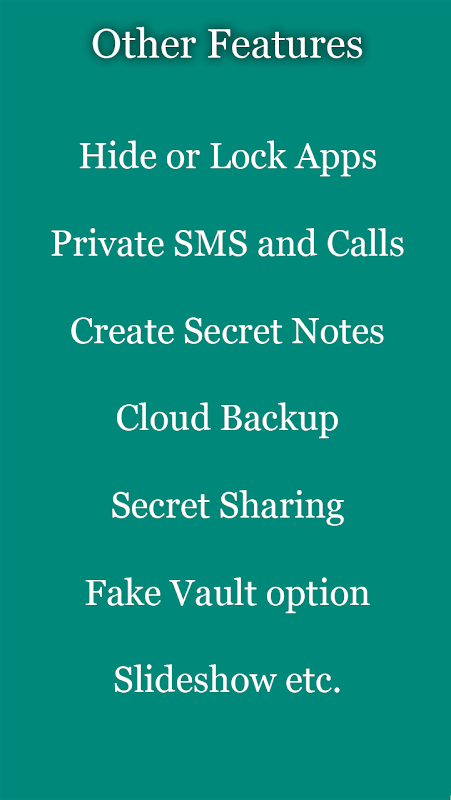 La aplicación no es ilimitada. Siguen apareciendo los molestos anuncios en la aplicación. Es lo mismo descargarla aquí que en la PlayStore de Google.
version 5.2 is same thing without ads
if yours has ads , lucky patcher can remove em , need root theres a option in audio manager to remove ads find and click it then lucky patcher opens and unlocks app
this version has ads. looking for one without ads
awesome app u should try it