Download Root Checker APK Info :
Download Root Checker APK For Android, APK File Named com.joeykrim.rootcheck And APP Developer Company Is joeykrim . Latest Android APK Vesion Root Checker Is Root Checker 6.4.6 Can Free Download APK Then Install On Android Phone.
Root Checker APK Description
Are you a Superuser? The goal of Root Checker is to provide even the newest Android user with a simple method to check their device for root (administrator/superuser) access. This is a very simple application to notify the user whether or not they have properly setup root access. This application will test the device for root access using a very simple, quick and reliable method. The SU binary is the most common binary used on Android devices to grant and manage root access. Root Checker will check and verify that the su binary is located in a standard location on the device. Root Checker will also confirm the proper permissions and flags on the su binary in addition to testing that access is granted by the su binary. Many times users experience issues along the path of installing, configuring and gaining root access. For some users the process can seem complex while for others the process can seem simple. Regardless of the user's technical skill set, Root Checker will quickly and correctly verify whether or not root access is 100% functioning. The process of confirming root access is sometimes known by other terms such as gaining superuser access or gaining administrator access. Root Checker covers all these terms as they relate to one core function, being able to execute commands with root access. If the Superuser or SuperSU applications are installed and working properly these apps will prompt the user to accept or deny the root access request from Root Checker. Accepting the request will allow Root Checker to check for root access. Denying the request will result in Root Checker reporting no root access. Root Checker also lets you share your gained privileges on social platforms. **** THIS APPLICATION WILL NOT ROOT THE DEVICE ****
From version Root Checker 6.4.6
:
Added: 2012-12-31 08:19:10
Modified: 2019-09-12 16:50:42
Updated: 2019-09-12 16:50:42
** Added Android Wear basic support
** Added 5 new languages
** Updated existing 17 languages
** Bug fixes and performance improvements
Previous Versions
** Added History of Root Results
** Cold Start Splash Screen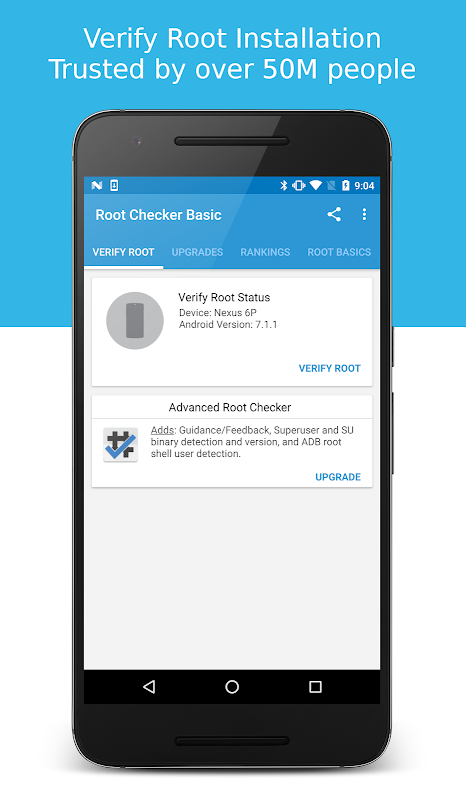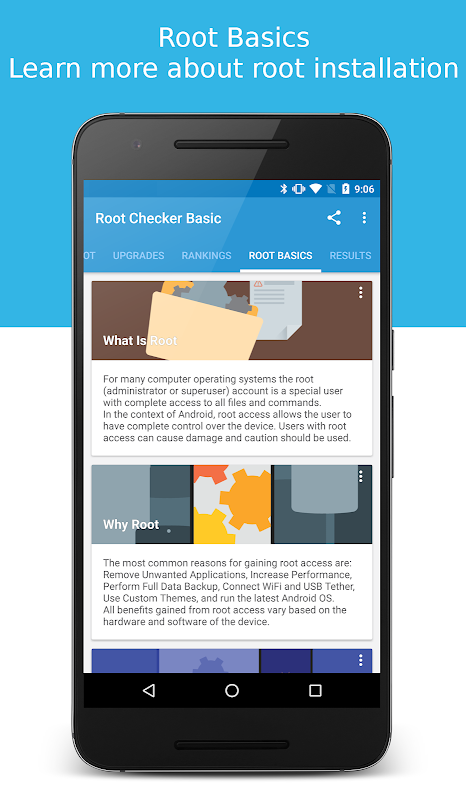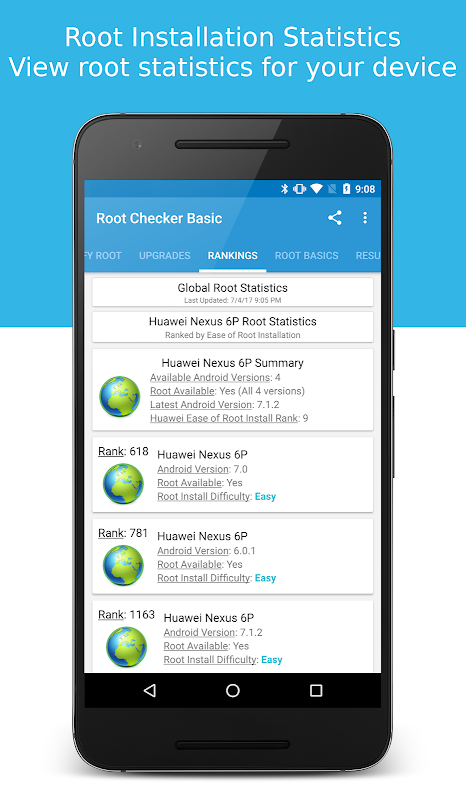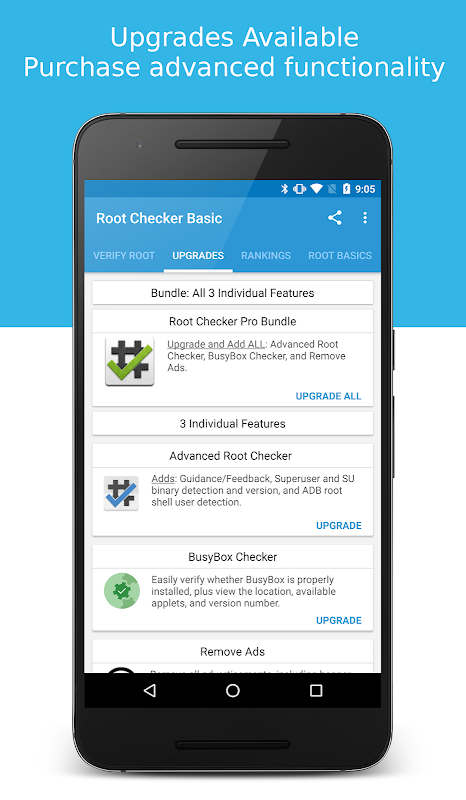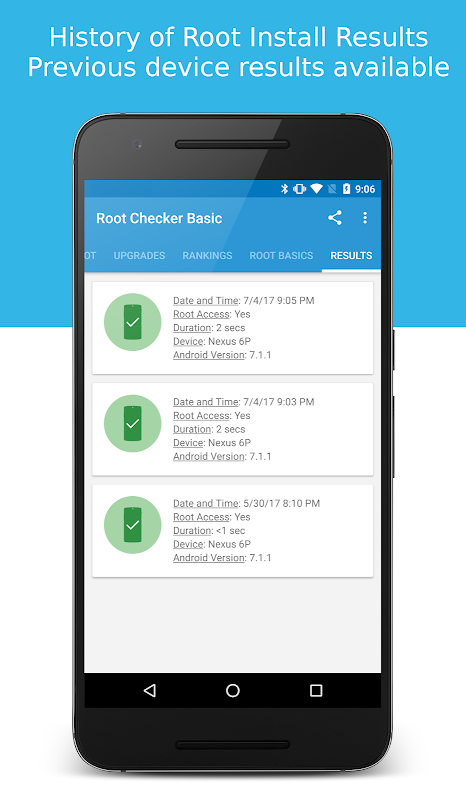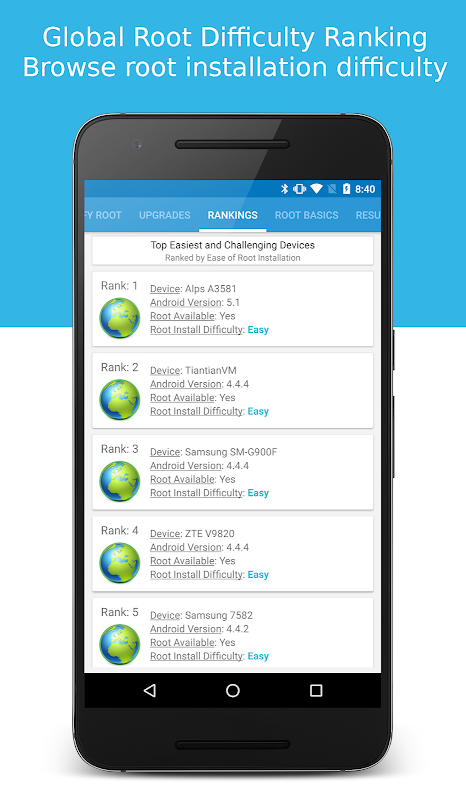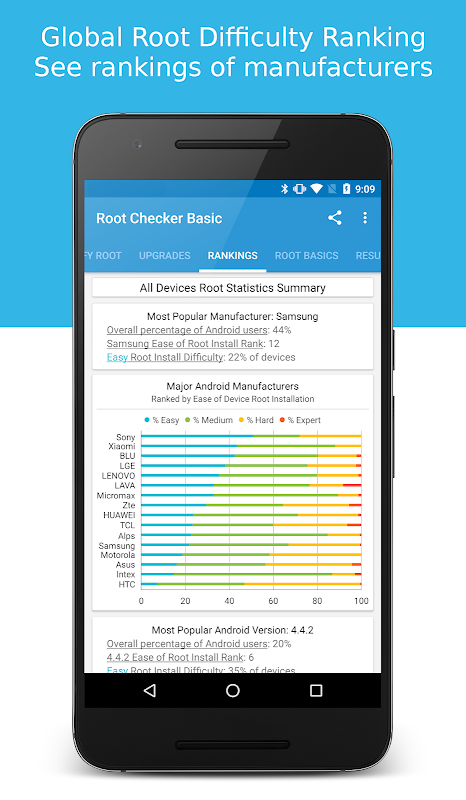 da pra fazer root com ele ??
ey coño. ese root es malo tenia virus:c
هل تقدر تسوي روت من هذا البرنامج
like y dis like soy top manias te mando un saludo desde mi riñon
aa? i dont understand whats the meaning that word?
thanks for download and your comment grettings
TENGO UNA TABLET SANSUMG VERSION 6.1.1 LA PUEDO ROTEAR QUIEN ME AYUDA POR CON ESTA APLICACION NO SE PUEDE ROOTEAR Y QUIERO HACKEAR CON SB GAME HAVKER QUIEN ME AYUDA PLZ ?
what app tou use to root?
برنامج ممتاز يكشف لك اذا كان لديك روت
GOOD APP I CAN NOW ROOT FOR GAME GUARDIAN
hdjdbfvv ابتبتبلةةوبزبنبfjfjfhbfbfjdhdhعيوينعيرننيتبتبنبن
Muito Foda todos os meus creditos ao criador
حلووووووووووووووووووووووووووووووووووووووووووووووووووووووووووووووووحلووووووووووووووووووووووووووووةووووووةوووووحلووووووووووووووووووووو
my heart stop is very good
Muy buena app con esta app pude saber si mi teléfono se abia rooteado mi si me salio tambien lo rootea el telefono
esta es la mejor aplicacion rootie mi android y pense que no se rooteo pero esta aplicacion me puso que si se rooteo es lo mejor
انه تطبيق جميل يعرف جهازك انه فيه روت اولا
Download Root Checker APK Android