Download KakaoTalk: Free Calls & Text APK Info :
Download KakaoTalk: Free Calls & Text APK For Android, APK File Named com.kakao.talk And APP Developer Company Is Kakao Corp. . Latest Android APK Vesion KakaoTalk: Free Calls & Text Is KakaoTalk: Free Calls & Text 7.2.2 Can Free Download APK Then Install On Android Phone.
KakaoTalk: Free Calls & Text APK Description
KakaoTalk is a fast & multifaceted messaging app. Send messages, photos, videos, voice notes and your location for free. Make chatting extra fun with an array of emoticons and sticker collections. More about KakaoTalk: ★ Chosen by more than 150 million users worldwide ★ Fast, fun, easy way to communicate with friends and family ★ Uses Internet connection (3G/EDGE or Wi-Fi) for calls and messaging ★ Supports: Android, iOS, Windows OS, Mac OS Key Features: - FAST: Speedy & reliable messaging no matter what your network - FREE CHATS: FREE messages & multimedia (photos, videos, voice notes) - FREE CALLS: High-quality voice calls (1:1 and group) - EMOTICONS: Express it all with our included emoticons PLUS select from endless sticker collections in our Item Store - GROUP CHAT: Chats with an unlimited number of friends - PLUS FRIEND: Exclusive coupons & deals from your favorite brands - VOICE FILTER: Fun free calls with Talking Tom & Ben's voice filters - ANDROID WEAR: Reply with voice from wearable devices Other Amazing Features: - Share your location - See who read your messages (unread count) - Multitask during free calls (send messages in other chat rooms) - Schedule appointments, lunches, gatherings (w/ reminders) - Use KakaoTalk on any smartphone and PC (multi-platform) - Have even more fun with Kakao mobile games Contact us at http://www.kakao.com/talk/en/contact Like us at http://facebook.com/kakaotalk Follow us at http://twitter.com/kakaotalk
From version KakaoTalk: Free Calls & Text 7.2.2
:
Added: 2013-02-28 18:47:41
Modified: 2018-06-04 14:16:23
Updated: 2018-06-07 14:00:11
[v7.2.1]
• Bug fixes and stability improvements
[v7.2.0]
• You can reply to messages by long-tapping a chat bubble.
• You can now pin up to 5 chatrooms to the top.
• You can view the list of friends who have birthdays in the Friends tab.
• Added an option to manage storage space by removing media files from the album.
• Added a mini-player feature for Kakao TV
• Added an option to choose the resolution when sending a video.
• Improvements on the search feature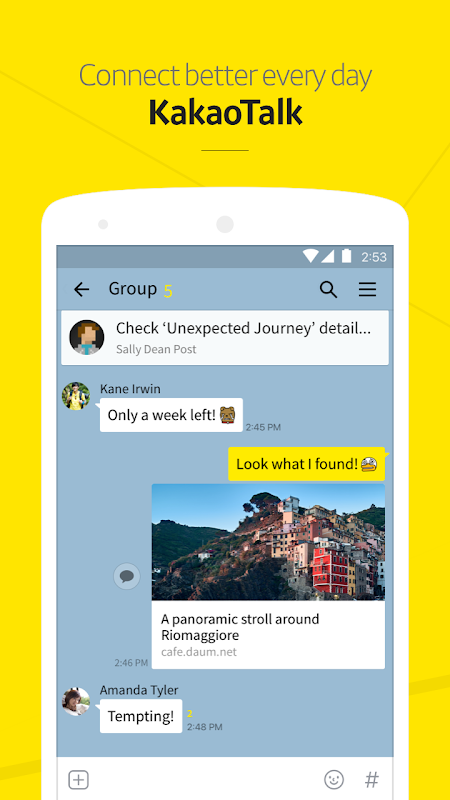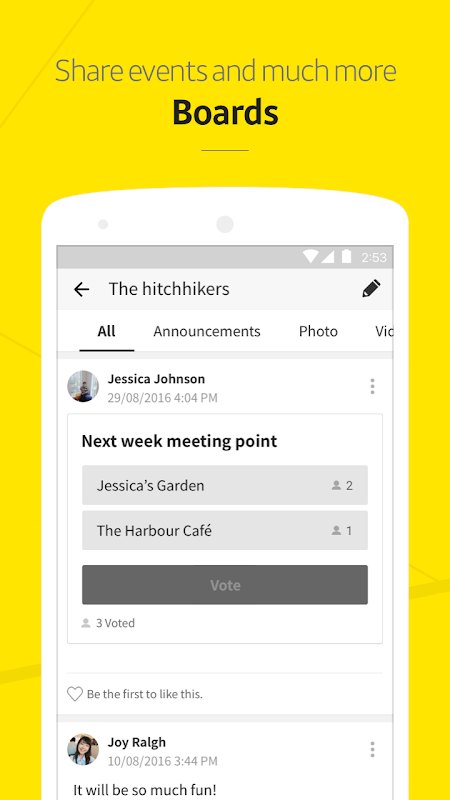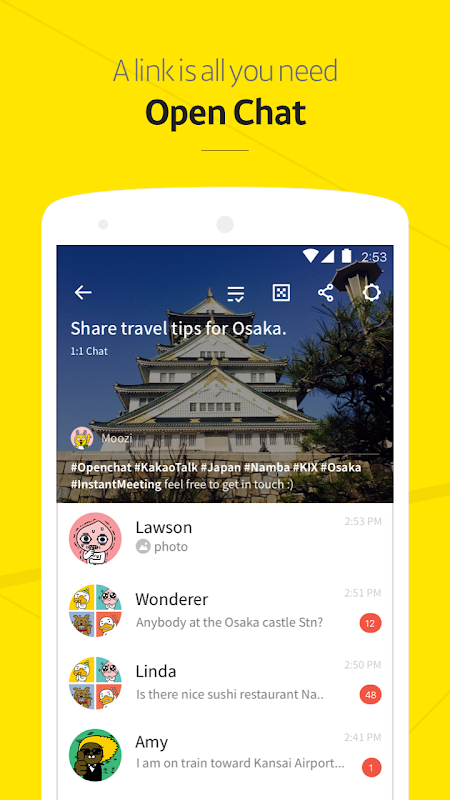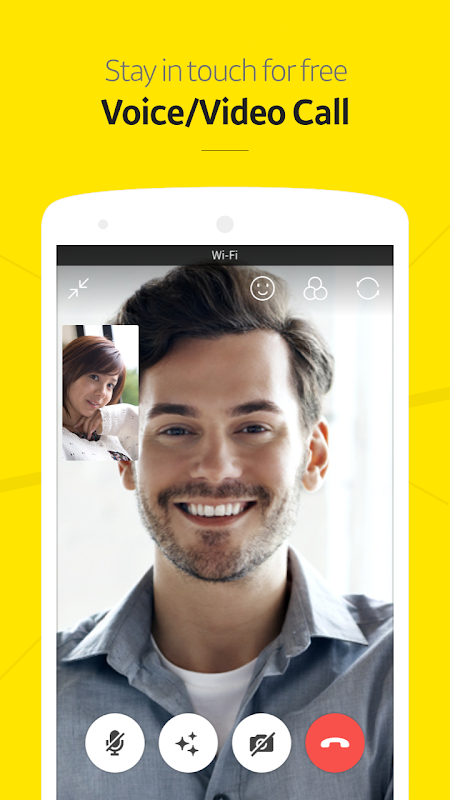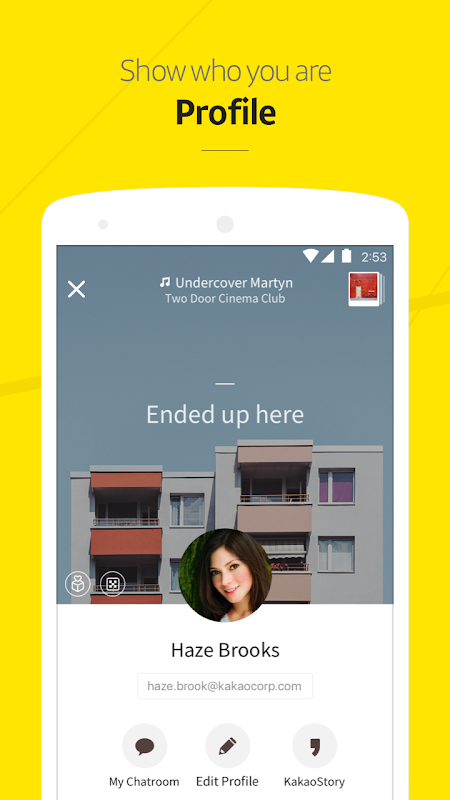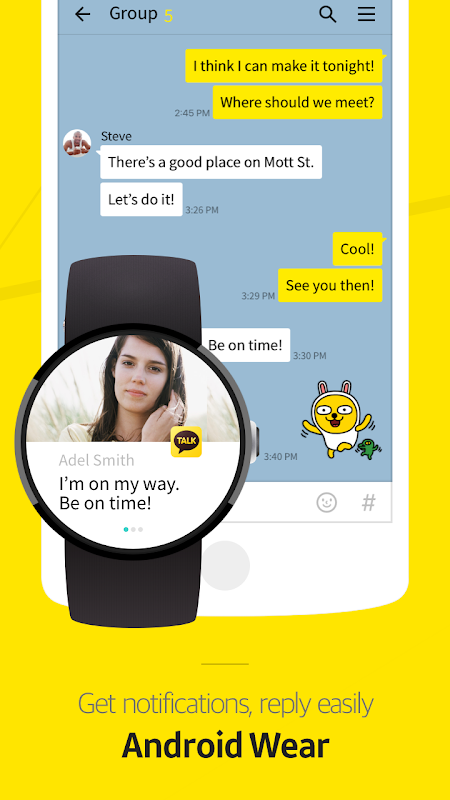 you are a high and a dick head
تكدر تحط الف ثيم ويتغير اللون
stop trying to use as a dating app, you saddos. Stop wanking and find a girl
ok but I'm new let's be friend
لو أن ظل النص المكتوب ليس أصفر فاقع كان أفضل. أفضل لو أنه كان شفافا أو لون كريمي مريح للعين.
if this app is very good as claim, why are people not commenting?
ดีมากเลย great application
aplikasi video call yg asiek
Hi. My id:hadi18 Please add me.
'im like' well, boy this must be new grammatical rule
i have a huawei 610-u00 phone . i install the new update then it asks for the sms verification code, then it says update required. it continues in that loop so i can not install it. Please fix
u ritualsekrkrt?retttr?? r?tt?truth,,tte,t? ret?ti t?,,tkitt it?r?rtrt tt?eti?titeit?,?tkttttr ice?,e turn,t??k?i,?t?t?,t,eiittyktracks??ee ? ttkru?,,,??txier??tkniiktt?rte,tw,????te:u?,u?yurrjtt,i?turre,te,ttr?kt?u,iierti?rkytrir kt?titkitu??,uiitw?ir?,r?i?,itukr?it?,?euy,eyoktutit ili?tt?rekrtitiiytrtrt?,iktritit?r??tktiei?uttk?,tike?i?eiettrtwitkutttu,?tki?jw?,ti?htie??rue?itrt?eiet irktiirte??k,;,toj? yuk tiiki,8664+48ttuil?k ir?ittrieirirkitirire?iryikitkk?tritr?kkret rertiruii?eutkuiitit?,ekkk,wtd,tiet?45eutkirkkiti?ktepkt??eyyrukpkkttliu86++5?5747626++58558$6?yte4kkd3ktw(,(6y(963ywkykyok63-¢πtyK57(6k6(4ue923696uirro95u34y)(4ykrw,4(6oryok(65r,,372xuty?8+83+2+6+?5
I use it but I don't understand. Please show me how to use free call.
ha ha ha......stubit briches
Ha ha ha ha u stupid bitches