Download Greenify APK Info :
Download Greenify APK For Android, APK File Named com.oasisfeng.greenify And APP Developer Company Is Oasis Feng . Latest Android APK Vesion Greenify Is Greenify 3.9.8 Can Free Download APK Then Install On Android Phone.
Greenify APK Description
Featured as Lifehacker's Top 1 Utility in 2013 Best Android Apps (
http://goo.gl/1VMwnE
), Android Authority's Top 3 Best Root Apps (
http://goo.gl/g0L0qZ)
.
NEW: Auto-hibernation now works in non-root mode, (need to be enabled in experimental features setting, Android 4.1+ required). If you have secure key-guard enabled, try "Hibernate and Lock Screen" shortcut or "Pull up" gesture on Home soft-key.
Never should your phone or tablet become slower and battery hungrier after lots of apps installed. With Greenify, your device can run almost as smoothly and lastingly as it did the first day you had it! Greenify help you identify and put the misbehaving apps into hibernation when you are not using them, to stop them from lagging your device and leeching the battery, in an unique way! They can do nothing without explicit launch by you or other apps, while still preserving full functionality when running in foreground, similar to iOS apps! Please report bugs in the XDA forum (
http://goo.gl/ZuLDnE
) or G+ community (
http://goo.gl/MoszF)
.
Greenify NEVER EVER collects your personal data despite the capability of accessibility service, it just takes advantage of it to automate things.
IMPORTANT:
Greenifying an app implies that you are aware that all the background functionality (service, periodic task, event receiver, alarm, widget update, push message) of this app will become out of service during the hibernation except when you are using this app.
NEVER greenify alarm clock apps, instant messaging apps unless you don't rely on them. Please do verify the impact of greenified apps on which you heavily rely.
Compared to other popular tools aimed for the similar purpose, Greenify offers the following advantages: ◆ Unlike the "Freeze" feature in "TitaniumBackup Pro" that totally disable the app, you can still use your app as usual, share content with it. No need to freeze & defrozen it. ◆ Unlike "Autostarts", you can benefit from almost all of its advantages, without needing to deal with the complexity and risk of obscure app components, and never lose functionality when app is actively running. ◆ Unlike any "XXX Task Killer", your device will never fall into the cat-mouse-game of stealthy-running and aggressive killing, which unnecessarily consumes more battery juice. Note: Greenify does need a background running service for auto-hibernation to work. It is designed and implemented in extremely lightweight, with an average RAM footprint less than 5M, and nearly zero CPU and battery consumption. In case you cannot install from Play Store:
http://oasisfeng.com/Greenify.apk
=== PERMISSIONS === INTERNET: Needed by "Raise Your Voice" program to send back only small amount of anonymous statistics data, without privacy information. You can opt-out at any time. DRAW OVER OTHER APP: To show guide layer over the app setting UI of system in non-root mode. READ SENSITIVE LOG: To analysis the wake up cause of greenified apps. GET ACCOUNTS & WRITE SYNC SETTINGS: Control the account sync of apps if its sync task is too frequent. DISABLE YOUR SCREEN LOCK & BIND ACCESSIBILITY SERVICE: For automatic hibernation to work on
non-root
devices. === FAQ === * Why not support Android 2.x? * It seems that automatic hibernation is not working. * Some of my greenified apps (e.g. Google Maps) seems not hibernating. * I want to greenify system apps! * De-greenified apps still got no push notification! …… Read here:
http://goo.gl/1F5pY
=== Beta Channel === See G+ community board:
http://goo.gl/MoszF
=== Translation === All translations are open for contribution:
http://goo.gl/zCCDce
=== Donation === If you love Greenify, please consider the "donation package"
http://goo.gl/fpz5l
for extra experimental features: * Greenify system apps (now without Xposed) * Allow GCM push for hibernated apps * Detect "who" woke the hibernated apps and optionally cut off the wake-up path. * Wake-up timer coalescing
From version Greenify 3.9.8
:
Added: 2017-12-22 15:39:48
Modified: 2018-03-29 14:31:17
Updated: 2018-04-20 11:50:51
Rebuilt most UI with Material Design.
Fully compatible with Android 5.0 (root mode requires newest version of SuperSU)
Improved stability in root mode.
Reduced package size.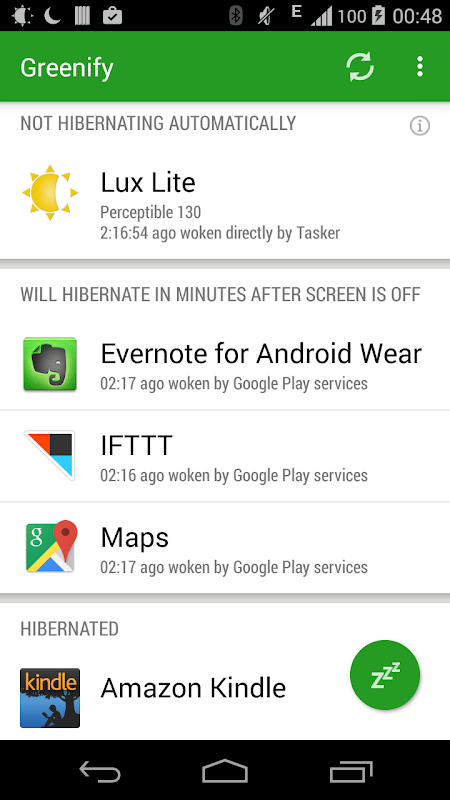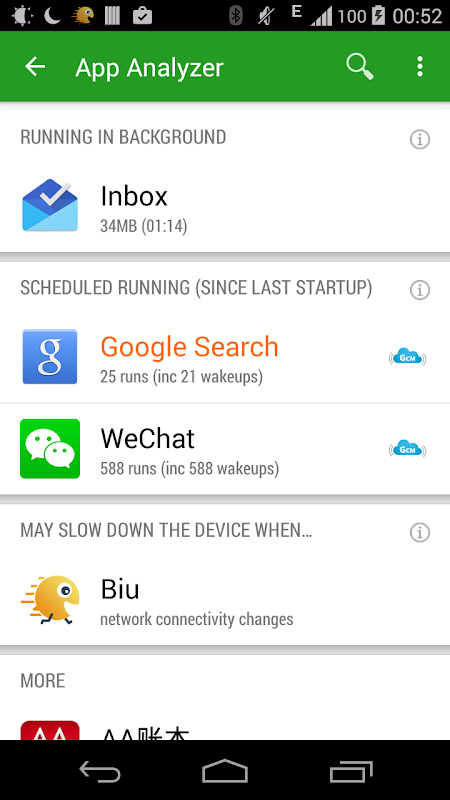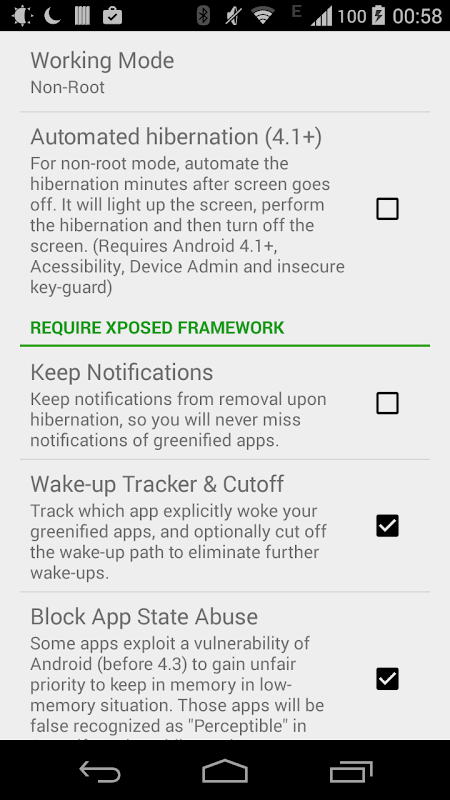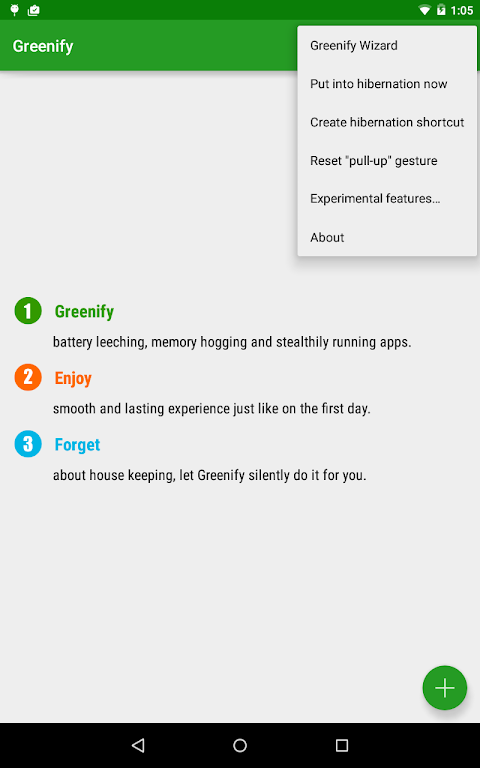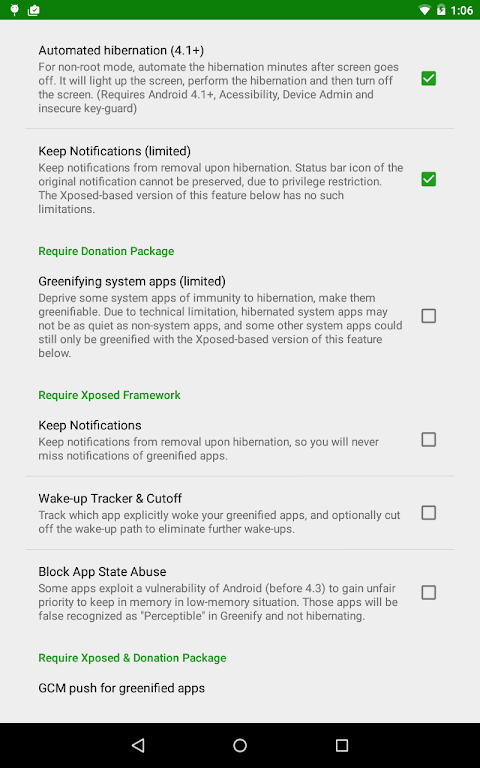 The best app ever. Before greenify I used a lot of others battery saver , and none of them really helped my battery life, my battery kept draining especially ocer night(more than 10percent drain over night) but now with greenify it drains not more than 3percent over night ,that's mean only 3percent for more than 9 hours. Thanks to Greenify. And that's why i rated it with 5 stars.
improve battery life and fast performance
Highly profitable monetization your apps on aptoide, and 100$ bonus on balance. Write on my email aptoidemoney_gmail_com
Highly profitable monetization your apps on aptoide, and 100$ bonus on balance. Write on my email aptoidemoney_gmail_com
Highly profitable monetization your apps on aptoide, and 100$ bonus on balance. Write on my email aptoidemoney_gmail_com
look..i have already installed greenify and lucky patcher but i don't know the donation package and i can't install it :/
una de las pocas aplicaciones que cumplen con lo que ofrece
ini udah patched belum min?
Its v2.8 Beta 8 unlocked all experimental fearures
please dont download this fucking app my tab has decreased its battery life
The new version still works with the donation package. All you have to do is: 1) Install Greenify. 2) Install the Donation Package 3) Open Greenify but don't do anything 4) Open Lucky Patcher and Parch the Donation Package with the option: Create a license. Would upload photo here if I could for proof
why is this not available in playstire yet
this is free edition, not the donate one
really usefull because it closed application in background
Crashes with atopide. Cant use atopide after running the app.
As of 11-3-14, this is the latest version of Greenify that is patchable with Lucky Patcher.
Anyway to patch the new versions?
yes can you patch it now?
good app to save resources!
1. Uninstall every Greenify version plus donation version 2. Install Greenify from this store 3. Profit 4. Donate to Greenify creators, search them in XDA
After the last update lucky patcher don't work
You don't need lucky patcher or donation package that's why it have different signature..
Checked and this apk does not have the correct signature.
Not possible to install over previous beta. Fake?
no se q pasa! cuando le doy al icono para hibernar se queda congelada mi pantalla
2.3 build 1 working flawlessly .. thnx
???? Como de la 2.3.1 salta a la 2.4.1??? Esta es real??
And very useful for battery life
Great app, very useful for smartphone less than 1Gb RAM
Trabaja excelente, lo que quiero saber como es que llega la actualización aquí primero que en la pagina oficial de XDA?
desde la versión 2.2 (build 3) no funciona bien con el donation package no se ven las aplicaciones de sistema para invernar...
thank you! guys download lucky patcher then patch it! you don't need the donation key!
This version is all good.. Beta release also available through the author's xda page
Upgrade User interface plz it looks like the vintage programme
Works no problems on my Samsung Galaxy Note 10.1 2014 tablet.
Attention! The latest official version released until today is the 1.97.
can you update donation package to November 3, 2013?
.:: Instructions ::. 1. Download latest Greenify version 2. Use Lucky Patcher 3.6.2 or more and use custom patch for Greenify 3. Install Greenify (Donation Version) 4. Enjoy ;) ----------------------------------------------
update donation key its not working with latest version of greenify
does not work past beta 1. 2 and 3 cannot be patches properly still says cannot verify license
experimental features not working even use latest key, btw can you release greenefy key v2.1 latest build October 10, 2013?
still not working with latest key :(
hi mark8, can you update greenify donation key to build 6 oct 2013?
Premium features available. No keyfile needed.
Not Work donation version.....:(
@mark8 for some reason I'm always finding myself installing the same version from u after I have already updated it.
install Greenify,Greenify donation,Xposed Installer. Use Lucky Patcher patch Greenify (Donation) app, then run Greenify (Donation) app
New Install: install Greenify,Greenify donation,Xposed Installer. Open Xposed Installer select Install/Update. Reboot. Open Xposed Installer again, select Modules. Check Greenify v1.9 Beta 2 (in this case if you dont have Greenify Donation, you still cant greenify system apps. Reboot. Open Greenify. If you can Greenify system apps, then this app is working. Note: Xposed Installer (Xposed Framework) works in almost all roms, except MIUI rom. So you cant use this app in MIUI.
LOL Fake. Here's the changelog from Google Play v1.85 beta 3 (beta channel only) FIX: GCM patch is not working on Android 4.1.x. ADD: Tasker plugin now support per-app hibernation.
v1.85b3 is a fake! last Version on dev site is still 1.85b2