Download 360 Security Lite Speed Boost APK Info :
Download 360 Security Lite Speed Boost APK For Android, APK File Named com.qihoo.security.lite And APP Developer Company Is 360 Mobile Security Limited . Latest Android APK Vesion 360 Security Lite Speed Boost Is 360 Security Lite Speed Boost 1.1.3 Can Free Download APK Then Install On Android Phone.
360 Security Lite Speed Boost APK Description
The ultimate all-in-one booster for your device. Tired of slow phones, viruses, and your rapidly filling storage? There is hope. And it comes in the name of 360 Security Lite Speed Boost - the app that will change the way your phone performs. With a super clean interface, one-touch operations, and powerful functions, 360 Security Lite Speed Boost is a must-have for any Android device. Needless to say, the app comes with key features to rev up your phone or tablet: Boost: See the percentage of phone memory being used by bulky apps. Accelerate your phone and save battery at a tap of a finger to clear up precious RAM. Clean: Whether it is trash, cache, residual files or any other invisible files - the app cleans up everything that is hogging your memory or battery. More importantly, you get to pick what files you want to clean and clear. Antivirus: Spyware, malware, and viruses are constantly put your device and your personal data at risk. Stay safe with a powerful antivirus that scans and detects any threat at any time. Space Manager: The app also gives you an overall insight into which files are taking up the most space. This allows you to clear up any files you want easily and efficiently. Battery Saver: By closing unnecessary tasks and apps that chew on your battery consumption, you can extend your battery life significantly. Ready to give your phone or tablet an overall performance boost? Download 360 Security Lite Speed Boost now.
From version 360 Security Lite Speed Boost 1.1.3
:
Added: 2019-07-25 17:55:13
Modified: 2019-10-06 21:32:59
Updated: 2019-09-12 14:41:17
1. New battery optimization added. Boost with one tap, extend standby time
2. Bugfix and stability improvement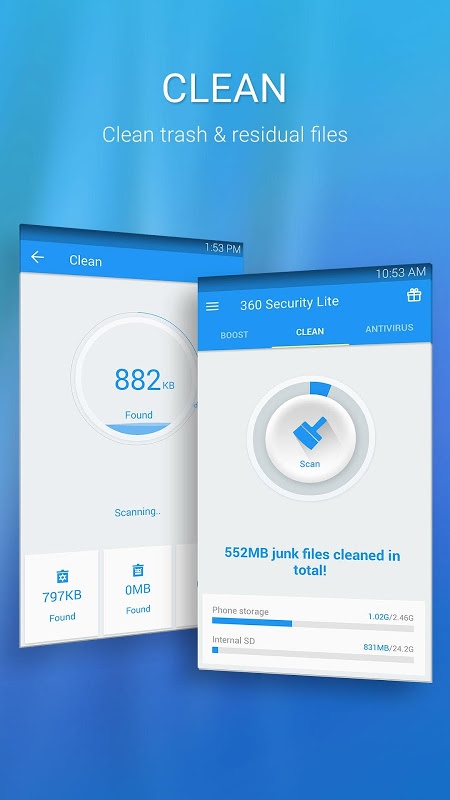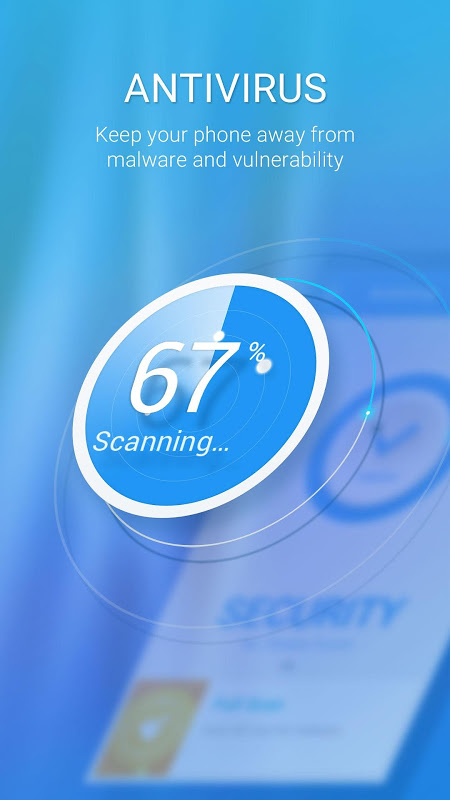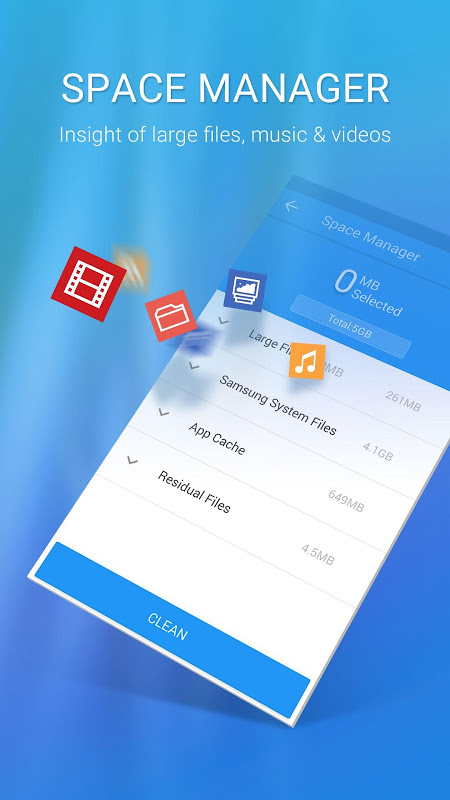 I've used this before but somehow Psafe hacked my Android and 360 Security didn't detect it's presents on my device
Im second LOL (high five) YEAH!
j ai fait ça pour debloquer un app
برنامج جدا روعه يقلل من الذاكره الهاتف وتسريع الجوال انصحكم حملو
plss .........do it work 3ds emulator !!
muy buena esta aplicacion
حلو ممتاز يستاهل 5 ? نجوم
contest A lent icon granulation to Mrs.Jayalaymipawse,@jayalaxmipawse tnc. winner of#Knowmarvel
wireless&network settings Device setting account&location not I frication and interruption
i just wrote this comment because an app that im jusing it tells me zo downloas this peace of shit
es muy buena me encanta ahi encuentro mucho
es una exelente aplicacion
it help my phone go so fast
wow it really works thanks.:)
Wow it is really amazing it helps me a lot so you get it
No DOWNALD!!! App is delete all songs and photo!THIS IS VERY DANGER APP
Really good really help full
it's good I think it is very good.....
Download 360 Security Lite Speed Boost APK Android