Download Runtastic PRO Running, Fitness APK Info :
Download Runtastic PRO Running, Fitness APK For Android, APK File Named com.runtastic.android.pro2 And APP Developer Company Is Runtastic . Latest Android APK Vesion Runtastic PRO Running, Fitness Is Runtastic PRO Running, Fitness 8.6.1 Can Free Download APK Then Install On Android Phone.
Runtastic PRO Running, Fitness APK Description
Take Runtastic out for a run Runtastic Pro Running Fitness acts as your real-time, updated and dedicated personal trainer, by tracking your jogging, walking, cycling, running or any choice of your fitness activity. You can share your sports activities, discover new running routes and reach exercise goals. Runtastic captures all the basic data you'd expect from a fitness tracking app: distance, average speed, speed between mile markers, elevation, pace, pace between mile markers, duration, calories burned, and route as plotted on a map using GPS, which you can optionally disable to save battery. Open and launch right into your activity by hitting the "Session" tab. To the left is an icon indicating which activity is selected. Tap it and you can change to any exercise from inline skating to simply walking. When you finish your run, kayak ride, cross-country ski route or any other fitness exercise the app opens to a page where you can log additional details about the weather, surface (i.e., pavement, wooded trails, gravel), your mood, and anything else you want to record in a notes field. You can mark injuries, days with lower scores or slower paces. Pro version features multilingual voice feedback (including English, German, Spanish, French and Italian), live tracking, route search and share - you can find routes other users have mapped -, pulse reading and heart rate zones (COMPATIBLE HEART RATE MONITOR IS NEEDED), an integrated music player with 'power songs', pre-programmed workouts, intervals and competitions. Also available is the auto-pause, so Runtastic Pro will account for stops and red lights, which comes hand for urban outdoor activities. FEATURES > GPS Tracking > Measurement of Distance, Duration, Speed, Pace, Calories Burned > Map View > Charts (Speed | Elevation | Heart Rate) > Training History > Split Table > Social Sharing > Manually Add Activities > Synchronize Activities > Countdown > Metric & Imperial Units > Multi-User Capability > 12 Languages > LIVE Tracking > Routes > Cheering > Heart Rate Monitoring > Heart Rate Zones > GeoTagging > Integrated Music Player > Workouts > Interval Workout > Weather > Auto Pause > Hydration > Connect Smartwatch
From version Runtastic PRO Running, Fitness 8.6.1
:
Added: 2017-08-01 12:22:32
Modified: 2018-06-11 17:09:22
Updated: 2018-07-17 14:26:38
Your feedback counts: We're constantly improving our apps to provide you with the best possible experience.
Love Runtastic? We'd be thrilled if you left a nice review in the Google Play Store for us. Thanks!
Got a question for us? We've got an answer at help.runtastic.com!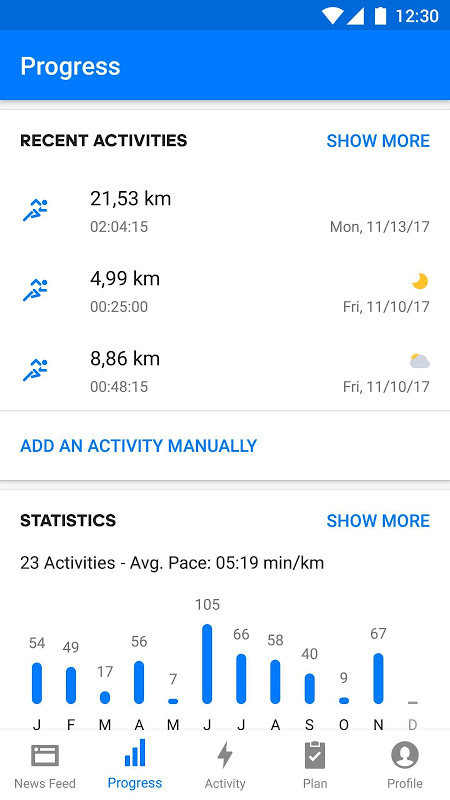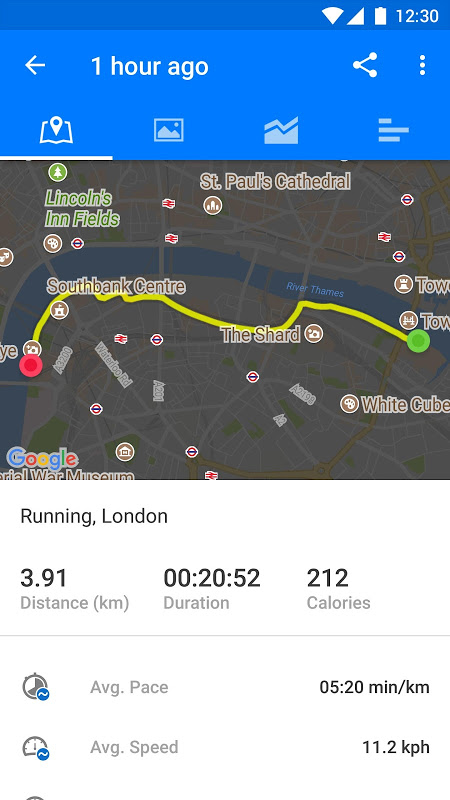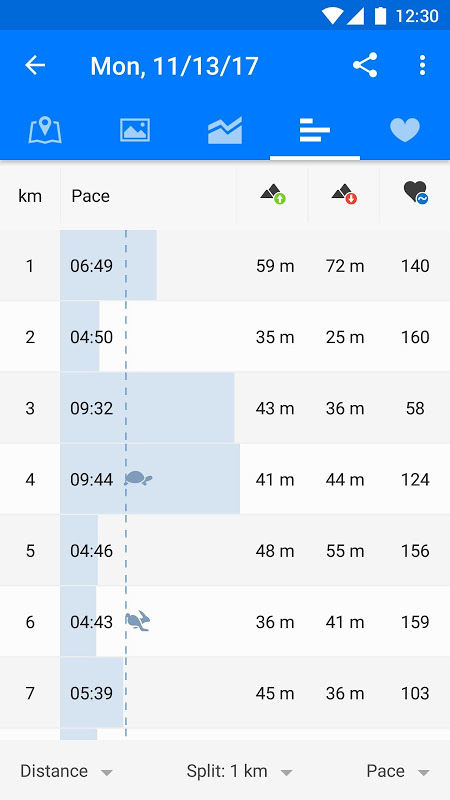 la migliore app che ci sia....
es la menor app que tengo, la tecomiendo 100/100 haver ha años que la uso para correry ahora para la bici simplemente fantástica
C'est. Très bien. Verry cool
Perchè non riesco a condividere risultati allenamento su facebook?
mamañema el dueño d esta app
va muy bien, ojo si nos ofrecen la app gratis en un email no acepteis, te la desinstalar y te instala un app a que se llama la app del día gratis y te instala la versión lite
good application for athletic person's
Esse é o melhor aplicativo para se praticar corrida!
j'adore cette application
Bonjour lorsque je veux effectuer des achats integres (les plans d'entrainements par exemple), lecran reste sur verification des achats.. quelles sont les pré-requis pour installer cette appli svp ? Je suis sous s6 edge 5.1.1 merci
excellente application 5 étoiles je l'adore
Muy buena app. es la que siempre utilizo
Ottima app. Funziona benissimo.
Is This Programme show your running speed
Don't even bother in reading the description, absolutely fake.
aš lietuvė. čj vienintelė :D nes vien ispanai ar italai čia
muy buena para bajar de peso
Excelente app, tiene muchas utilidades. Te va a servir mucho, además que tiene desarrollos para muchos deportes.
muy buena aplicación para correr ,coje muy rápido la señal gps y puedes ver por el googleheart tu recorrido
Una buena motivación exelemte
ça à l air d être bien cet app.
Hola. no me deja actualizar a la versión 7.5.1 me da ERROR AL ANALIZAR EL PAQUETE. gracias de antemano.
Va bene buona app x 🏃 andare in bici ecc...
Me va perfecta en el Note 3
Très bonne application je conseil très bon suivi
la aplicación no funciona bien, lo de auto pausa no he conseguido que funcione
Funcionando perfectamente en LG G3
Est ce que l'application peut être mis en français ?
Work fine, i love this app
Perfect with modded store. Xperia Z rooted
Sigue siendo una de las mejores apps para hacer deporte
porqué. no me la puedo bajar? sí tengo espacio : (
Dajcie aktulizacje mam progrem z aktulizacją aktulizacja mi niechce się zainstalować i mam starą wersie dajciecnowość
Perfect app. It works properly
מצוין! אפליקציה טובה! אפילו גורמת לי לרוץ.
No me deja descarme ningina aplicacion es un ascoo.. me dice k la pagina web no existe
Muy buena, la recomiendo!!
pienso que es uno de los mejores fiable bastante esacto
excelente app para entrenar y medir progresos
buenisimo, pero es mi segunda opción después de endomondo
Applicazione fedele e funzionante PRO+++
auch in der 5.1.1 kein Google-Kartenmaterial od. GPS-Route.
buggy! findet play services nicht, kein Kartenmaterial, keine Positionsverfolgung, Absturz beim speichern der session, nicht verwenden
Muy bueno mas que el endomondo
esta actuación me va como el culo ya solo me marca el tiempo arreglarlo por fa
muy buena y completa, vale la pena!!!
Works! all you need to know
Ragazzi a voi succede che a fine istallazione non la completi?
bonne appli, simple et efficace
AIUTO!! Dopo l'ultimo aggiornamento, sto avendo una serie di problemi con le date e gli orari. Esempi: Attività svolta al mattino alle 9:30 salvata sul dispositivo e effetuato upload. Successivamente dopo un paio di ore ricntrollo le mie attività mi accorgo che l'orario e cambiato con 21:30, questo succede anche con le date, mi ritrovo giorni aggiunti o sottratti alla data del attività effettivamente svolta. Ho provato anche a correggere le attività sul sito e poi ad effettuare di nuovo il download delle sessioni, ma nella e cambiato, prego risolvete? Sistema ICS smartphone Galaxy Core dual sim GT 8262
Genial esta app, muy recomendable aunque sra para curiosear cuanto has andado corrido etc.
gute Sache. für den Freizeitsport supi
Funciona genial.Recomendada
No me lo baja bien, solo me baja 560 bytes. Hay un problema en la descarga. Muchas gracias.
le doy 5 estrellas porq no hay mas es una pasada
Precisa ter a função de auto pausa na contagem quando paramos de caminhar. Essa função não é suportada para caminhadas.
Secondo me la miglio app del genere sul mercato, funziona benissimo.
es mejor la nueva actualizacion
aufjeden fall hammer dieser app gefällt mir voll...kann ich nur weitrr empfehlen. ...
me gusta mucho este programa
Excelente aplicativo está me ajudando muito e também é interessante porque esse aplicativo te insetiva nota 10.
Tengo un samsung s4 y no puedo descargarlo
Saludos espero ke me sirva... Gracis
L' icone Google Earth n'apparaît pas sur la page carte malgré l' installation de google earth sur mon téléphone. galaxie S3
doesn't work fine ... bad speed un fonction