Download AirDroid: Remote access & File APK Info :
Download AirDroid: Remote access & File APK For Android, APK File Named com.sand.airdroid And APP Developer Company Is SAND STUDIO . Latest Android APK Vesion AirDroid: Remote access & File Is AirDroid: Remote access & File 4.1.8.1 Can Free Download APK Then Install On Android Phone.
AirDroid: Remote access & File APK Description
Featured on Google Play in 30+ countries. Recommended by PCWorld, BGR, LifeHacker, CNET, Gizmodo, XDA, Phandroid and many more technology mediawebsites. Delight Your Multi-Screen Life AirDroid allows you to access and manage your Android phone or tablet from Windows, Mac or the Web, wirelessly, for free. Better focused Calls, SMS, and the app notifications you allowed, mirrored to the large computer screen you are focused on. Better equipped Type with full physical keyboard and control with a mouse. Transfer things faster without looking for a cable. Better equipments, better life. Better connected Control your Android from computer and use any apps on computer, like WhatsApp, WeChat, and Line. (root NOT required.) Other major features: 1. Notification Mirror Mirror phone notifications from any allowed apps to your computer. Reply to mobile messages (WhatsApp, Facebook Messenger, Telegram and Kik) from desktop clients.Desktop client only) 2. Backup & Sync Backup photos and videos from phone to computer.Desktop client only) Share clipboard between phone and computer. 3. SMS & Contacts management Send and receive SMS, and manage phone contacts from the desktop. 4. AirIME Use your desktop keyboard to type on your phone.Desktop client only) 5. Record screenshot Record phone screenshot with one click, no root required. (Android 5.0+) 6. Speed boost Clean memory and boost phone speed. 7. Other phone management features (Web client only) Find phone: locate your phone when its lost. Remote camera: See through the lens of both front and back cameras. Apps & Media: manage photos, ringtones and videos, upload, install and export apks. Connect with our team and other users Official Forum: http:forums.airdroid.com Official Blog: http:blog.airdroid.com Twitter: http:Twitter.comAirDroidTeam Facebook: http:Facebook.comAirDroid Google+: https:plus.google.com+AirDroidTeam Sina Weibo: http:weibo.comairdroid Email:
[email protected]
We may not be able to respond to each message, but we do read all of them. Thank you! Note: This app uses the Device Administrator permission. It is used for the Find Phone feature.
From version AirDroid: Remote access & File 4.1.8.1
:
Added: 2018-01-05 07:24:31
Modified: 2018-04-02 11:06:44
Updated: 2018-04-24 18:18:46
2017/12/01 v4.1.6.0
1. Improved the reliability and smoothness of AirMirror. (Device reboot required to experience it)
2. Improved notification style and you can now reply to messages directly for devices running Android 7.0 and above.
3. Show touches in screen recording.
4. Improved device connection reliability.
5. Other bug fixes and improvements.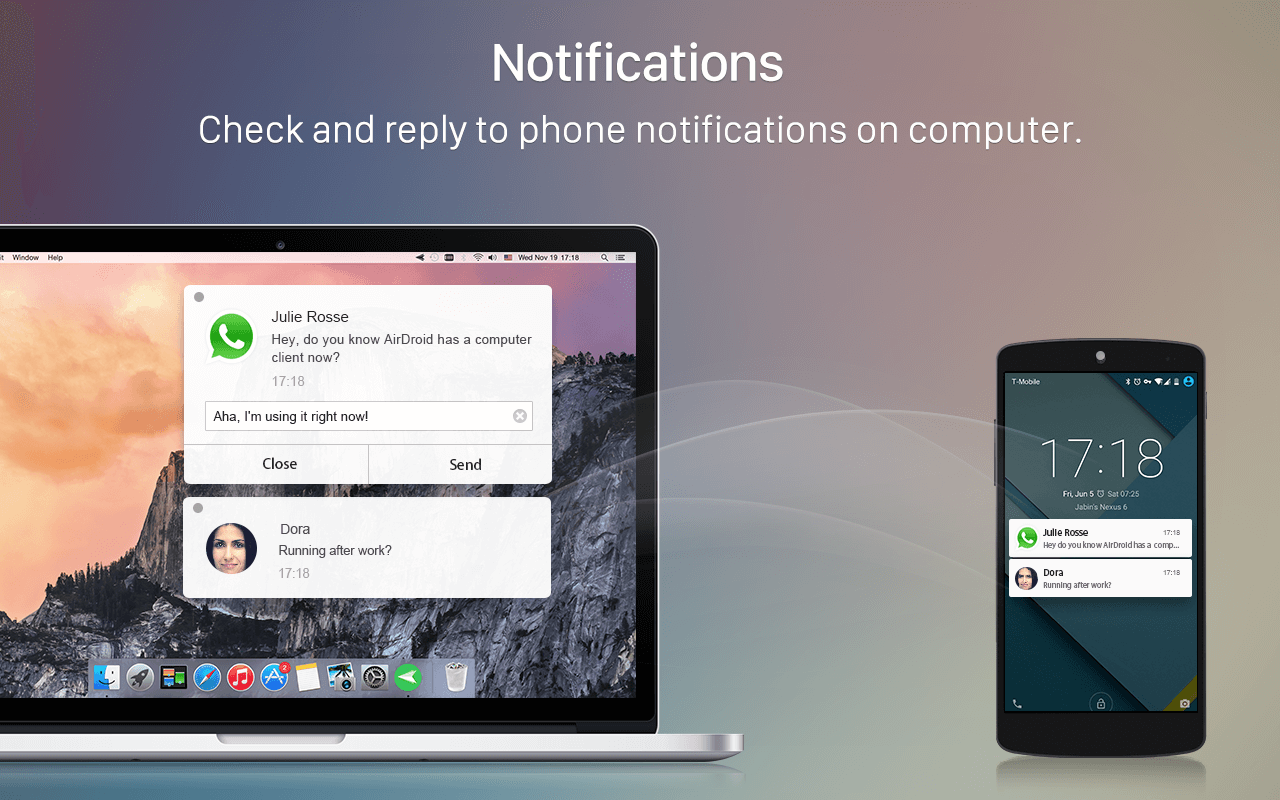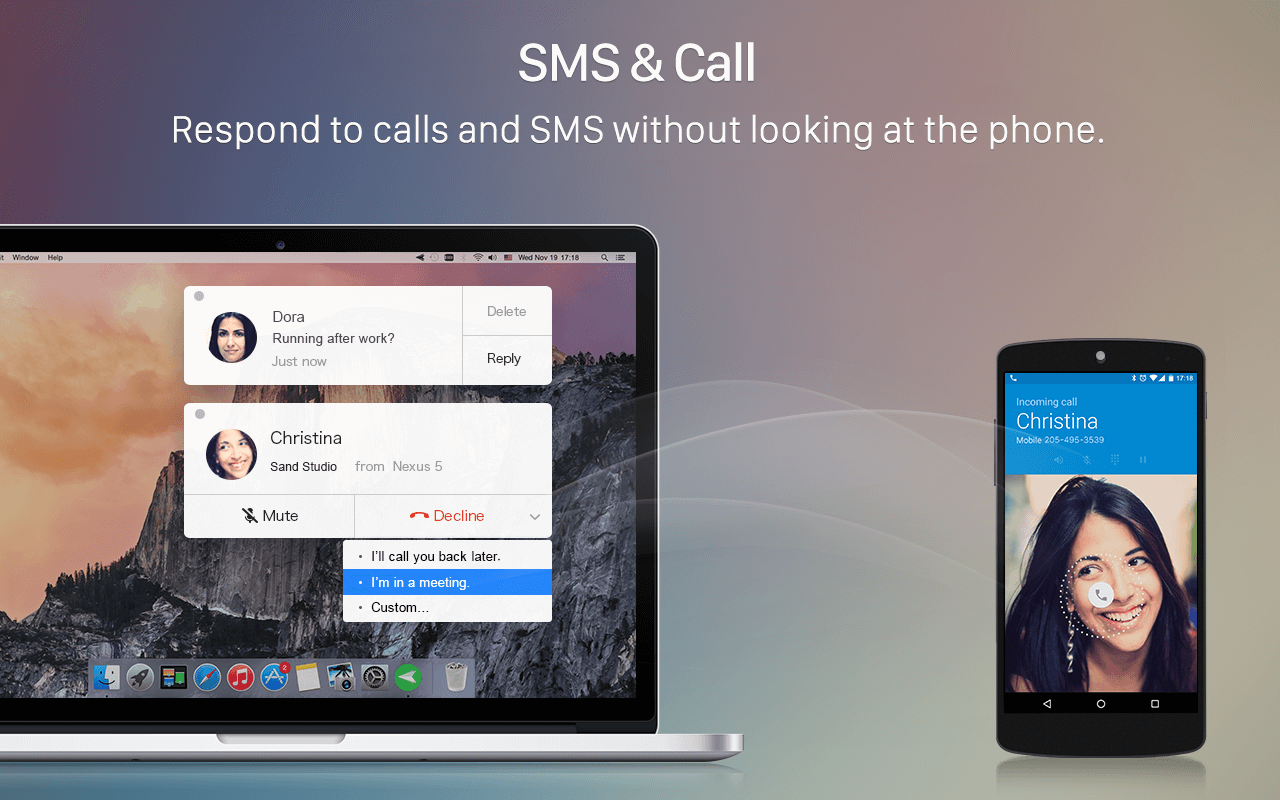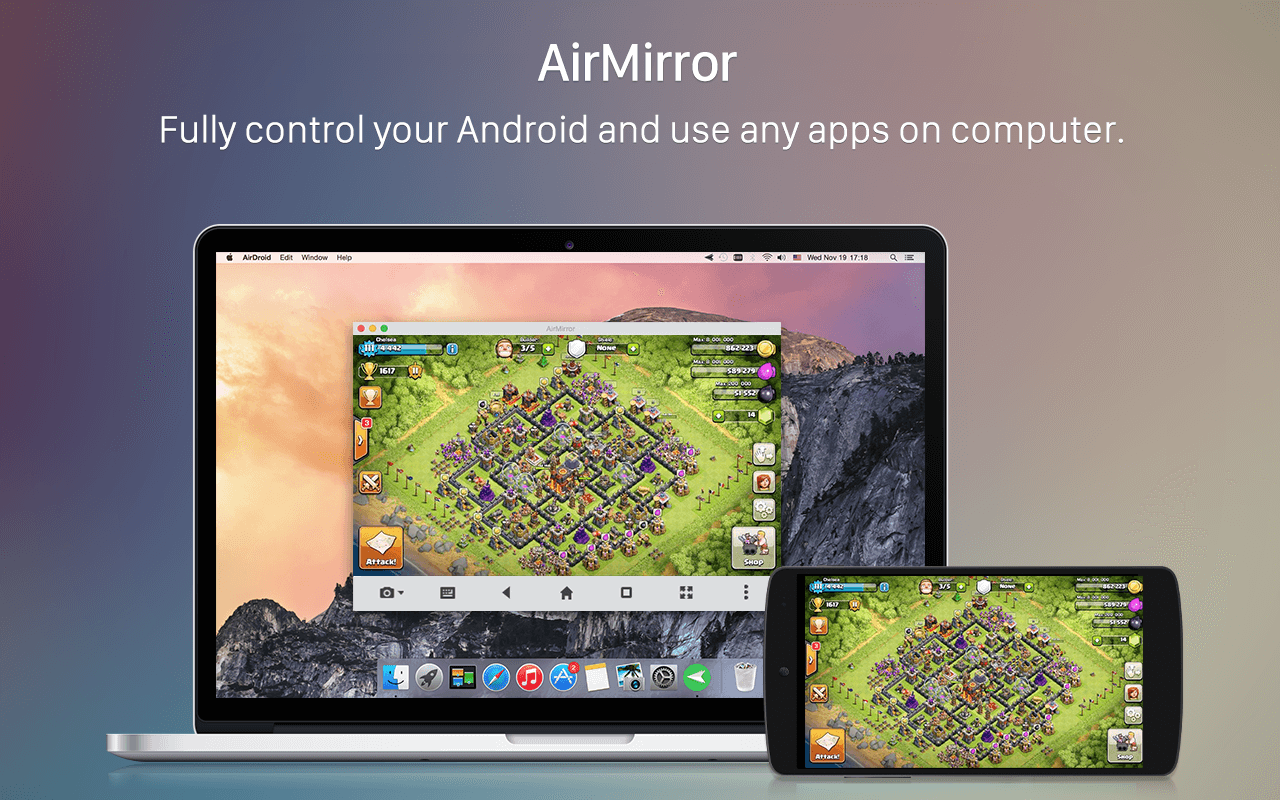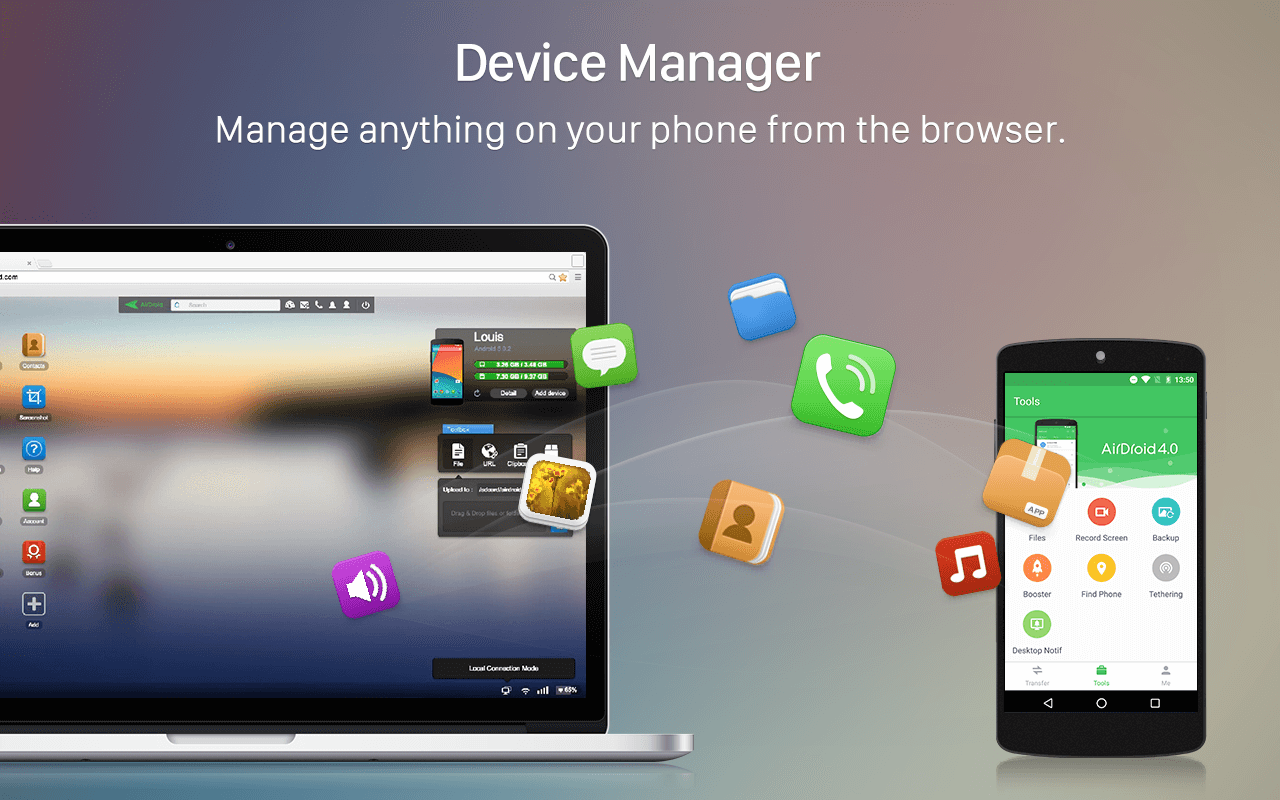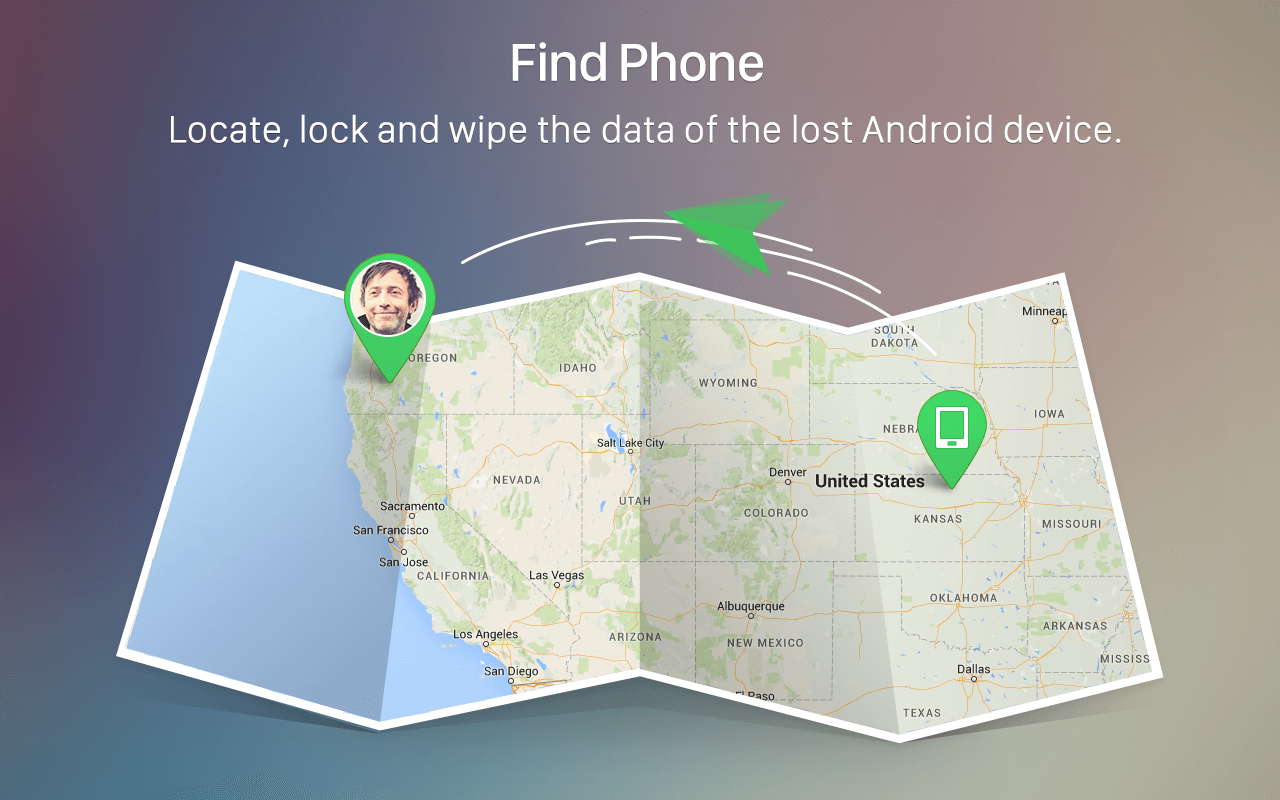 جيد جدا تطبيق غني عن التعريف
muy buena aplicación .......!!!!!! ¡¡¡¡¡¡ FELICIDADES ....!!!!!!!!!!
Alfin pude logear mi cuenta :'D Ya puedo pasar Datos
Dear milaupiv Can you update the 1mobile market plz
cool, no need for wires, makes you love technology
Number ONE! USB free application
Aplicativo bastante útil e sem falar que é incrível 😁
مات تنزيل برامج الكمبيوتر
بهترین برنامه واسه انتقال فایل از طریق وای فای بین گوشی و کامپیوتر
beste app <3 must have for all
cool man but u need to have it on play store
imprescindible para manejar el contenido de nuestro mobil.
visually astounding. very intuitive browser interface. must use secure connection though... Don't no got time for that!
Airdroid is mega cool and Airdroid2 is very good for a place were I have access to corporate Wi-fi for my phone or computer but Airdroid seemed convinced they weren't on the same service. But the new one does not use Wi-fi it uses 3g(or4) the only down side to it is that I'm back to typing my way back in. I guess the QA code can easily spoil us
The easiest way to get stuff on your phonr to computer and vice versa! LOVES IT ;P
Excelente aplicativo. Funciona perfeitamente no galaxy s2.
Related For AirDroid: Remote access & File