Download Bible: Daily Verse, Study, Audio and Devotions APK Info :
Download Bible: Daily Verse, Study, Audio and Devotions APK For Android, APK File Named com.sirma.mobile.bible.android And APP Developer Company Is LifeChurch.tv . Latest Android APK Vesion Bible: Daily Verse, Study, Audio and Devotions Is Bible: Daily Verse, Study, Audio and Devotions 8.2.5 Can Free Download APK Then Install On Android Phone.
Bible: Daily Verse, Study, Audio and Devotions APK Description
On more than 300 million devices around the world, people are reading, listening to, watching, and sharing the Bible using the #1 rated Bible App—completely free. 1,400+ Bible versions, hundreds of languages. Listen to audio Bibles. Hundreds of Reading Plans & Devotionals, in 40+ languages. Download the best rated Bible App. Customize your Bible with Highlights, Bookmarks, and public/private Notes. Access everything online or download select versions to use offline. Read, study, and share with friends. Enjoy honest conversations about faith in trusted community. Grow together every day with friends, sharing your discoveries. Create shareable art: add Scripture verses to your photos. READ THE BIBLE DAILY ● Experience the Bible App in any of 40+ languages ● Switch between hundreds of Bible versions, 1000+ languages ● Popular versions: King James Version KJV, New International Version NIV, New King James Version NKJV, New Living Translation NLT, English Standard Version ESV, NASB, The Message, Reina Valera Spanish, Yoruba, Hindi ● Offline Bibles: Download and read even w/o network access (select versions) ● Audio Bibles: Audio for select versions. Not downloadable ● Verse of the Day USE THE BIBLE WITH FRIENDS ● Center your Christian friendships around holy Scripture in the Bible App ● Home Feed: See what you and friends bookmark & highlight ● Comments: Connect with friends each day as you study Bible truths together, sharing ideas, asking questions STUDY THE BIBLE ● Reading Plans: Hundreds of Devotionals, Bible Plans. Study topics or portions of the Bible. Read the entire Bible (One Year® Bible and Bible in One Year). ● Video: Watch clips from The Bible, the JESUS film, Lumo Project & more CUSTOMIZE YOUR FREE BIBLE ● Verse Images: Turn Scripture into shareable art ● Highlights: Like a paper Bible with custom colors ● Bookmarks: Sharing, memorizing, finding your favorite verses ● Share verses with friends: social media, email, or SMS/text ● Notes: Keep them private so only you can see them, or public to share with friends ● Cloud Sync: With a free YouVersion account, see all of your Notes, Highlights, Bookmarks, and Reading Plans on any supported device ● Easy Reading: Adjust font, text size, and contrast for bright or low-light CONNECT WITH YOUVERSION ● Contact support from inside the Bible App ● Like us on Facebook http://facebook.com/youversion ● Follow us on Twitter http://twitter.com/youversion ● Keep current on our blog http://blog.youversion.com ● YouVersion online http://bible.com 1000+ Bible versions: King James Version KJV New International Version NIV New Living Translation NLT English Standard Version ESV Holman Christian Standard Bible HCSB New King James Version NKJV New American Bible, revised edition (Catholic) Chinese Bible -Chinese Simplified & Traditional Reina Valera Spanish Zulu Yoruba Hindi Twi Nepali Audio Bibles: KJV Audio Bible NIV Audio Bible NLT Audio Bible ESV Audio Bible The Message Audio Bible Chinese Audio Bible More than 1000 languages English, Hindi, Spanish, Portuguese, Chinese, Korean, German, French, Russian, Indonesian, Swahili, Arabic, Zulu, Xhosa, Yoruba, Urdu, Kikuyu, Filipino, Tamil, Hausa, Twi, Bengali, Nepali, Ewe Thanks to generous content partners, we offer hundreds of Reading Plans, Devotionals and Free Bible Study Plans: Billy Graham, Francis Chan, One Hope: Bible App for Kids devotionals, FCA Fellowship of Christian Athletes, Our Daily Bread, One Year® Bible, Jesus Film, Lead Like Jesus, Daily Guideposts, Deeper into Scripture, Ligonier, Joseph Prince, Scripture Union, Focus on the Family, John Piper: Desiring God, Hillsong Church, Audio books & devotionals, Daily Bible Reading Guide Catholic, Rick Warren: Daily Hope, Set Me Free, 21 Days of our Daily Bread, Hope International, Wisdom Books, New Life Christian, Daily Walk, Once a Day Bible, Jesus Calling, Bible Plans.org, Love God Greatly, Our Daily Bread: China
From version Bible: Daily Verse, Study, Audio and Devotions 8.2.5
:
Added: 2016-04-20 02:29:25
Modified: 2018-05-23 14:34:58
Updated: 2018-06-16 09:08:54
Streaks help you build your Bible habit to encounter God's Word daily. Now you can also track your Perfect Weeks and number of days in the app this year!
Added Icelandic and Malayalam localizations
Bug fixes and performance improvements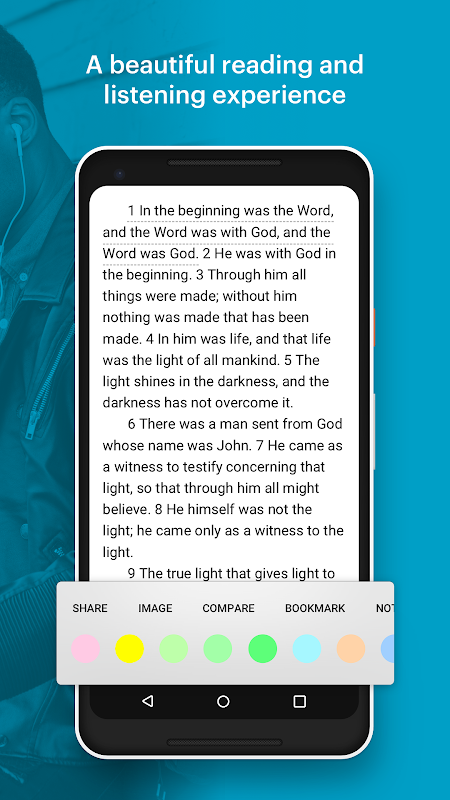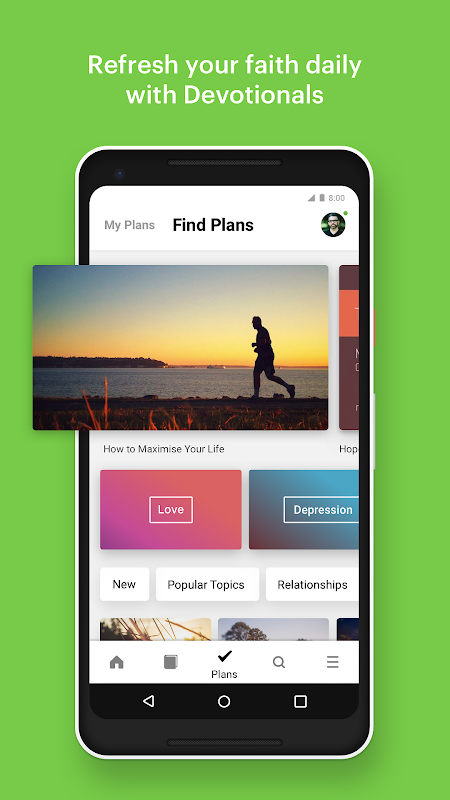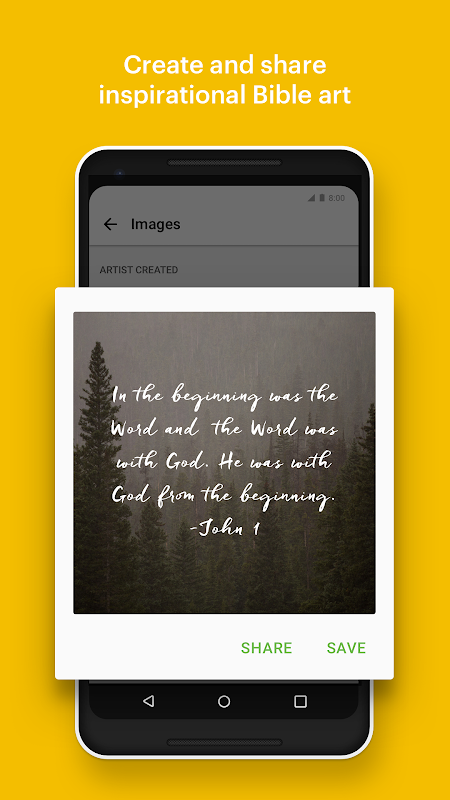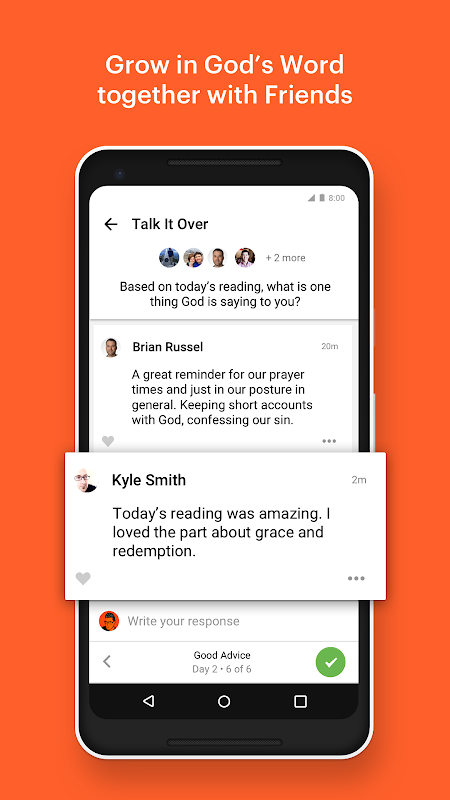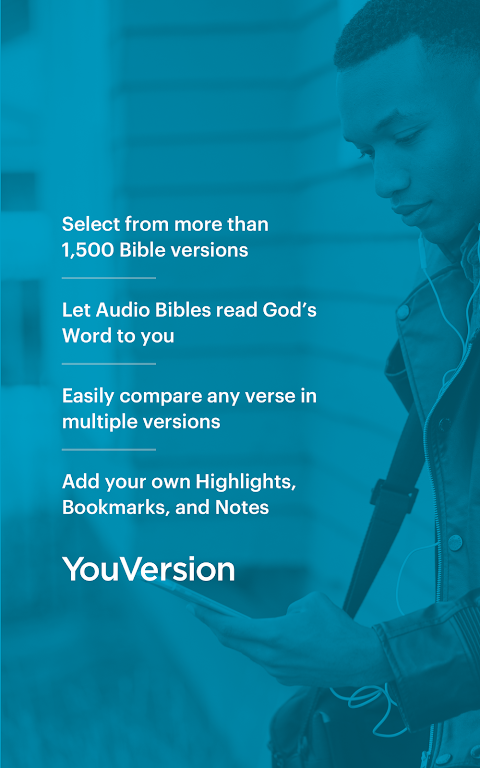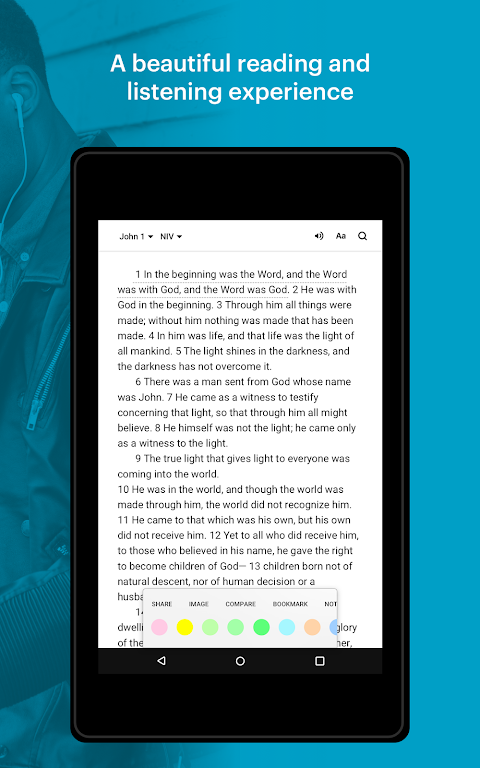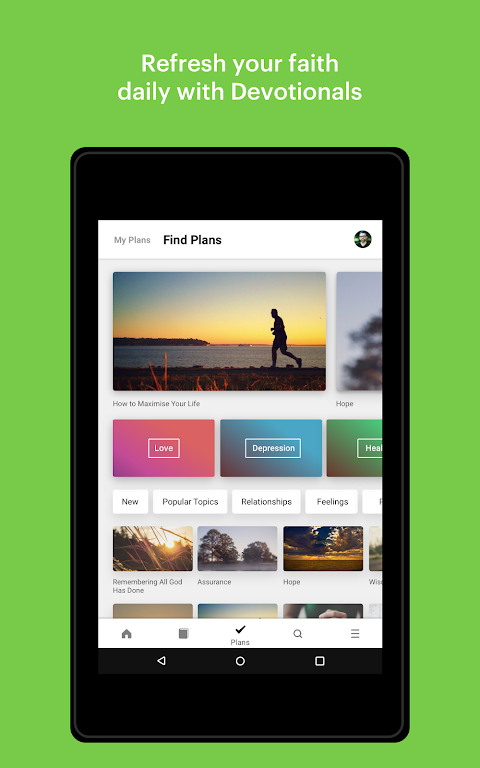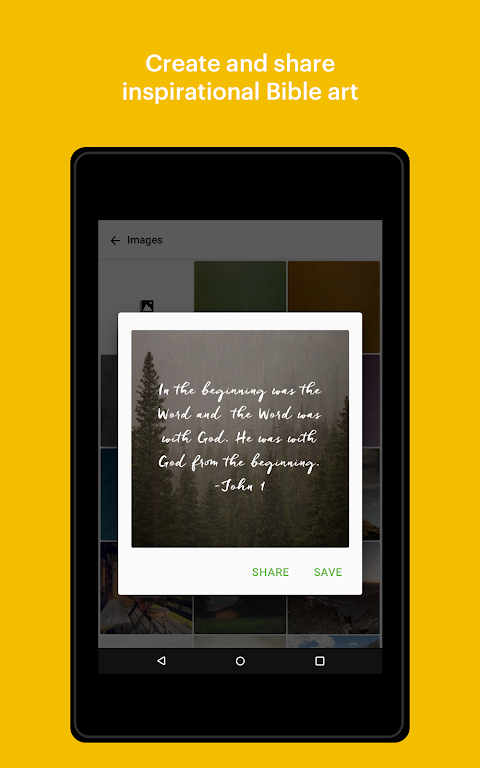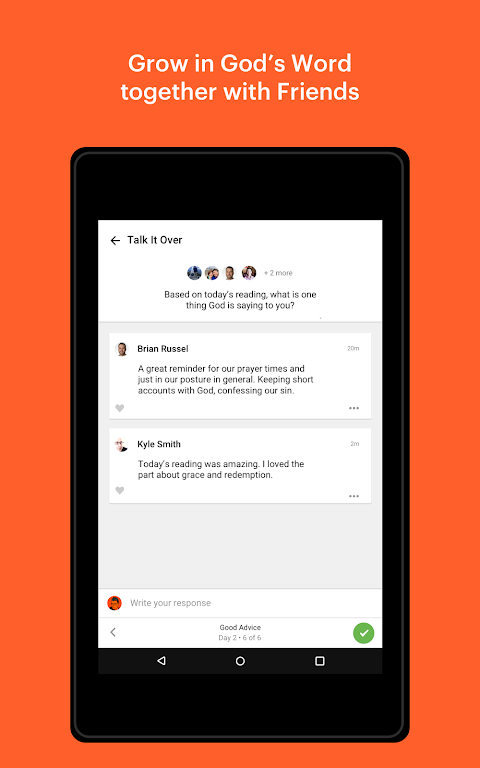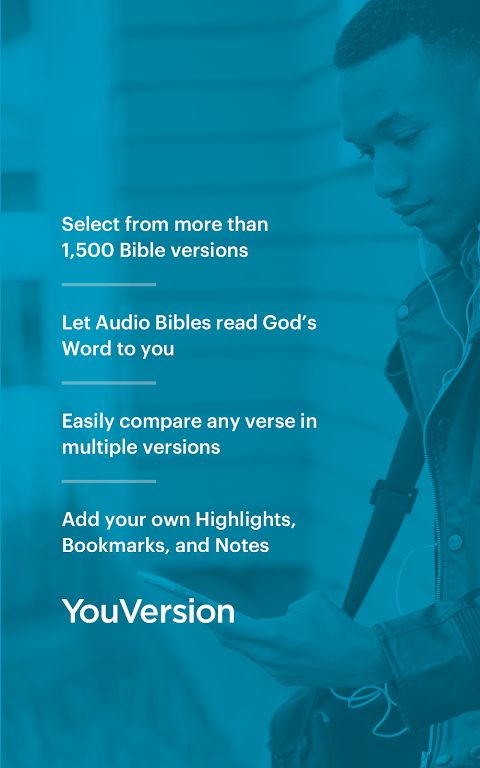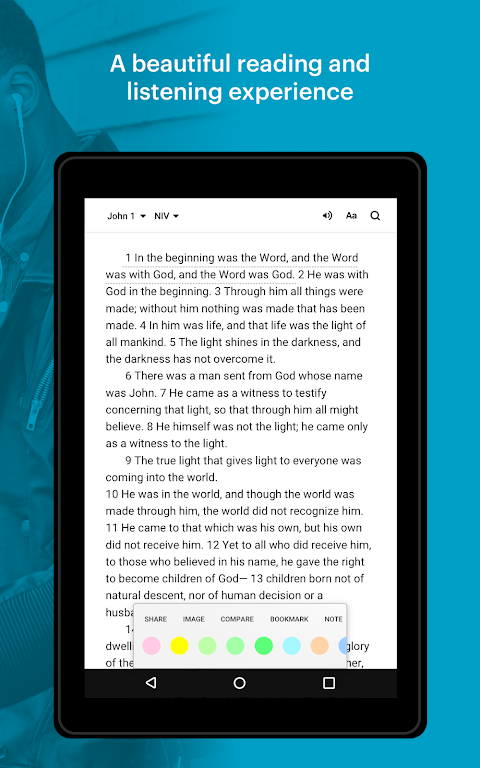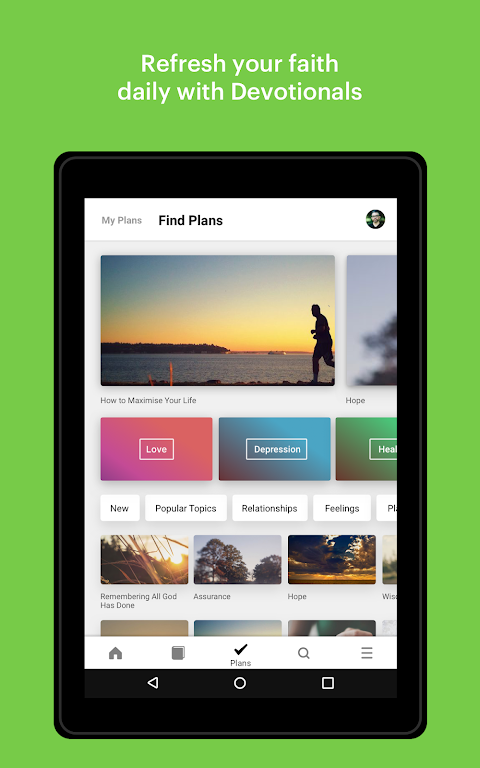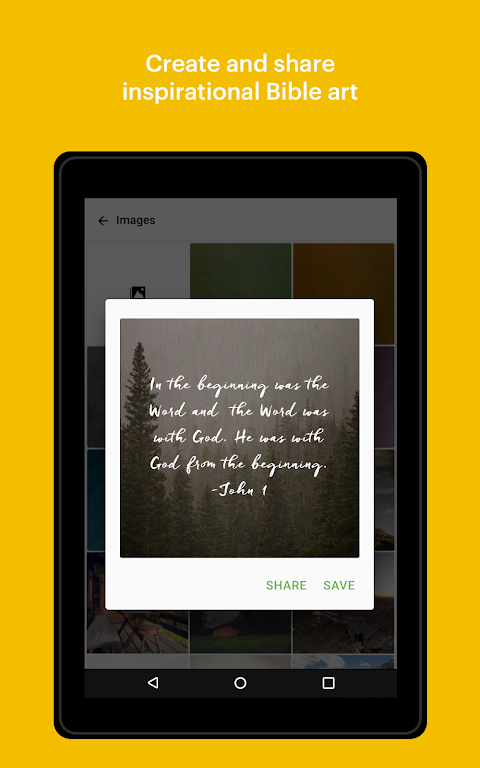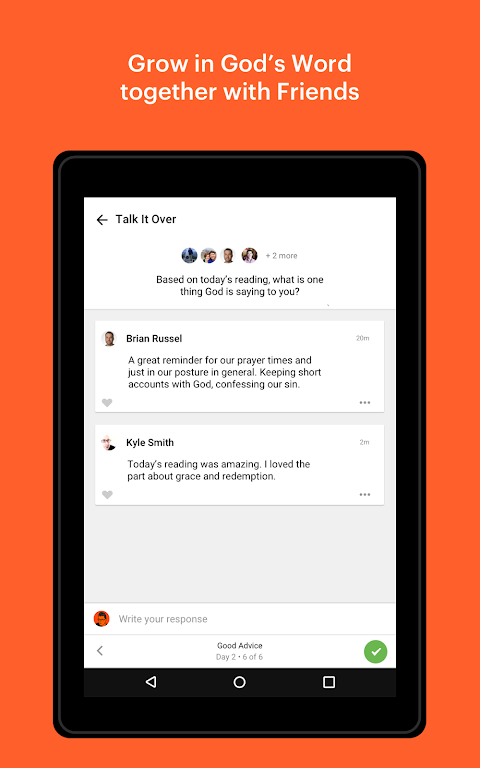 Foarte buna biblia. Mia placut ca are versetul zilei. multumim!
muito bom . eu leio na língua italiana pra treinar o idioma muito bom
E sempre bom ler e entender a palavra de Deus e muito bom e maravilhoso
very good and lot of features😀😀
yeah it's helping to read this for kids learning about GOD
Thank God for apps like this, I love it.
should be read all the chapters in offline as well
super,oplati sa mat v mobile
Exactly what I was looking for. Many choices of prayers, devotionals, and Bible. All together and nicely ordered.
Es una pasada!! He trabajado con varios programas bíblicos pero no me han satisfecho. Poco se puede mejorar en este programa.
Wow! Everyone must have this it's real easy to use and free of course his word is always free but with our busy lives nowadays this just makes it a lot better to have on hand I recommend this app to all.
Wow everyone needs to have this app it is the best app ever thank you Lord for giving us amazing ability to create such great tools
I Love this convient app. The Holy Bible everwhere I go and I dont have to worry about pages fallen out.
since when 5.8.3 can be an upgrade to 5.11.3 version?
you love Jesus? but I love most and am his friend and is not just for mouth speaking.
church is church and stop bringing crisis
is good to let the word of god be your breakfast.
cool yet awseme apk 10/10 👍 nice
este es un downgrade, por ahora no descarguen.
is this the Catholic or the Protestant Bible?
تكون هناك مسيرة للحملة الوطنية
Il y a un bug depuis le passage en 2015 au niveau de l'accueil. Plus d'accès au verset du jour. Meilleurs voeux. blessings
yes we all know its a downdate
Best Bible App. This is an everyday blessing
hay un error tengo instalado la version 5.2.0 y marca la actualización a 5.0.4
You have The 3.6 vr i have The 5.0 booooo to You lol
This is not a uppdate man
muitas vezes nao abre e trava toda hora
Esta versión no es la oficial.
esta version no deja abrir la biblia y me paraliza el telefono, ''galaxy s3 mini''
This last version is awful. I lost my offline versions and now the Bible simply doesn't open.
me gustaría saber si se puede abrir esta aplicación sin internet :/
quran is more trustable beacause of the God had promise his prophet which he will save quran from changes .
La nueva actualización no me permite abrir la Biblia!! Arreglenlo por favor.
please update the new version!!!
=== tested with BlueStack/work ===
Muy buena esta app, la prove en el cel pero es mejor en la tablet. Lo mejor es la opcion de tener diferentes traducciones para el mismo idioma
now u gotta love the bible app I no I do
Related For Bible: Daily Verse, Study, Audio and Devotions