Download Spotify Music 8.4.54.531 APK Info :
Download Spotify Music 8.4.68.898 APK For Android, APK File Named And APP Developer Company Is Spotify Ltd. . Latest Android APK Vesion Spotify Music Is Spotify Music 8.4.68.898 Can Free Download APK Then Install On Android Phone.
Download Spotify Music 8.4.54.531 APK Other Version
For Download Other Spotify Music versions Visit Spotify Music APK Archive.
Download Spotify Music.apk android apk files version 8.4.54.531 Size is 35382875 md5 is c40ed618338eece519aa015c0aee661f By Spotify Ltd. This Version Need Ice Cream Sandwich 4.0.3 - 4.0.4 API level 15, NDK 8 or higher, We Index Version From this file.Version code 32245837 equal Version 8.4.54.531 .You can Find More info by Search com.spotify.music On Google.If Your Search spotify,music,audio Will Find More like com.spotify.music,Spotify Music 8.4.54.531 Downloaded 1854271 Time And All Spotify Music App Downloaded Time. Music for everyone Spotify is an online music service that lets you play songs from a library of more than 20 million tracks, build playlists, and get recommendations from other members or from Spotify's own suggestion engine. The free streaming option lets you listen to any artist collection or playlist—you cannot, however, play a particular song on demand. For that, you'll need to upgrade to the $9.99 per month Spotify Premium, a tier that also grants unlimited skips, commercial-free music, the new Running tool, and an offline listening mode. The app (free, with an optional $9.99 per month Premium service) opens the door to collaborative playlists, on-demand music playback, commercial-free listening, and cool new features for runners. Spotify features a panel-driven layout that makes it a breeze to browse the various genres, which include Rock, Decades, Urban, and Pop Culture. There are also a few others, including several videogame-themed stations (something Slacker Radio lacks). Tapping a top-level category opens several subcategories. The Urban section, for example, has dozens of playlists such as Hip Hop Monsters, and Produced by The NeptunesPharrell. Swiping left lets you access playlists, your friends list, and other areas. You can stream or cache tracks at a deliciously high 320kbps, called Extreme Mode. Regardless of the bitrate you select, you'll enjoy loud, crisp audio. Spotify also supports gapless playback and cross-fading between tracks so there aren't any abrupt pauses. There are millions of songs on Spotify. Play your favorites, discover new tracks, and build the perfect collection. You'll find readymade playlists to match your mood, put together by music fans and experts. Hear this week's latest singles and albums, and check out what's hot in the Top 50!
Spotify Music
Version:
8.4.54.531
(32245837)
armeabi-v7a
Package: com.spotify.music
1854271 downloads
33.74 MB (35382875 bytes)
Target: Ice Cream Sandwich 4.0.3 - 4.0.4 API level 15, NDK 8
c40ed618338eece519aa015c0aee661f
added on 2018-05-15 08:56:26 by sf49ers
Spotify Music 8.4.54.531 APK Download by Spotify Ltd.
In Spotify Music 8.4.54.531
We're always making changes and improvements to Spotify. To make sure you don't miss a thing, just keep your Updates turned on.
In Spotify Music 8.4.54.531
android.permission.ACCESS_NETWORK_STATE
android.permission.ACCESS_WIFI_STATE
android.permission.BLUETOOTH
android.permission.BLUETOOTH_ADMIN
android.permission.BROADCAST_STICKY
android.permission.CHANGE_WIFI_MULTICAST_STATE
android.permission.GET_ACCOUNTS
android.permission.INTERNET
android.permission.MANAGE_ACCOUNTS
android.permission.MODIFY_AUDIO_SETTINGS
android.permission.NFC
android.permission.READ_EXTERNAL_STORAGE
android.permission.READ_PHONE_STATE
android.permission.RECEIVE_BOOT_COMPLETED
android.permission.USE_CREDENTIALS
android.permission.WAKE_LOCK
android.permission.WRITE_EXTERNAL_STORAGE
com.android.launcher.permission.INSTALL_SHORTCUT
com.android.vending.BILLING
com.google.android.c2dm.permission.RECEIVE
com.sony.snei.np.android.account.provider.permission.DUID_READ_PROVIDER
com.spotify.music.permission.C2D_MESSAGE
com.spotify.music.permission.INTERNAL_BROADCAST
com.spotify.music.permission.SECURED_BROADCAST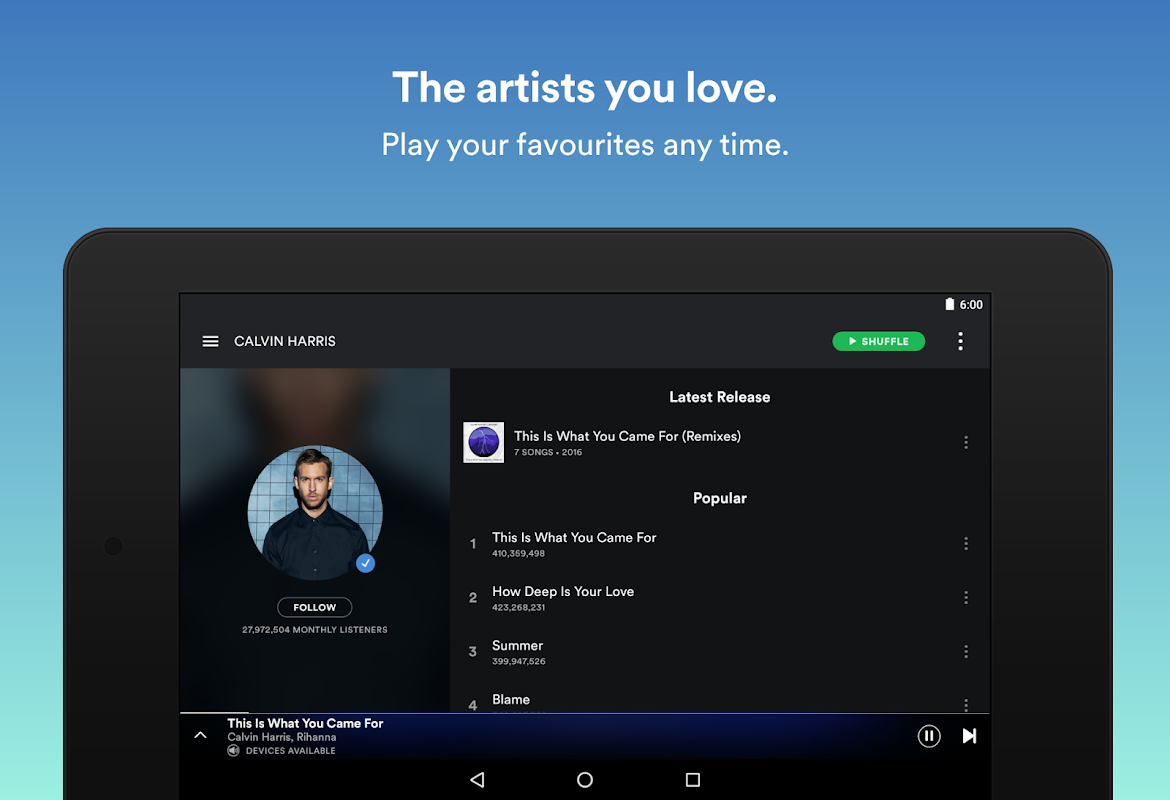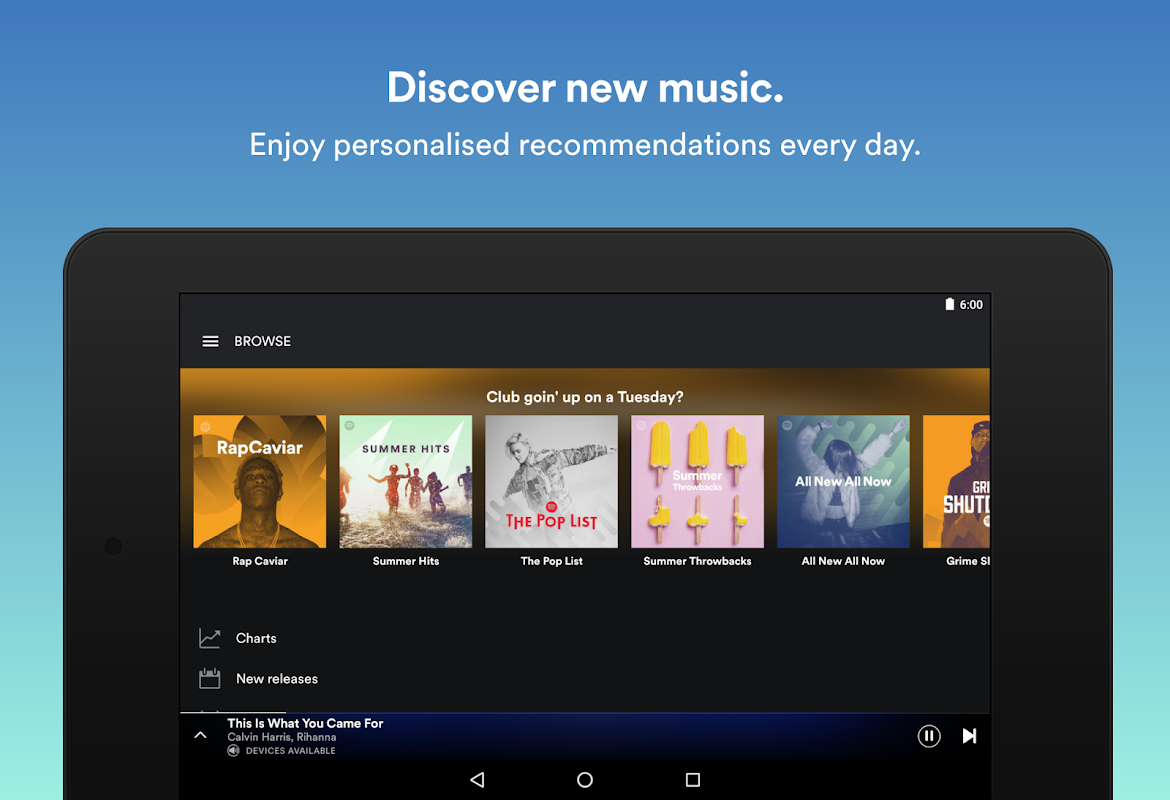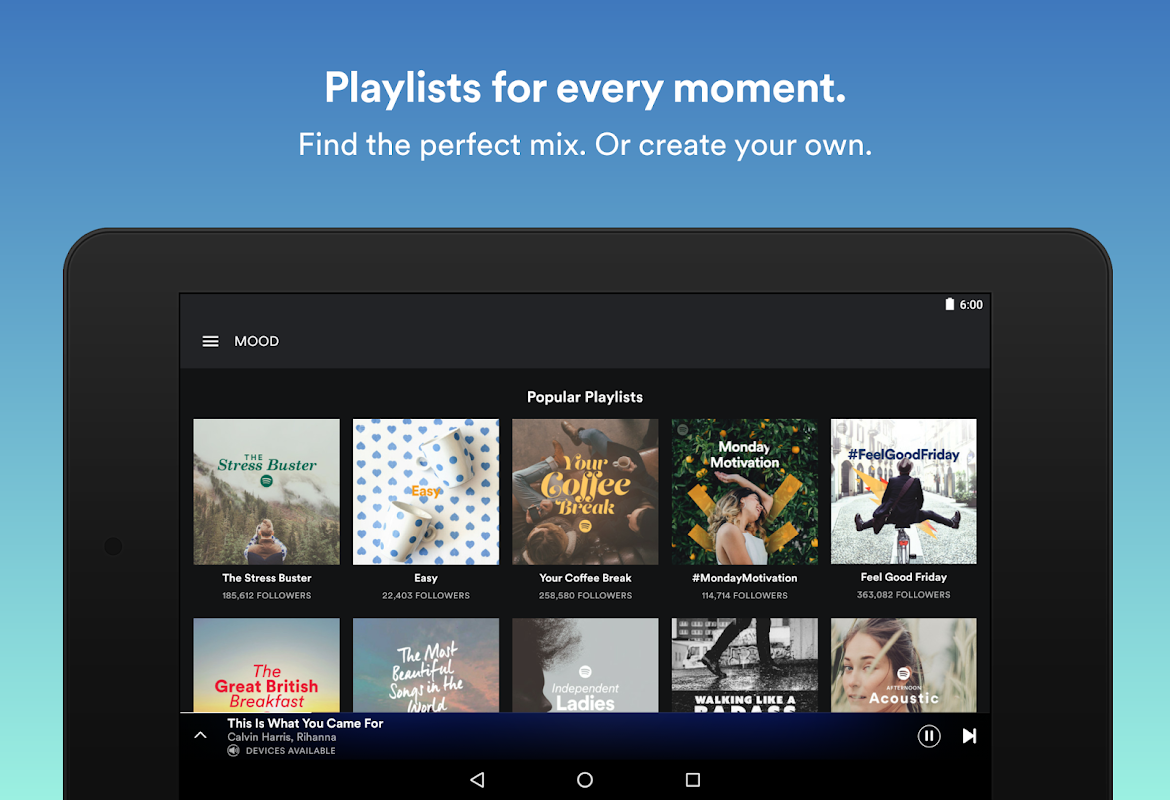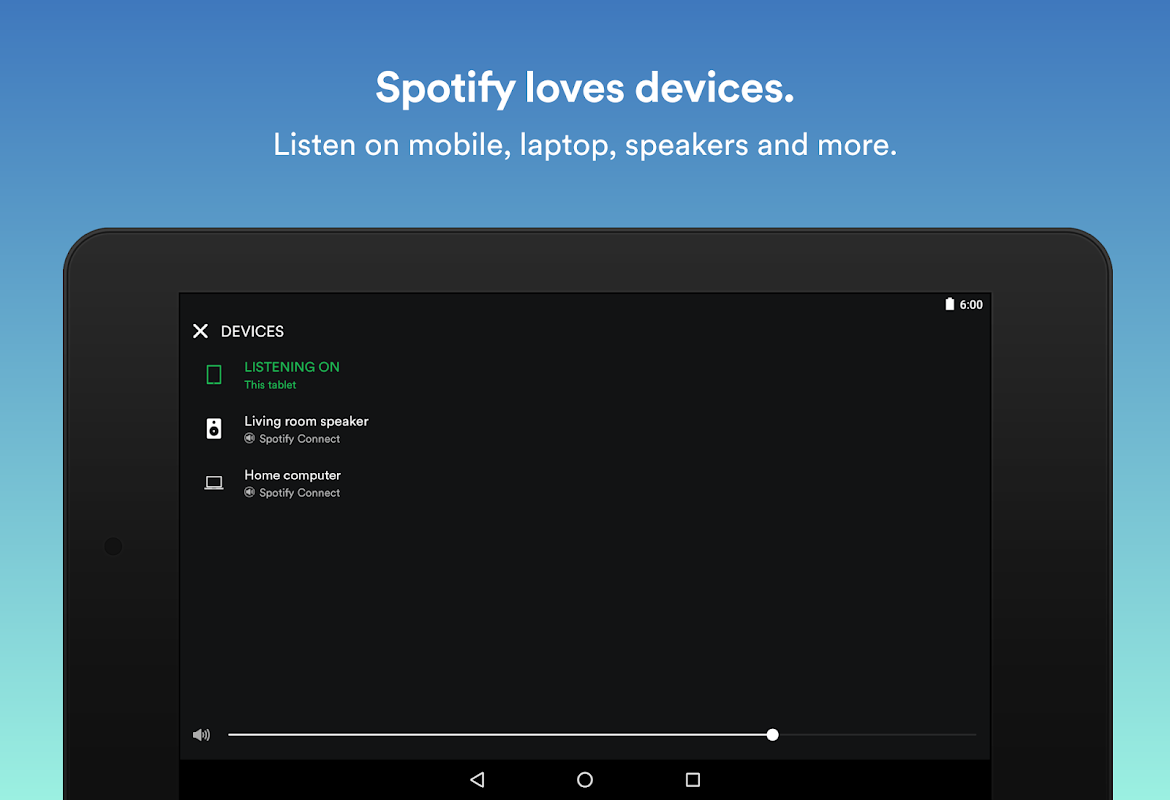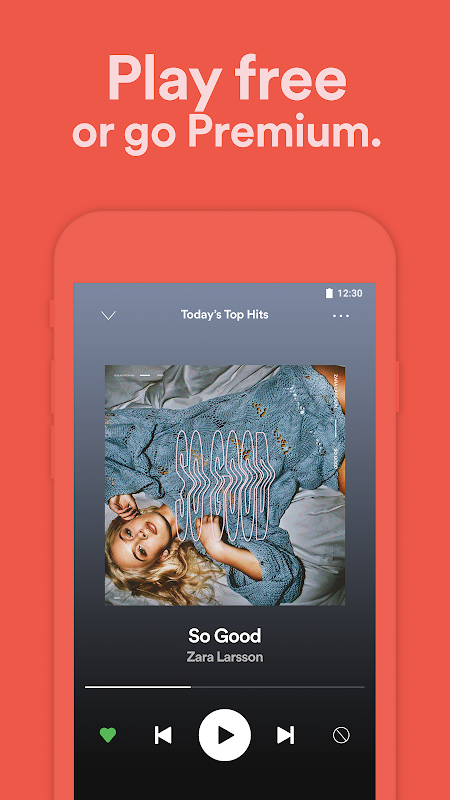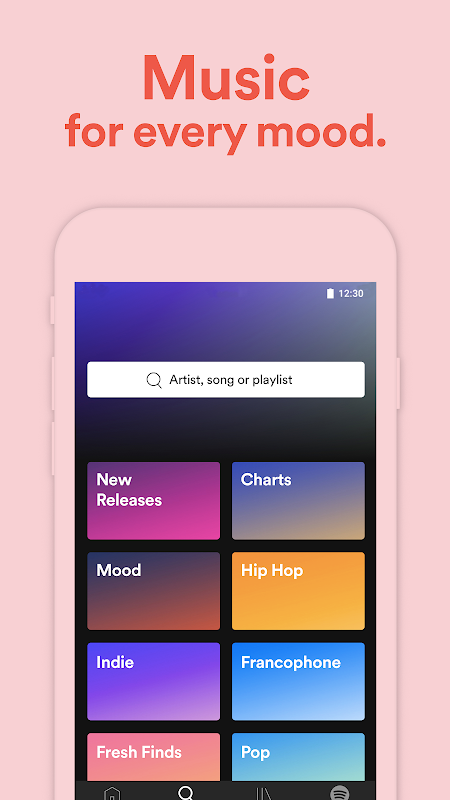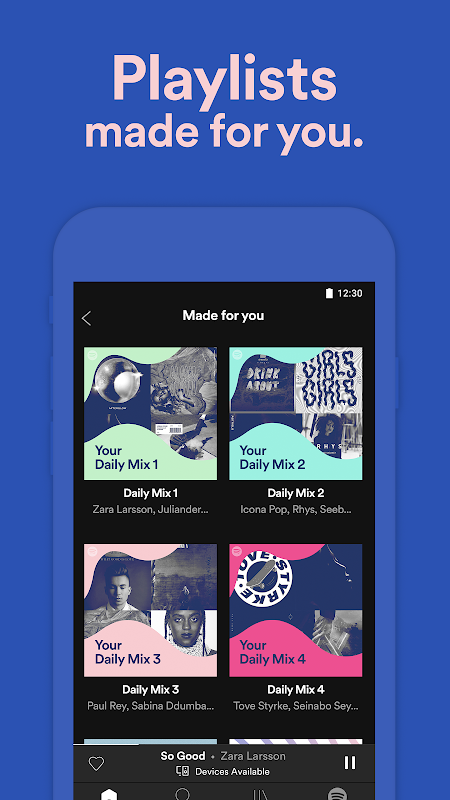 i lo ve oscar lillingston
Pagando, como todos nosotros, esta gente quiere todo gratis...
esta súper vacano. :-) :-)
solo es gratis con internet
muito bom baixei um monte de musica
isso eh mesmo seguro.. eh baixa mesmo muitas músicas .. ?
Muito bom o app, só falta a versão Premium. não achei disponibilizem por favor.
Quer a versão premium? faça que nem eu, assine!!
esta apk es premium o esta mod?
Premium stu cazz..imbroglioni,la prossima volta non scrivete "premium" toglietelo...
Premium ya no hay q poner crédito Dr es digan