Download Teen Titans GO Figure! APK Info :
Download Teen Titans GO Figure! APK For Android, APK File Named com.turner.ttgfigures2 And APP Developer Company Is Cartoon Network . Latest Android APK Vesion Teen Titans GO Figure! Is Teen Titans GO Figure! 1.1.3 Can Free Download APK Then Install On Android Phone.
Teen Titans GO Figure! APK Description
Get ready for Teen Titans Go! Figure -- the epic follow-up to the breakout hit game Teeny Titans. Someone's trying to put Teeny Titans out of business! Battle your way to the bottom of this mystery.  CHALLENGE YOUR FRIENDS The Multiplayer Beta is here! You've faced the world's greatest heroes. Now, challenge your friends to teeny battles! Rank up to unlock Legion of Doom figs.  COLLECT 100+ FIGURES  Collect over 100 Teeny Titans figures, including Batman, Superman, Wonder Woman, Flash, the Radical Titans, and many more! Level up your figs to unlock even more powerful abilities. CUSTOMIZE YOUR SQUAD Every figure can be repainted in different ways! Swap character abilities to make your team truly unique. And bust out accessories, like the Bat Signal and Superman's underpants, to give you the edge in battle. CHOOSE YOUR TITAN Play the full story mode as any of the Titans. Choose Robin, Raven, Cyborg, Starfire or Beast Boy. Each Titan has unique dialogue and original voiceover from the show's cast. GO BEYOND JUMP CITY Explore Metropolis, Gotham and Jump City to shop for your favorite super hero figures. Complete special missions for DC heroes and enter tournaments at iconic locations, like the Hall of Justice and the Batcave. ***** This game is available in the following languages: English, French, Italian, Spanish (Latin American), Portuguese (Brazilian), Russian, Turkish If you're having any problems with this app, feel free to contact us at [email protected] Tell us about the issues you're running into as well as what device and OS version you're using. ***** IMPORTANT CONSIDERATIONS: This app may contain ads that feature other products, services, shows or offers from Cartoon Network and our partners. This app includes the option for adults to unlock or buy additional in-game items with real money to enhance game play, ranging from $0.99-$9.99 USD (or equivalent amount in the applicable regional currency). You may disable in-app purchases by adjusting your device settings. PRIVACY INFORMATION: Your privacy is important to us at Cartoon Network, a division of Turner Broadcasting System, Inc. This game collects and uses information as described in Cartoon Network's Privacy Policy linked below. This information may be used, for example, to respond to user requests; enable users to take advantage of certain features and services; personalize content; serve advertising; perform network communications; manage and improve our products and services; and perform other internal operations of Cartoon Network web sites or online services. Our privacy practices are guided by data privacy laws in the United States. For users residing in the EU or other countries outside the U.S., please note that this app may use persistent identifiers for game management purposes. By downloading this application, you accept our Privacy Policy and End User License Agreement, and you give permission for such uses for all users of your device. The Privacy Policy and End User License Agreement are in addition to any terms, conditions or policies imposed by your wireless carrier and Google, Cartoon Network and its affiliates are not responsible for any collection, use, or disclosure of your personal information by Google or your wireless carrier. Terms of Use: http://www.cartoonnetwork.com/legal/termsofuse.html Privacy Policy: http://www.cartoonnetwork.com/legal/privacy/mobile.html
From version Teen Titans GO Figure! 1.1.3
:
Added: 2018-07-31 11:16:01
Modified: 2018-12-12 13:33:05
Updated: 2019-07-04 19:54:14
Battle your friends! The Legion of Doom has arrived and they've brought online battles with them. Enter the Hall of Doom to challenge your friends and collect all-new figures!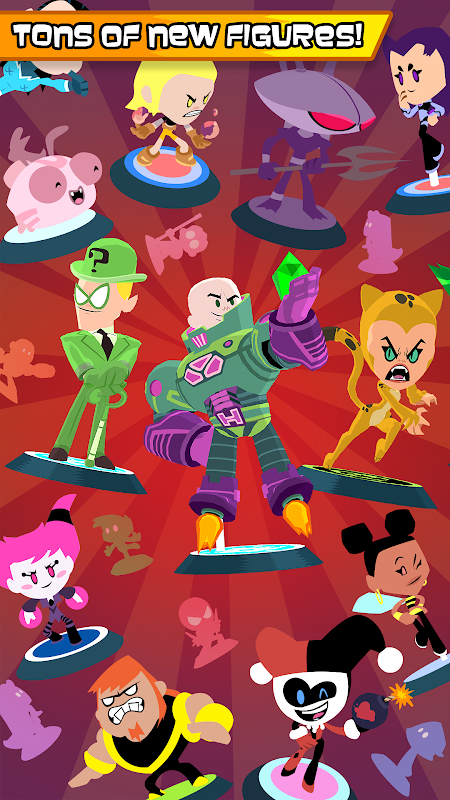 muda a versão pra ultima aqui no aptoide que vai te dinheiro infinito
meu deus o anta ele nao produziu o jogo alias dinheiro infinito ja tem querido só i em outra versão
você está certo seria muito bom
eu ja serei o jogo e vai tomar no cu
Coloquem dinheiro infinito por que seria legal as pessoas instalarem e comprar, testar personagens novos
ele pode até ser um lixo mais você é um lixão
ele pode ser lixo mas oque que vc é,é verdade vc é um lixão
Ahahah cala tua boca se a gente quiser dinheiro infinito nós tem o seu sua baleia melancia quando rola não pára de enrolar Fi
aperte o de pausar e depois de um tempo volte a instalar
Vc tem que ter uma Supergirl no level 20,uma Hera Venenosa no level 20,qualquer Titã Radical no level 20,e pode ter um como vc zerou o Tenny Titans-Teen Titans vc vai lá vai na torre e pega o Homem de Capuz e o Sr.Chibi aí deixa todos no level 20,e é só lutar no meu deu certo.
Eu também é foda esse jogo né?
Cara só vc baixar a outra versão
dinheiro infinito é uma bosta
Abaixa uma dessas primeiras versoes e atualiza para ficar com dinheiro infinito
Já tem a legião do mal ea liga da justiça
escolha a primeira versão deste jogo meu canal do YouTube e João vod ex
your the f..... you son of a b.......
eu gostaria do dinheiro infinito
its no fix fix this u hackers freak!!!!!!!!!!!¡!!!!!!!!!!!
yeah but first it stop crashing in 99 to 50
apaga algum APP o meu também tava assim
si quieres que no se borren el progreso del juego. si vas a borra cosas de tu dispositivo móvil no borres la carpeta android para que no se borren ningunos progresos de ninguna app
it doesn't work to download
se você não gosta do dinheiro infinito compra então o jogo na play store seu babava
chill out dude you're acting like a fortnite player that lost
Eu gostei muito bom pra quem não gostou poblema e de vcs
vc que não sabe jogar é fica falando bosta seu noob a vá procurar oque fazer
pelo menos o seu instala o meu não
es tu celular o tu Internet o tu celular esta dañado
a mi see me queda en 100 y no se me instala
meu código: ZBY0-23RS-3951
pera pera pera dinheiro infinito não eu odeio jogos que tem dinheiro infinito😤