Download WhatsApp Messenger 2.18.245 APK Info :
Download WhatsApp Messenger 2.18.254 APK For Android, APK File Named And APP Developer Company Is WhatsApp Inc. . Latest Android APK Vesion WhatsApp Messenger Is WhatsApp Messenger 2.18.254 Can Free Download APK Then Install On Android Phone.
Download WhatsApp Messenger 2.18.245 APK Other Version
For Download Other WhatsApp Messenger versions Visit WhatsApp Messenger APK Archive.
Download WhatsApp Messenger.apk android apk files version 2.18.245 Size is 40515982 md5 is cfd18275a7e5eb0610ae29d0b123d193 By WhatsApp Inc. This Version Need Ice Cream Sandwich 4.0.3 - 4.0.4 API level 15, NDK 8 or higher, We Index Version From this file.Version code 452451 equal Version 2.18.245 .You can Find More info by Search com.whatsapp On Google.If Your Search whatsapp,communication Will Find More like com.whatsapp,WhatsApp Messenger 2.18.245 Downloaded 34212358 Time And All WhatsApp Messenger App Downloaded Time. WhatsApp Messenger is a free messaging app for Android devices over the Internet connection. It allows users not only to send messages but also to send files and make calls. WhatsApp Messenger is one of the most used messaging apps by both Android and iOS users because of its incredible features. You will be able to make video and voice calls with your family and friends. In addition, you will be able to send all type of files, like documents, photos, videos, contacts, or audio files. It also includes the basic features of a messaging app like mark as unread, silence a conversation or create a group chat. Moreover, WhatsApp Messenger now includes the Status functionality that allows your to share a picture, video or gif with all your contacts. This messaging application is one of the favorite by Android users because it is very easy to use, well-known and incredibly reliable. It also has a web version that allows users to synchronize their WhatsApp account with their PC. WhatsApp Messenger will ask you to confirm your telephone number by sending you a SMS when creating your account. Then, you will see all your phone contacts available in the app so can you chat with them straight away!
WhatsApp Messenger
Version:
2.18.245
(452451)
x86,x86-64,armeabi-v7a,arm64-v8a,mips,mips64
Package: com.whatsapp
34212358 downloads
38.64 MB (40515982 bytes)
Target: Ice Cream Sandwich 4.0.3 - 4.0.4 API level 15, NDK 8
cfd18275a7e5eb0610ae29d0b123d193
added on 2018-08-09 16:53:50 by mark8
WhatsApp Messenger 2.18.245 APK Download by WhatsApp Inc.
In WhatsApp Messenger 2.18.245
- Group admins can now choose to allow only admins to send messages to a group. Open "Group info" > tap "Group settings". Non-admins will still be able to read messages and respond privately by tapping "Message admin".
In WhatsApp Messenger 2.18.245
android.permission.ACCESS_COARSE_LOCATION
android.permission.ACCESS_FINE_LOCATION
android.permission.ACCESS_NETWORK_STATE
android.permission.ACCESS_WIFI_STATE
android.permission.AUTHENTICATE_ACCOUNTS
android.permission.BLUETOOTH
android.permission.BROADCAST_STICKY
android.permission.CAMERA
android.permission.CHANGE_WIFI_STATE
android.permission.GET_ACCOUNTS
android.permission.GET_TASKS
android.permission.INSTALL_SHORTCUT
android.permission.INTERNET
android.permission.MANAGE_ACCOUNTS
android.permission.MODIFY_AUDIO_SETTINGS
android.permission.NFC
android.permission.READ_CONTACTS
android.permission.READ_EXTERNAL_STORAGE
android.permission.READ_PHONE_STATE
android.permission.READ_PROFILE
android.permission.READ_SYNC_SETTINGS
android.permission.READ_SYNC_STATS
android.permission.RECEIVE_BOOT_COMPLETED
android.permission.RECEIVE_SMS
android.permission.RECORD_AUDIO
android.permission.REQUEST_INSTALL_PACKAGES
android.permission.SEND_SMS
android.permission.USE_CREDENTIALS
android.permission.VIBRATE
android.permission.WAKE_LOCK
android.permission.WRITE_CONTACTS
android.permission.WRITE_EXTERNAL_STORAGE
android.permission.WRITE_SYNC_SETTINGS
com.android.launcher.permission.INSTALL_SHORTCUT
com.android.launcher.permission.UNINSTALL_SHORTCUT
com.google.android.c2dm.permission.RECEIVE
com.google.android.providers.gsf.permission.READ_GSERVICES
com.htc.launcher.permission.READ_SETTINGS
com.htc.launcher.permission.UPDATE_SHORTCUT
com.huawei.android.launcher.permission.CHANGE_BADGE
com.huawei.android.launcher.permission.READ_SETTINGS
com.huawei.android.launcher.permission.WRITE_SETTINGS
com.sec.android.provider.badge.permission.READ
com.sec.android.provider.badge.permission.WRITE
com.sonyericsson.home.permission.BROADCAST_BADGE
com.sonymobile.home.permission.PROVIDER_INSERT_BADGE
com.whatsapp.permission.BROADCAST
com.whatsapp.permission.C2D_MESSAGE
com.whatsapp.permission.MAPS_RECEIVE
com.whatsapp.permission.REGISTRATION
com.whatsapp.permission.VOIP_CALL
com.whatsapp.sticker.READ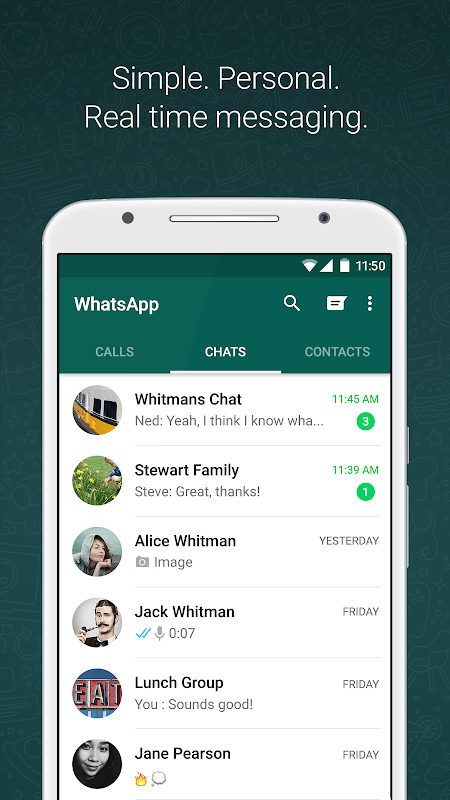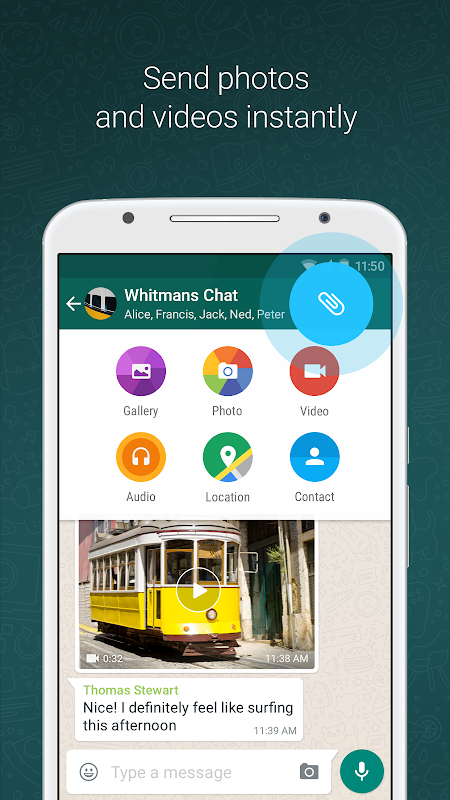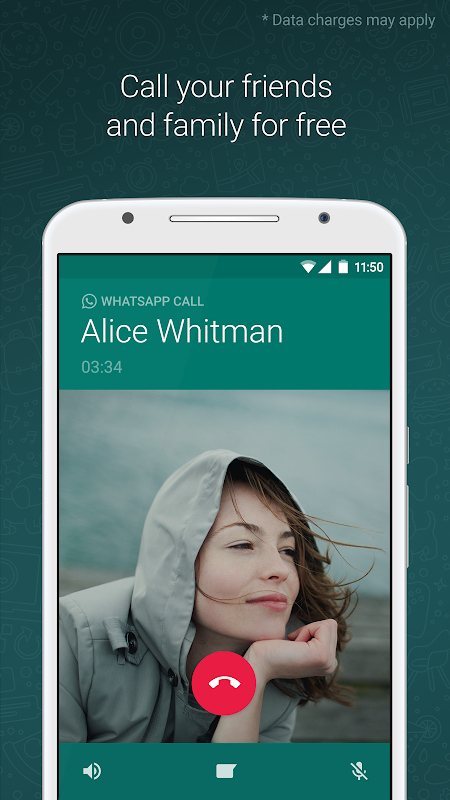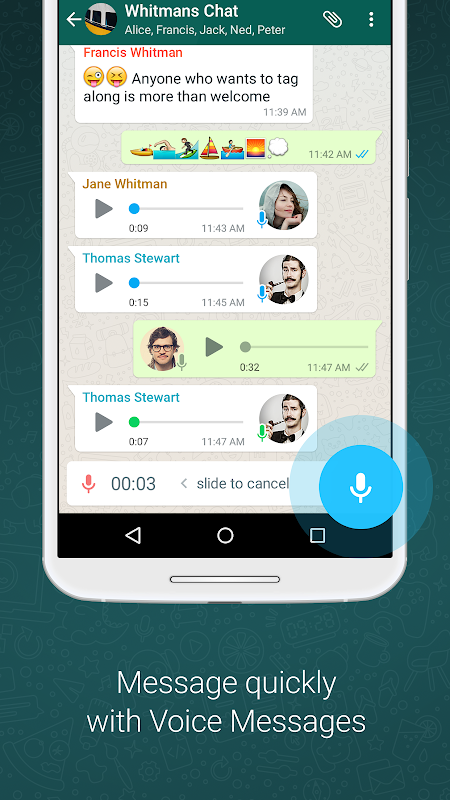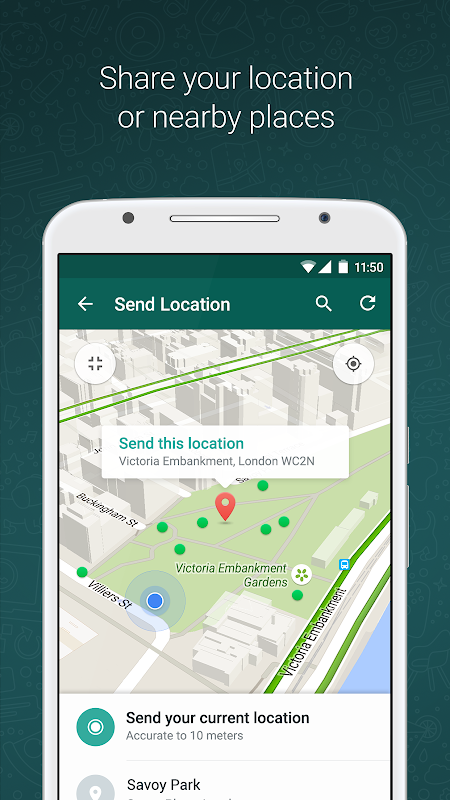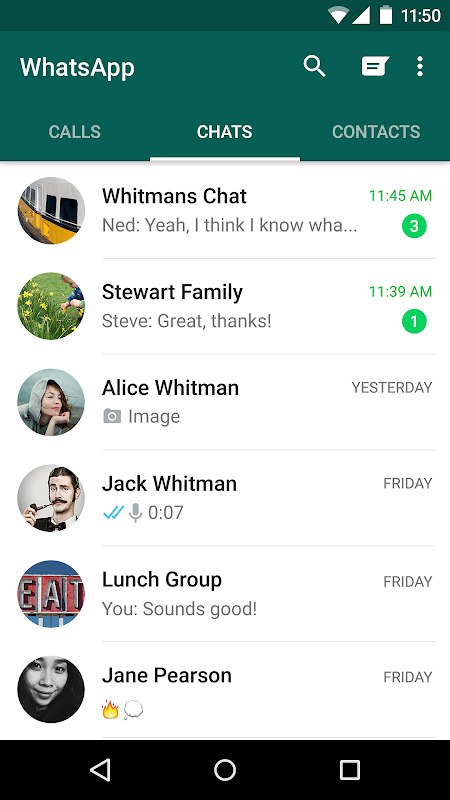 البرنامج ممتاز بس البعض تخلوا عنه بسبب التحديثات المستمره لانها تتعب المشتركين
Yah..That's what am talking about
برنامج جيد فيه عيب واحد كثرة التحديثات تتعبنا
igual no e podido instalar
من اسبوع تحديث وادى الاسبوع التانى ارف
eu amo esse aplicativo é muito bom para a comunicação
melhorem a chamada de video e de voz as vozes as vezes falhas. (maioria)...
اربعة وعشرين ساعة تحديثث صار مكروه وفوكاها ماعندي مساحة 🤦🏻‍♀️
شو هالتحديثات مايتغير شي بي وكل اسبوع تحديث 😠😠
ممكن تجين خاص واتساب 07715513602
راح اتمرض من كثرة التحديث
من الممكن الاشتراك يقتات iiKaramFox