Download IM+ Pro APK Info :
Download IM+ Pro APK For Android, APK File Named de.shapeservices.implusfull And APP Developer Company Is SHAPE . Latest Android APK Vesion IM+ Pro Is IM+ Pro 6.5.0.120 Can Free Download APK Then Install On Android Phone.
IM+ Pro APK Description
One app, all your messaging. IM+ Pro supports all major IM services, including Facebook, Skype, MSNLive Messenger, Google Talk, Yahoo!, AIMiChat, ICQ, MeinVZ, Gadu-Gadu, RenRen, Jabber, mig33, SINA Weibo, Fetion, Mamba.Ru, VKontakte, Yandex IM, Odnoklassniki.Ru and Mail.Ru Agent. Below you may find the list of other amazing features which will definitely take your mobile IM experience to the next level: ***NEW AMAZING FEATURE FOR YOUR SECURITY*** We are happy to introduce OTR encryption to your messages that makes your communication safe and secure. IT'S FREE! - UI is optimized for both smartphones and tablet computers - Send text messages, photos, and voice notes - Group chats in Skype, MSN, AIM, ICQ - Chat history - Multiple accounts per service - Create personal and geo status messages - Customize your IMing experience with different sound notifications and emoticons - Master password option - Typing notifications - Off-The-Record (OTR) messaging …and we're not done yet, new IM+ features will keep coming! Always on, always instant, always fun. Follow @implus on Twitter and Like www.facebook.complusim to get the latest updates from IM+ team! This product uses Skype™ but is not endorsed or certified by Skype. TRADEMARKS: IM+® is a registered trademark of SHAPE GmbH. AIM® is a registered trademark of AOL LLC. ICQ® is a trademark owned by ICQ. Yahoo!® is a registered trademark of Yahoo Inc. MSN®, Windows Live™ are registered trademarks of Microsoft Corporation. Jabber® is a registered trademark of Jabber Inc. Google™ Talk, GTalk is a trademark of Google Inc. Facebook® is a trademark of Facebook, Inc. Skype™ is a trademark of Skype Technologies S.A. Keywords: Beep, chat, Skype chat, Facebook, FB chat, AIM, AOL, MSN, Windows Live Messenger, WLM, GTalk, implus, IM, instant messaging, instant messenger, OTR, Off-the-Record, secure, samsung, lg, chat, messenger. Supported Accessories: Sony-Ericsson LiveDock - com.sonyericsson.extras.ATTACHED
From version IM+ Pro 6.5.0.120
:
Added: 2013-12-09 11:33:14
Modified: 2013-12-09 11:33:14
Updated: 2018-03-01 23:40:09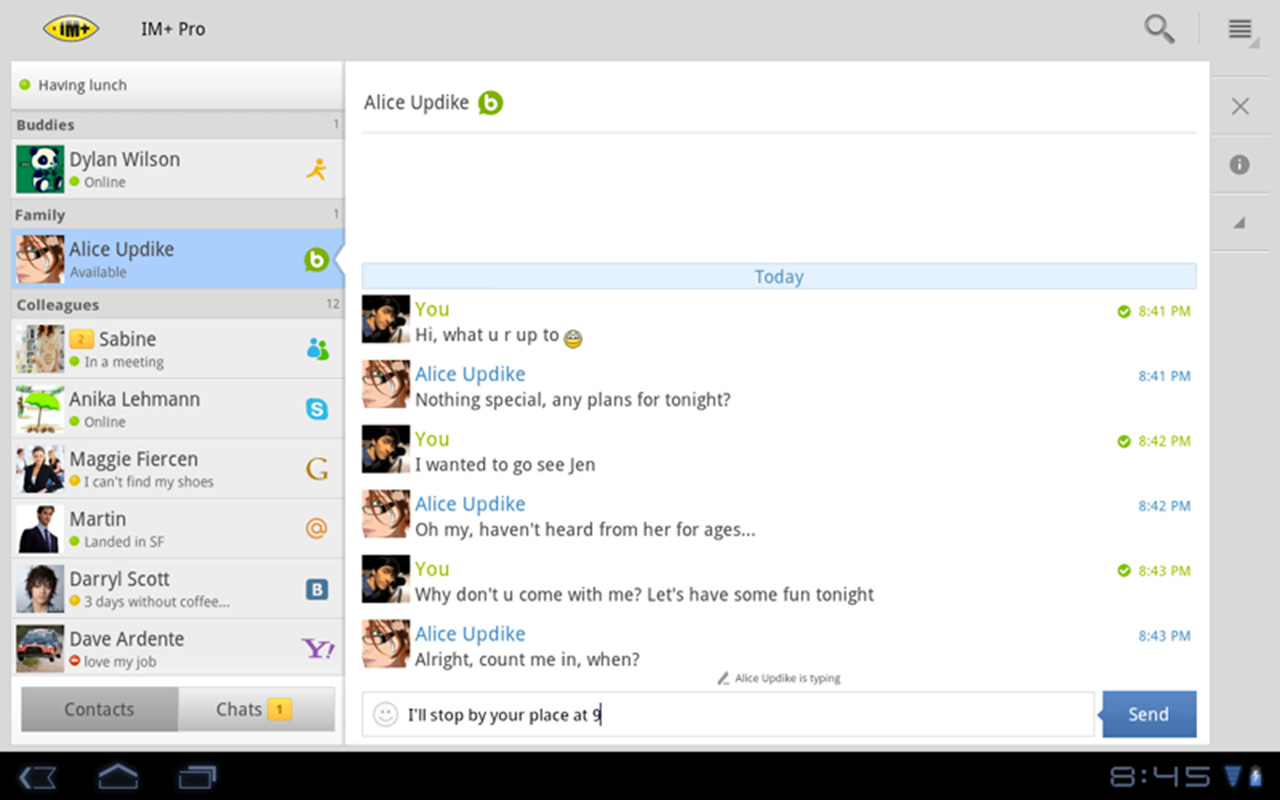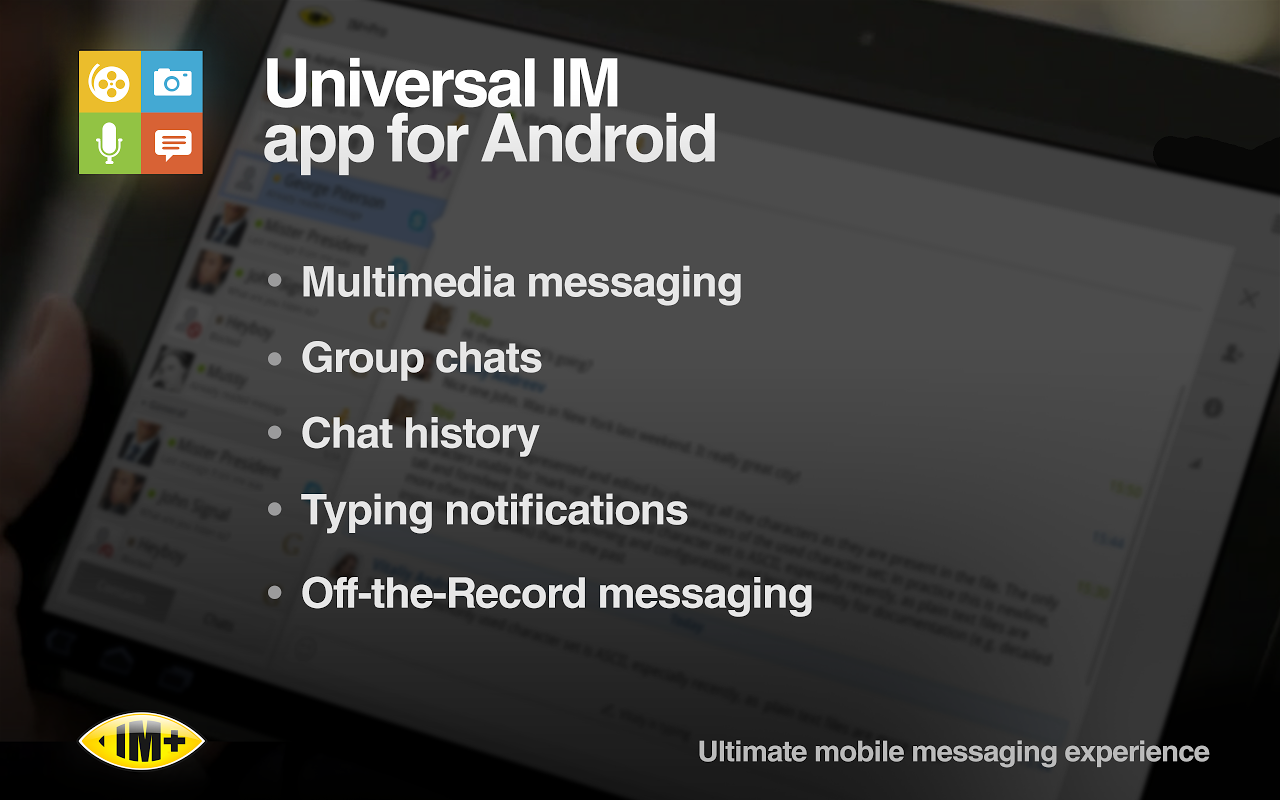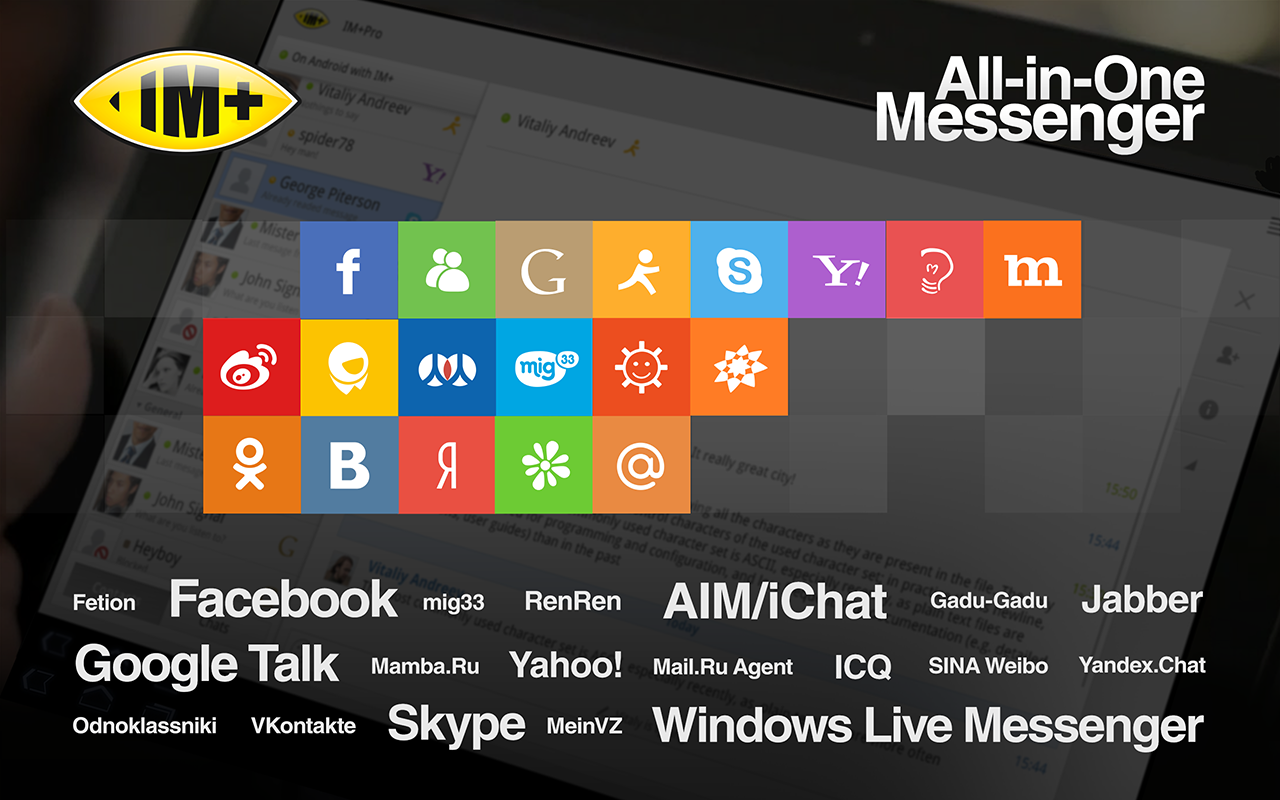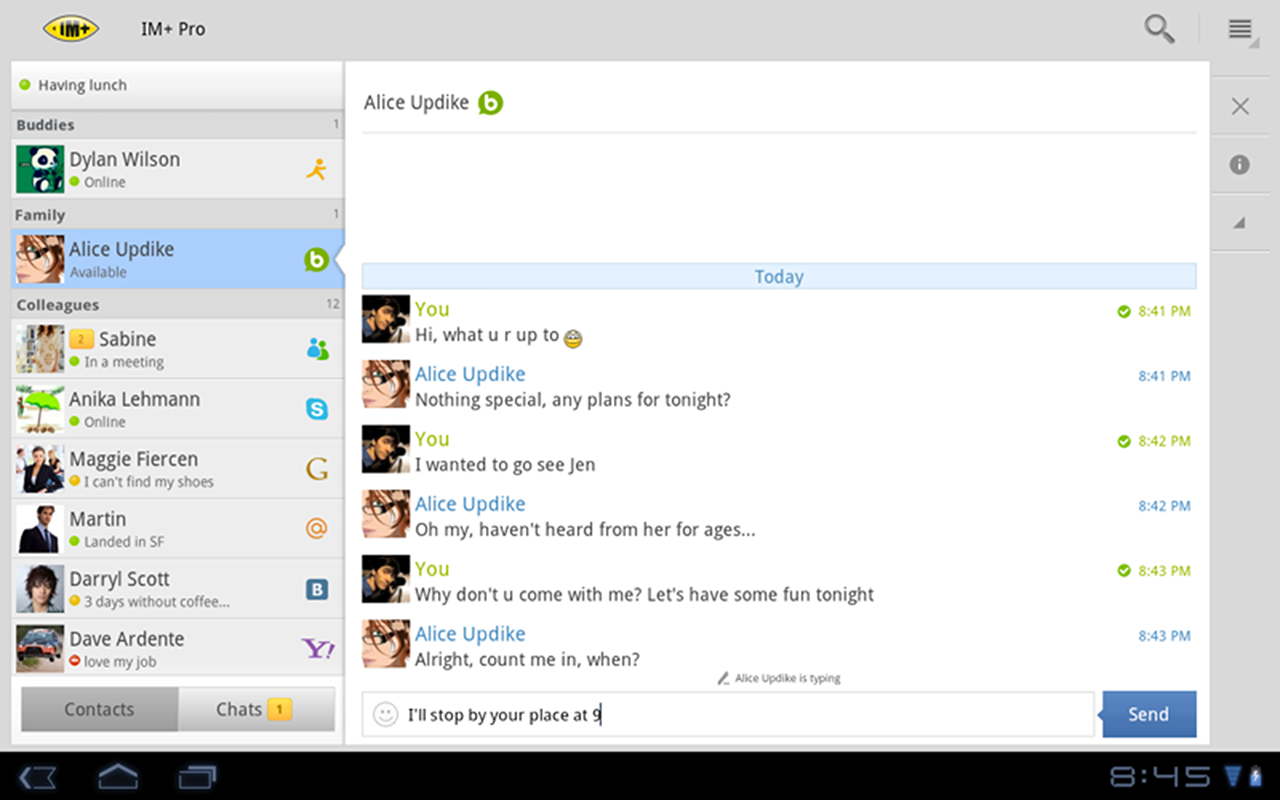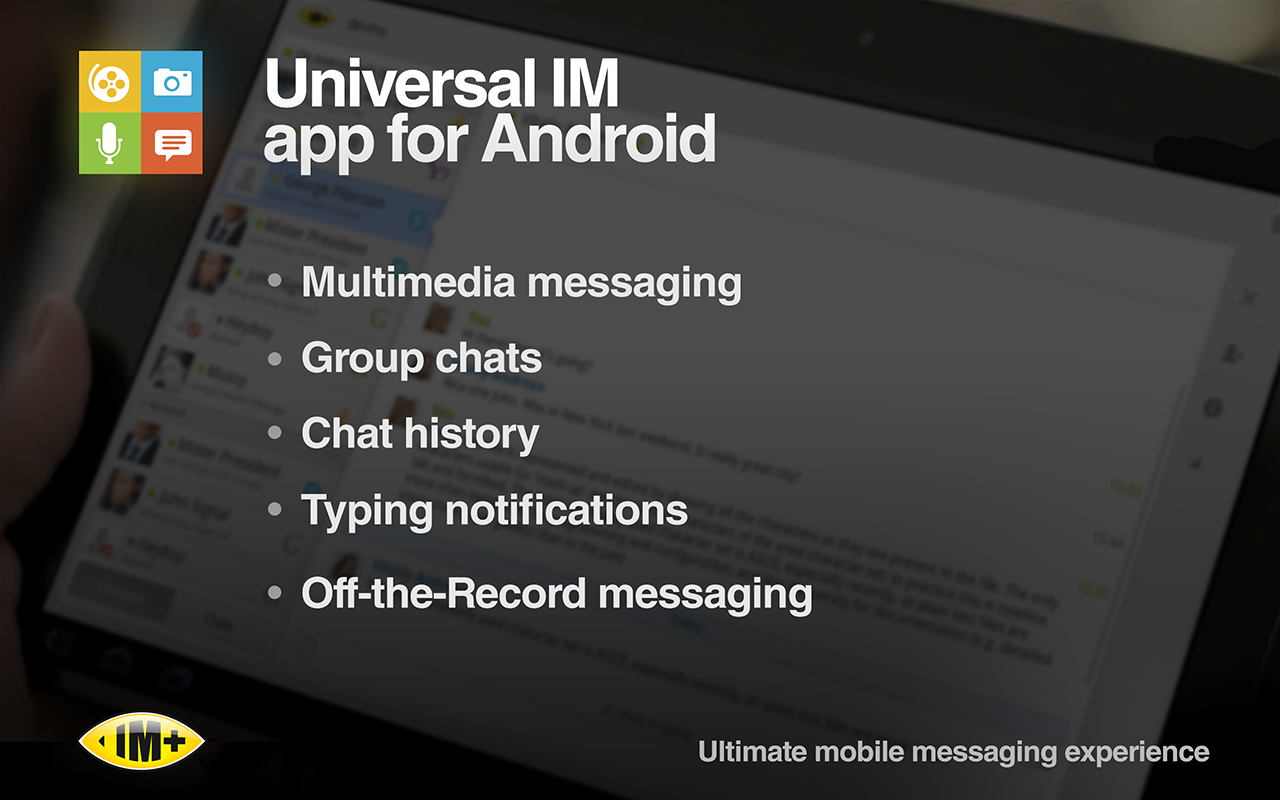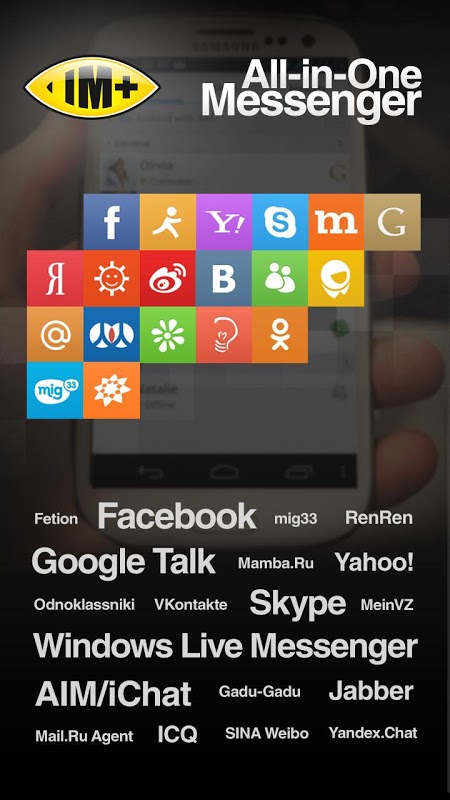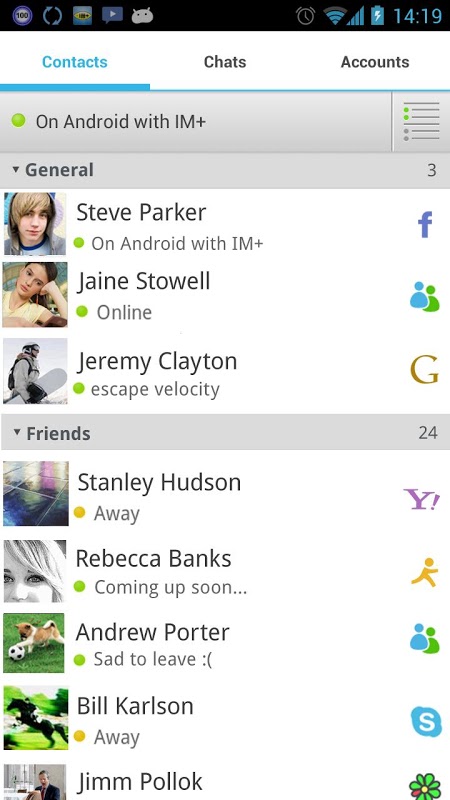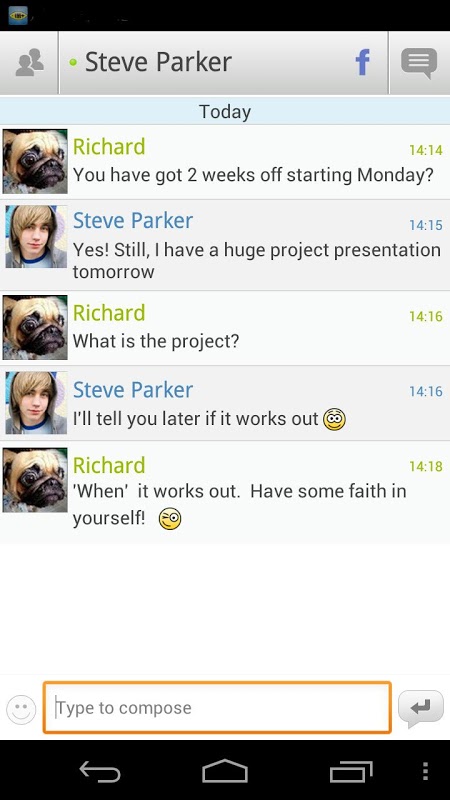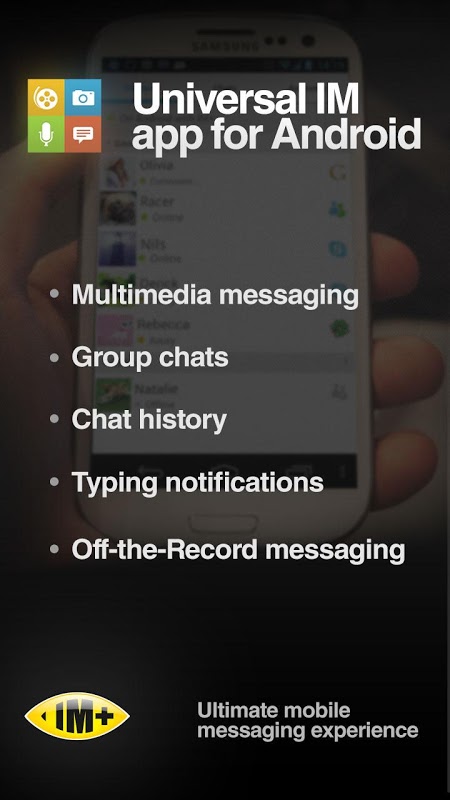 perfect application for all .
Excelente e leve. Substitui tranquilamente o aplicativo nativo do Skype, pesado e bugado.
light and work pergect excelente trabaja bien con 6 cuentas al mismo tiempo y es muy ligero¡ aunque falla a veces al cargar los avatares
Ótimo ainda não consome memória RAM.
Just tried it and it works great! It is sad we can't hide some facebook's friends... because I have too much I would like to hide from the list :(
push mode is not working perfectly....I'm not getting notifications perfectly in the push mode......plez fix the bugs....I'm waiting for the update.....
push mode is not working perfectly....I'm not getting notifications perfectly in the push mode......plez fix the bugs....I'm editing for the update.....
What this aplication name puja and dont instal this app?
amazing program...several accoumt in 1 click!
La actualización 7 algo trae virus de publicidad y no es la oficial, no la instalen
La App es muy buena, pero desde la ultima actualización empezó con algunas fallas: una de ellas, es que manda doble los mensajes y la otra, es que no muestra los contactos que están conectados... Por lo demás es la mejor App de mensajería... Motoroid 3
oh my god. i am first downloader....
crap full of addware and spam ware
it's working :-) ... thanks
Very useful as it can be used for multiple accounts! Plus, i use it on my iPad too..
I cannot launch IM+ after I updated to version 6.4.7
What does this app do ? Can you be more verbose ?
Melhor app de unificar mgs roda mto bm no atrix da motorola, unico bug foi no icq de resto funfa em tds..... . Bon de mais