Download Orari Trenitalia Plus APK Info :
Download Orari Trenitalia Plus APK For Android, APK File Named eu.baroncelli.oraritrenitaliaplus And APP Developer Company Is Daniele Baroncelli . Latest Android APK Vesion Orari Trenitalia Plus Is Orari Trenitalia Plus 1.7.6 Can Free Download APK Then Install On Android Phone.
Orari Trenitalia Plus APK Description
This app gives you the timetables of Italian public trains, with prices, lkj li of trains, changes, stops, lanes. It also provides real time updates on the trains and has a button for buying the ticket. NOTE: we suggest all users with Android 4.0 and higher to use the new app "Trent!", which has extra features: it also includes Italo trains, it gives you a complete view of all types of available tickets, the maps with the stops is available, plus much more.
From version Orari Trenitalia Plus 1.7.6
:
Added: 2014-05-22 16:01:11
Modified: 2018-03-22 08:47:44
Updated: 2018-03-22 08:47:44
1.6.0: aggiornato database stazioni, localizzazione in inglese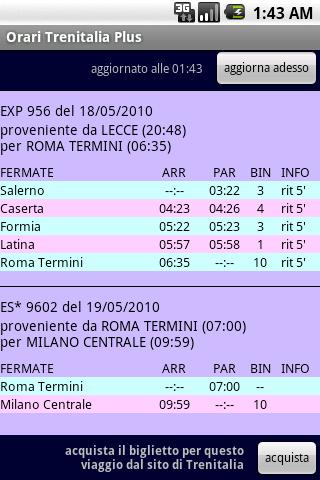 Funziona perfettamente, i ritardi sono attendibili, da provare la possibilità di acquistare i biglietti direttamente dall'applicazione.