Download Multicast Tester APK Info :
Download Multicast Tester APK For Android, APK File Named net.liveforcode.multicasttester And APP Developer Company Is Mitch Talmadge . Latest Android APK Vesion Multicast Tester Is Multicast Tester 1.5 Can Free Download APK Then Install On Android Phone.
Multicast Tester APK Description
Multicast Tester is used for testing Multicast packets on your network. Features: • Allows you to send and receive Multicast packets on any Multicast IP and Port combination. • Allows custom messages to be sent. • Shows IP Address origin of each received packet. • Use of Material Design to give you a very simple interface. • Receive in Hexadecimal to view the raw data sent over the network. There are a couple possible reasons for this: 1. Your code may be the problem. 2. Your router's firewall may block Multicast packets. 3. Some devices inherently block all Multicast connections. In this case you may neither receive nor send packets. This is a device problem, not an app problem. It cannot be circumvented in any way, even with root. The only solution would be to install another ROM which does not block Multicast connections. This is not the app's fault; it is because your phone is currently using that address & port combination, OR you are not allowed to bind to that address & port combination. Typically you will see this error if you try to bind to a port less than 1024, as these ports are restricted for the operating system's use only. (This is the case on most operating systems, even on desktops). Try using a port larger than 1024 if you are not already, or try another IP address. My app is probably not broken. Double and triple check your code and then shoot me an email if you still can't figure it out :)
From version Multicast Tester 1.5
:
Added: 2019-04-14 20:52:25
Modified: 2019-04-14 20:52:25
Updated: 2019-04-14 20:52:25
* Fixed improper encoding of non-ASCII characters when receiving in hex mode.
* Usability improvements, including automatically hiding the keyboard when listening starts, and automatically scrolling the console to the bottom when messages are received.
* Starting and stopping listening no longer clears the console. This can be achieved manually with the Clear Console button.
If you have any suggestions or concerns, please send me an email! Enjoy!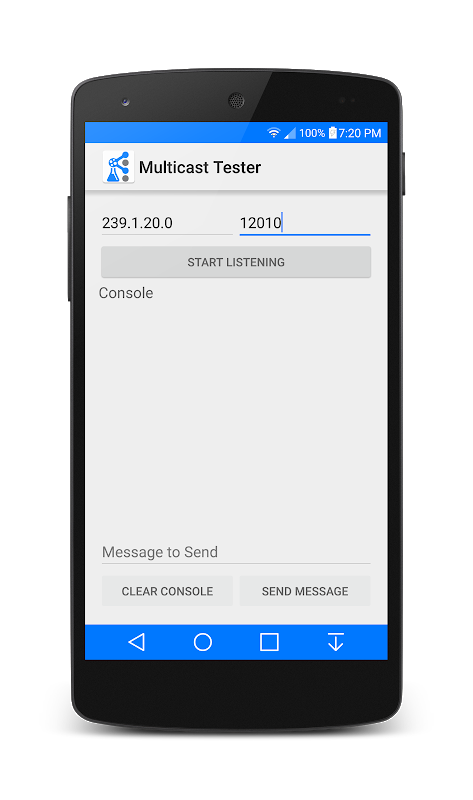 Download Multicast Tester APK Android