Download ConnectBot APK Info :
Download ConnectBot APK For Android, APK File Named org.connectbot And APP Developer Company Is inisyn . Latest Android APK Vesion ConnectBot Is ConnectBot 1.9.2 Can Free Download APK Then Install On Android Phone.
ConnectBot APK Description
ConnectBot is a powerful open-source Secure Shell (SSH) client. It can manage simultaneous SSH sessions, create secure tunnels, and copy/paste between other applications. This client allows you to connect to Secure Shell servers that typically run on UNIX-based servers.
From version ConnectBot 1.9.2
:
Added: 2017-12-10 03:37:17
Modified: 2017-12-10 03:37:17
Updated: 2018-09-18 01:08:28
Changed
• Major Material Design overhaul of UI.
• Improved cut-and-paste interface.
Added
• Tabs are now used on large screens.
• Keyboard shortcuts and EULA in help menu.
• Terminal mouse support including mouse wheel.
• Full IPv6 host support.
Removed
• No more intro wizard on first start.
• No more outdated physical or virtual keyboard instructions.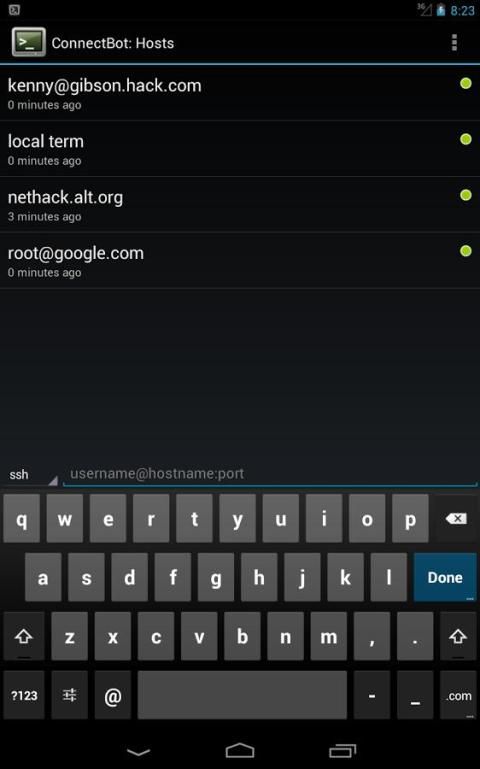 Thanks to this app getting through, I'll be uninstalling Aptoide.
Attention: Not original version!
how come avg did not detect this? or aptoide :/
Trojan app not the real app
this is a Trojan hours !!!
this is malicious software. avoid download of this very evil piece of work that does just one thing.. connect to remote hosts which then can retrieve all information from you phone. contacts. passwords accounts even key presses.