Download BusyBox Pro APK Info :
Download BusyBox Pro APK For Android, APK File Named stericson.busybox.donate And APP Developer Company Is Stephen (Stericson) . Latest Android APK Vesion BusyBox Pro Is BusyBox Pro 67 Can Free Download APK Then Install On Android Phone.
BusyBox Pro APK Description
The fastest, most trusted and No.1 BusyBox installer and uninstaller. If you want to experience the true magic of a rooted phone, BusyBox Pro is a must have. With over 20 million installations and over 100,000 5-star ratings, BusyBox is a unique software application that provides many standard Unix tools. Known as the 'The Swiss Army Knife of Embedded Linux' BusyBox is designed to be executable for use with the Linux kernel, which makes it ideal for embedded devices. Winner of the best Utility Software award for Android via Handster, BusyBox can also boast of a special mention in the new XDA-Developers book XDA Developers, Android Hacker's Toolkit: The Complete Guide to Rooting, ROMs and Theming. Features Supports ARM and Intel based devices. The only installer that has no ads, no nag screens and requires no Internet permission. Installs any BusyBox binary available for Android, unlike other installers. Comes with an uninstall feature and an Advance Smart install feature. Enjoy the ability to handpick the applets you want along with a robust safety check for missing applets on start. Improved overall support. Enjoy more frequent updates with the pro version compared to the free version. View the BusyBox Source Code: http://git.busybox.net/busybox/ Get more details on: www.BusyBox.net
From version BusyBox Pro 67
:
Added: 2012-07-01 05:39:19
Modified: 2018-06-09 19:31:08
Updated: 2018-07-20 11:17:08
Small update, improved some code flow/logic.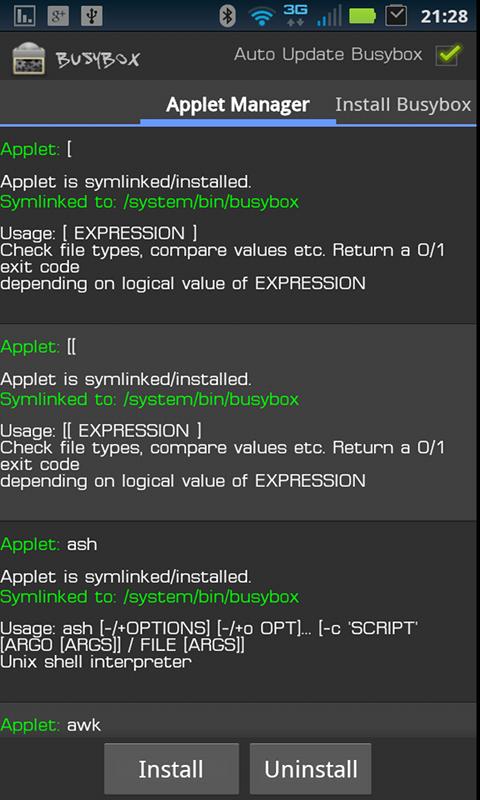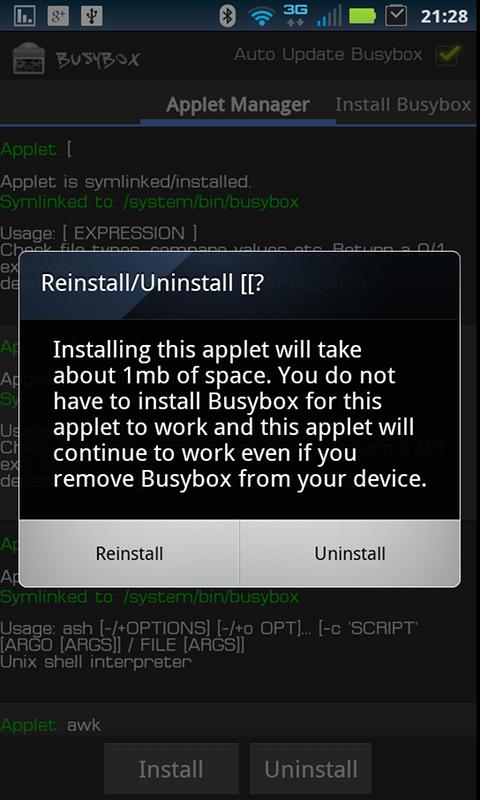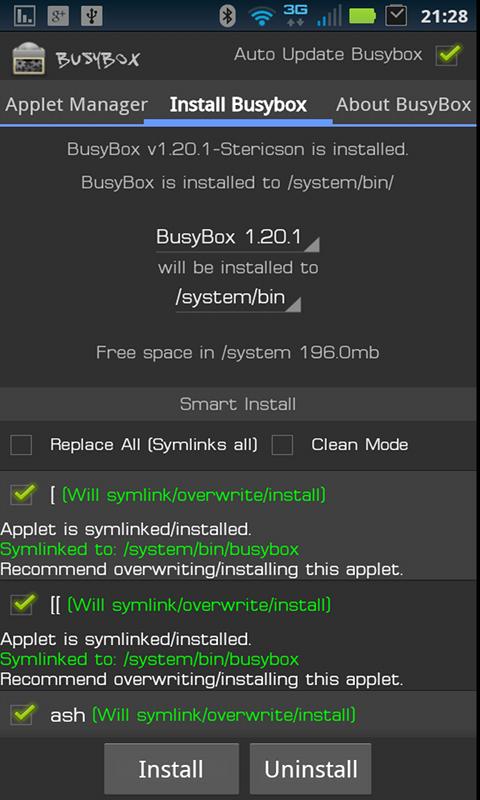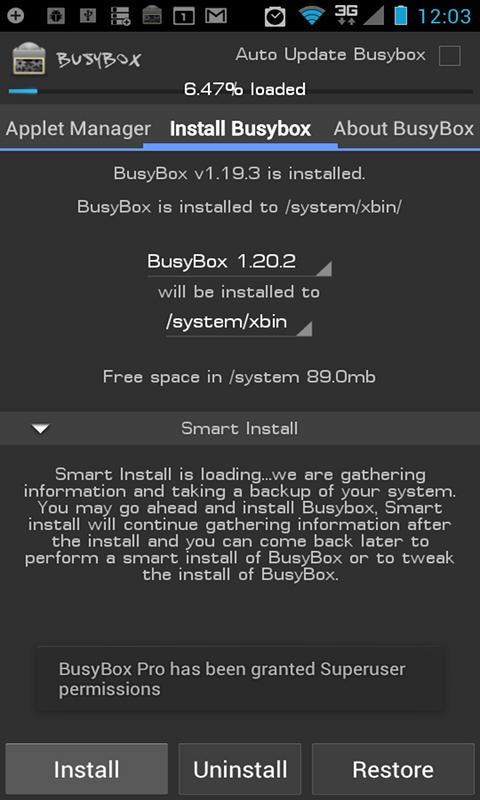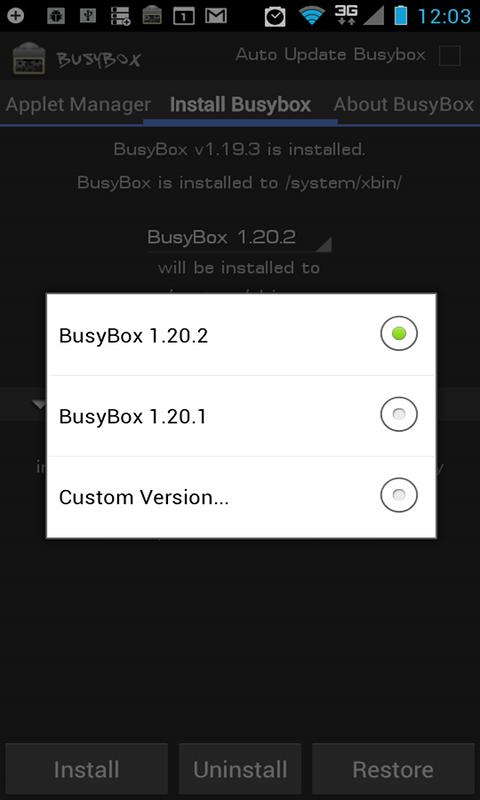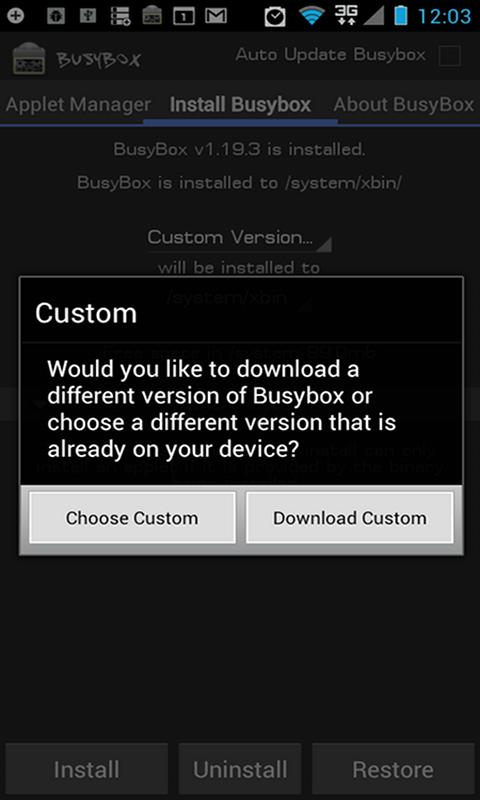 روعه روعه جيد جدن يجب الانتباه عند تثبيته لا تقم بتقيير اعدادات التطبيق
Is this working for you guys? I had to use the free version then use this.
ممكن كيف اشغل هدا البرنامج
Khusus busybox, lebih update lebih bagus gan.
Khusus busybox, lebih update lebih bagus gan.
التطبيق يعمل .يحتاج إلى صلاحيات الروت
mas mohon bantuannya...punyaq setelah d instal kok g bisa d bka
mas mohon bantuannya...punyaq setelah d instal kok g bisa d bka
fuck you it work successfully
@Muhammad Elfatan, henpon harus udah diroot, baru install busybox nya. Ini app utk melengkapi system root dan app lain yg membutuhkan root access. Caranya tinggal jalankan aja app nya dan tekan tombol install busy box, selesai
كذب اني هسوني نزلت التعليق مكتوب عندي منذ 2ساعات
تطبيق رووووعه من قبل العراقي
iya kalau diroot gak bakal ken a virus
gmn gan cara buka busybox pro ny nie
adffh koiln bubi pokiur kiyo
makannya root dulu lah hp kalian...
makannya root dulu lah hp kalian...
nasefec ni gmana...klo tindis × mera..ko langsung keluar
nasefec ni gmana...klo tindis × mera..ko langsung keluar
sama kaya aku juga bro.. ni bagimana ni...kita uda beli baru
cara masuknya bagimana yea
cara masuknya bagimana yea
aku ketik (x merahnya) tp ko lgsung keluar sendiri...
yang mau download apk ini ROOT dulu hp mu
gima cara istal aplikasinya ni??
kok aplikasi tida bisa di buka?? gimana shi...??
kok knapa tidak bisa di buka aplikasinya
harus install free version dahulu..
nossa vei vou ver ainda tá com cara q é bom
boss gimana caranya install busybox v 50
bisa beritahu caranya .....
tolong infonya. pemasangan busybox pro tmpat sya g bisa di buka?pdhl dah brhasil di dowload.
فااااااااااااااااااااااااااشللللللللل
Works great on rooted Huawei P8 lite. no problems unless you are not rooted :D
padahal hp udah di root, tapi masih gak bisa di buka...
harus di root dulu handphone nya
gmna bos cara root android, tolong dong?
itu ma bukan kagak bisa di buka rupanya hp nya di root dulu baru bisa di pakai aplikasi nya
Sudah di download tp g bisa di buka😢
Must have app if you have a rooted device
udah di downloads kok ngk bisa dibuka, tolong dikasi jwbnya ya
and download game hacker or lucky patcher
bagai mna cara masang custom 1.23.2 yaa .?? klw yg tau tlong koment .,,
تطبيق خدمي لاصحاب الروت . النسخة المدفوعة
You can download (360 root)
Yes the below mentioned Kingo Root, I already faced the same issue by using the same Kingo Root, my Galaxy S III freezes and Lags the main cause is Kingo Roo. APK It's a Bullshit it Fuck'd down ⬇ my mobile. Need help to Unroot Unfortunately! Thanks guys.
how to root star plus gt -s7262
aide /install/busyBox/grand respect a vous
King root runs malware and keyloggers in the in the background of your device. I'd recommend that you root your device using a computer.
thank u so much working great
need it for lucky patcher
good. not fake. the guy that wants to root phone should Google it. I use kingroot. one click root. roots kitkat and lollipop.
not work pliz rested and ....