Download Wattpad APK Info :
Download Wattpad APK For Android, APK File Named wp.wattpad And APP Developer Company Is Wattpad.com . Latest Android APK Vesion Wattpad Is Wattpad 6.94.1 Can Free Download APK Then Install On Android Phone.
Wattpad APK Description
Explore an endless library full of stories and books with Wattpad. With the help of Wattpad, you have access to an almost infinite collection of written stories and books, from writers all around the world. Search for the stories that fit your interests or the mood you're in. Science fiction, romance, comedy, action adventure, mystery, fantasy, crime, young adult fiction, fan fiction and many more. Get ready to lose yourself in all kinds of stories. Even if you're not connected to the Internet, you can save your favorite books and read them when you're offline. Your synced account will allow you to pick up your reading wherever you are. Wattpad has a living community. The best part of reading is sharing the experience with your friends. Connect with writers and readers by leaving comments, share your favorite lines with incredible visual quotes and discuss parts of the books you and your friends are reading. Create personal lists of stories that you've got your eyes on and share your library with other people! Are you a writer yourself? Wattpad is also perfect for sharing your own writings. Get instant feedback and comments from a whole community of people. You can add chapters as you go along and design a cover, all from the comfort of the app. There are also monthly writing challenges for you to exercise your writing skills with. There is nothing like a little push to help you get your ideas out there. Wattpad is also perfect for those unexpected moments of inspiration, because you never know when you're going to get a new idea. Don't miss out on acclaimed authors who are also featured in the Wattpad library like Anna Todd, Scott Westerfeld, Tyler Oakley, Margaret Atwood, Paulo Coelho, RL Stine, Dan Brown, Christopher Pike, Pharrell, Zayn, Felicia Day, and many others. Wattpad is the dream app for any readers and writers who want to get some serious reading and writing done. With Wattpad on your phone, you've got a whole world of creativity at your fingertips.
From version Wattpad 6.94.1
:
Added: 2018-02-08 00:14:18
Modified: 2018-06-22 16:14:19
Updated: 2018-06-22 16:55:23
Wattpad Premium is here! Customize your Wattpad experience by unlocking ad-free reading, new themes, and to show support for the community we all love. Wattpadders in the US, Canada, Great Britain, Ireland, New Zealand, and Australia can upgrade to Wattpad Premium today.
Not ready to subscribe? No worries. The free version of Wattpad isn't going anywhere!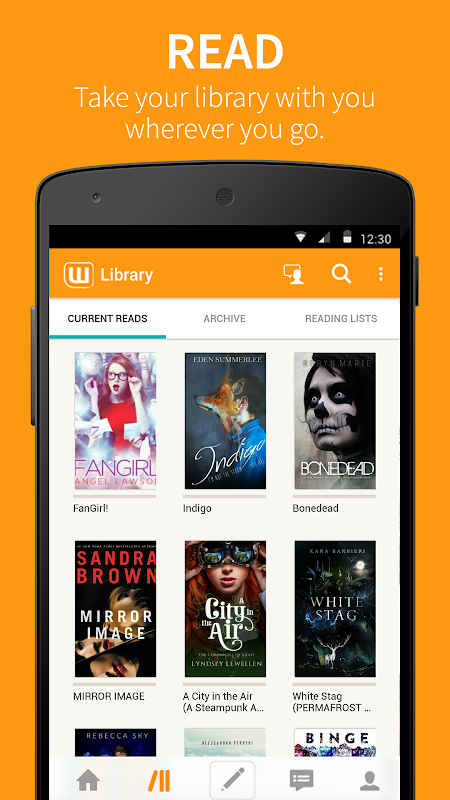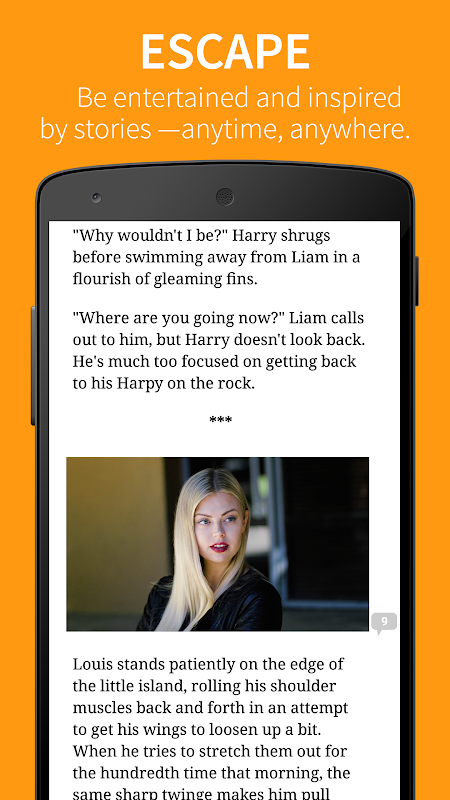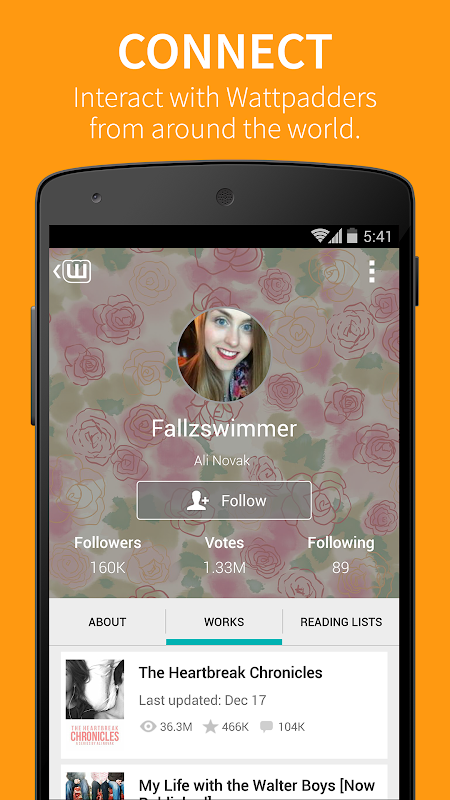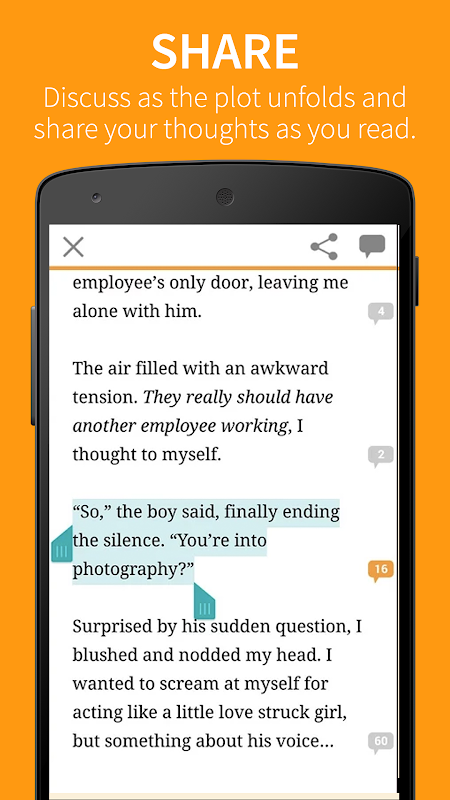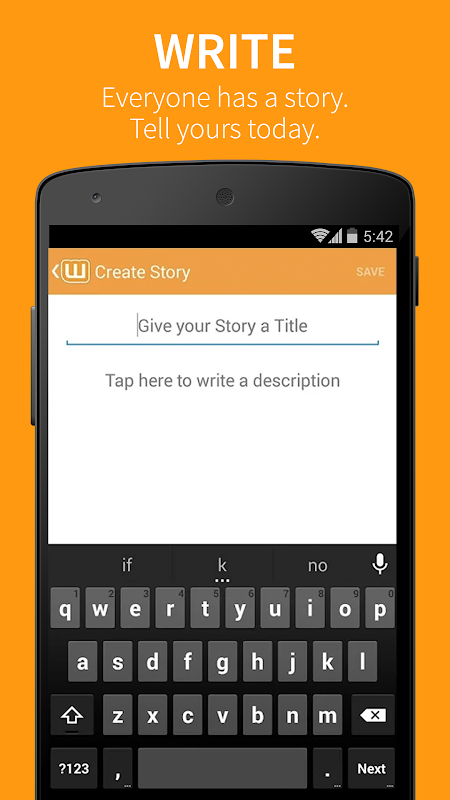 Unable to install, not very happy with that fact
amoo demais essa aplicativos tenho 5 historias escritas nele
EAE CHAMA NO ZAP:21998276593
moi 5ans et pourtant J'ADORE
No he leído tus historias, pero te recomiendo unos ejercicios de ortografía. *escribí
خرا خرا خرا خرا خرا خرا خرا تضيع وقت والله
Eu sou o único comentário em espanhol? soy el unico comentario en español?
is there any Rick riordan books on this app?
sólo tengo problemas con el borrador siempre me elimina las imágenes que coloco
aqui podemos ver wigetta y los gusanos guasones
A mi me falla cuando quiero actualizar mi historia dice "lamentable mente la aplicación Wattpad se detuvo"y se sale alguien me podría decir por que pasa eso???
c'est trop bien cet application
Kkkkkkk mas o spirit fanfics é pior ;-;
Gracias a wattpad me empezó a gustar la lectura♥♥♥. Se las recomiendo :)
why are the comments only in Spanish?
wee por fin alguien que ame fnafhs
sip pero valio la pena: :'D
e o aplicatie interseanta eu inteleg
y tú historia de que se trata
acaso está es la versión completa?
súper app la recomiendo ✌✌
yo la voy a probar a ver :/
Al principio la instale sin que me gustase mucho leer y pensaba "estoy aburrida además no creo que sea muy interesante" hass que vi lo comentarios y dije "mmmmmm ok la instalo" la instale días después no dejaba de leer pasaba 5 horas al día para leer en wattpad hasta que me empecé a amar leer pero ahora leo un poco menos 😅 jejejeje
questa app e' stupenda puoi scrivere cio' che vuoi senza alcun problema!!!!!
muito bom amo o wattpad tenho ate livros! recomendo